Invisible Middlemen Are Slowing Down American Health Care
Nurses spend 16 hours on the phone, medications take months to arrive, and patients suffer as they wait.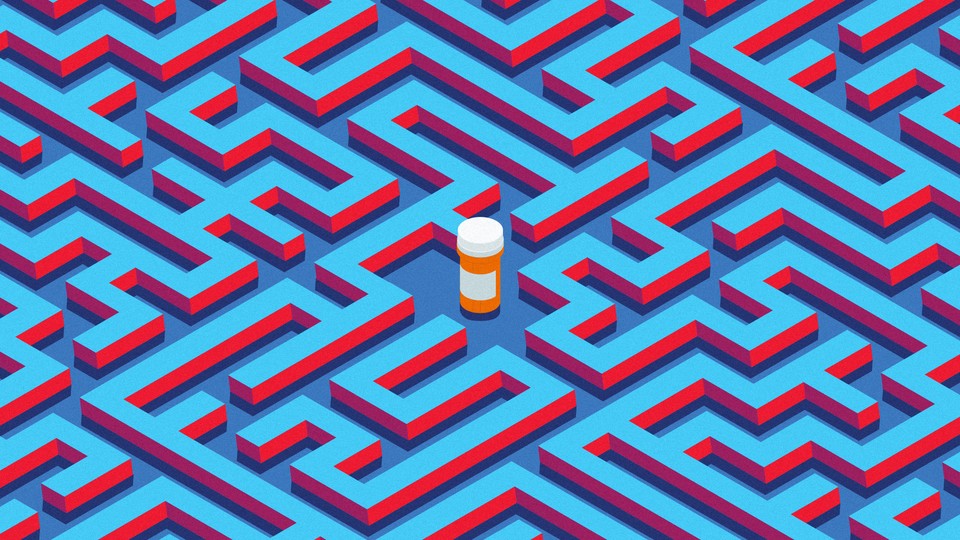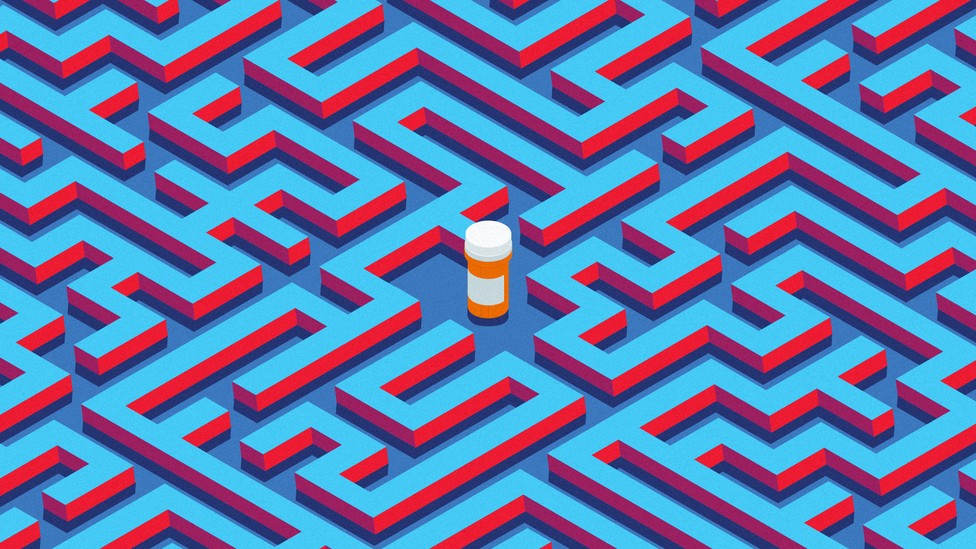 Lynn Lear finished her final round of chemotherapy for breast cancer in December. To help keep the cancer from coming back, Lear's doctor told her about a new medication she could take called Nerlynx. Lear, who is 46, wanted to do everything she could to remain healthy, so she asked her doctor to order the drug for her.
Unlike, say, an antibiotic or an antidepressant, a Nerlynx prescription can't be filled at a neighborhood CVS or Walgreens. Instead, Nerlynx is dispensed either through certain doctors' offices or through specialty pharmacies, which exist specifically to process expensive drugs for difficult conditions and often deliver medications by mail. On December 18, 2018, Cheri Bateman, a nurse in Lear's doctor's office near Virginia Beach, Virginia, sent the prescription to Accredo, the specialty pharmacy that worked with Lear's insurance.
So began Lear's Kafkaesque journey to getting this life-saving drug, which she wouldn't be able to start taking until nearly two months later. Accredo had a prior-authorization process, in which companies called pharmacy benefit managers ask questions of doctors before they will release medications to patients. Accredo's pharmacy benefit manager is called Express Scripts. Like all pharmacy benefit managers, Express Scripts negotiates drug prices with drug manufacturers on behalf of insurance plans, determines which drugs are covered, and conducts the prior-authorization process for certain cancer drugs.
The problems began with an error on Bateman's end. During the prior authorization for Lear's Nerlynx, Bateman accidentally answered a question wrong—she thought the person on the phone was asking whether Lear had ever been on an antiemetic medicine rather than an antidiarrheal—and Express Scripts promptly denied approval for the drug. The very same day, Bateman appealed the denial and provided the correct information, but she had to wait nearly a month before the medication was finally approved, according to clinical notes she provided to The Atlantic.
Then there was a new complication. Bateman called Accredo, the specialty pharmacy, which agreed to set up the delivery of Lear's medication, Bateman says. But after more than a week of phone tag, neither Bateman nor Lear had heard from the pharmacy. Bateman realized there might be an issue with Lear's insurance, which had changed on January 1. Bateman called the new insurer, Optima Health, who said the prescription had been transferred to a different specialty pharmacy, Proprium—though according to Bateman, she had never been notified about this. An Optima representative gave Bateman a new number to pass on to Lear so that Lear could set up the delivery of the Nerlynx.
Bateman was a busy nurse at a busy practice just trying to get one tiny thing taken care of. At this point, in her clinical notes, Bateman spewed a frustrated, punctuation-free stream: "[Lear] called me back at 4:40 pm and stated that Proprium pharmacy stated to her that the medication needed a prior authorization ..." Bateman had already been told that a prior authorization would not be necessary, she says. When she called to clarify, Optima told her she was right, but there was yet another problem: The medication had a bank-breaking $1,367 co-pay.
A spokesperson for Sentara, the parent company of Optima and Proprium, said in an email that Lear's previous insurer appeared to be the "primary hold up" in this case, and that it was a "a highly unusual set of circumstances which resulted in an unfortunate delay."
Bateman usually encounters some hurdles in getting cancer medications to her patients, but she told me this was one of the worst cases she'd ever had. At the end of her note on January 22, Bateman wrote that she had spent more than 16 hours on the phone attempting to get Lear her medication. And Lear still didn't have it. The way Lear was ultimately able to secure it and avoid the high co-pay was by canceling her primary insurance, making her secondary plan her primary one, and filling the prescription with Accredo after all. On February 6, she was finally able to start taking Nerlynx.
Citing patient privacy, Express Scripts declined to comment on Lear's specific case. In an emailed statement, a spokesperson told me that "sometimes patients have primary and a secondary benefit plans. The differences in those plans, and the timing of plan-year changes, can lead to confusing situations." They said that in cases where Accredo is an in-network pharmacy, patients are generally able to get their medications.
Lear told me she initially blamed herself for the delays. "As a cancer survivor, you wonder every day if it's gonna come back," she said, breaking into sobs. "It's difficult to feel like I don't have that control and power to use every tool possible to help me stay healthy, and to help me not have to go through all of this again."
---
In the sea of America's health-care system, pharmacy benefit managers tend to be seen as destructive leviathans. Invisible to everyday patients, PBMs lurk beneath health-insurance companies and swim through nearly every prescription-drug transaction. They squeeze rebates out of drug manufacturers, pass most—but not all—of those rebates on to health insurers, pay the pharmacy for the drugs, and collect payments from the insurer. In doing so, they subtly shape the currents of American health care.
Because of their outsize influence, pretty much everyone in the health-care system who isn't a PBM likes to blame PBMs for high drug prices. The fact that some of them own specialty pharmacies—like Express Scripts does with Accredo—has not done much to improve their image. Recently, policy makers have taken aim at PBMs in an attempt to rein in drug prices. Draft rules announced by the Department of Health and Human Services earlier this year, if finalized, would make it so that drugmakers can no longer offer rebates to PBMs working for government insurance plans. The Senate Finance Committee has also set its sights on PBMs, dragging them before the committee for the latest in a series of hearings that aim to get to the bottom of why Americans pay so much for their drugs. The heads of five PBMs will testify on Capitol Hill about high drug prices this week.
Ted Okon, the executive director of the Community Oncology Alliance, a group of community-based cancer doctors, hates pharmacy benefit managers. COA is one of several doctors' groups that accuse these middlemen of causing delays like the one Lear experienced and of driving up drug prices. Okon, whose group introduced me to Lear and the other patients and doctors in this article, claims that high prices are in PBMs' financial interest: They get rebates from the drug companies and fees from pharmacies as a percentage of list prices, so the higher the drug's price, the larger their payout. (PBMs have argued that their rebates don't affect drug prices.)
Beyond raising prices, COA says that PBMs hinder the treatment of patients with complicated ailments such as cancer. PBMs gum up the process, they argue, through prior authorizations and the use of inaccessible specialty pharmacies. COA loathes the PBMs' practice of using what's called step therapy—forcing patients to try and fail at using cheaper drugs first—which COA says can lead to even further delays. Okon thinks the problem will only get worse now that insurers are buying up PBMs in order to have more control over drug prices. For instance, Cigna, a major insurer, recently bought Express Scripts.
"Would you trust your doctor to make the decision about your chemotherapy, or a corporation?" Okon told me indignantly between bites of arugula pizza recently. "It's just not acceptable when a cancer patient, especially someone who is in dire need of treatment, doesn't understand why they can't get the drug."
Okon thinks—"as crazy as this sounds"—that PBMs actually delay sending medication to patients in order to save money, since they are rewarded by insurers for controlling drug costs. And because PBMs are such a hidden part of the process—most patients don't even know they exist—no one, ultimately, gets held responsible.
Specialty pharmacies, Okon and others say, are part of the problem. Okon told me stories of hemophilia patients having to be admitted into the hospital because a specialty pharmacy wouldn't dispense the drugs the patients needed in time. Since some specialty pharmacies don't have storefronts, they often deliver directly to patients. If a patient is at work when a $10,000 medication is dropped off, it could be stolen. Or, COA says, patients might be asked to spell the names of their medications by phone before they will be delivered—a near-impossible task, in the case of drugs such as Alemtuzumab and Tisagenlecleucel.
PBMs "earn a higher profit when they go to a specialty pharmacy," says Gerard Anderson, a professor at the Johns Hopkins Bloomberg School of Public Health. "But if you need that drug on a Saturday or Sunday, you're probably not going to get it."
Accredo does not have any retail locations, but in a statement, the National Association of Specialty Pharmacy, the specialty pharmacy's trade group, claimed that "there are retail locations and store fronts affiliated with most specialty pharmacies." However, a spokeswoman added, patients usually prefer to have medications sent directly to their home. The group says that speciality pharmacies coordinate the delivery window with patients, and that they would already have the name and spelling of the drug prescribed on file "at the time of the initial contact with the patient." The group also countered that restrictions imposed by insurance companies might be what's impeding medication delivery on weekends, but that specialty pharmacies do routinely deliver medications on Saturdays.
Still, some patients do fall through the cracks of this system. Cindy Adams, who lives in Benton, Arkansas, found herself writhing in pain after some injections she needs to take in tandem with her chemotherapy were delayed for three weeks. As she slipped in and out of consciousness, "I was begging for God to take me," she told me. Her doctor, Fred Divers, claims the delay was caused by an issue with the specialty pharmacy and PBM. "This kind of thing happens all day, every day," he says.
The doctors I spoke with said that they have full-time employees whose job it is to do daily battle with PBMs and specialty pharmacies. David Oubre, the managing physician of the Pontchartrain Cancer Center in Louisiana, gave me the clinical notes of one woman whose breast-cancer drug was delayed by nearly a month because of what the office says is a misunderstanding of the patient's diagnosis by the PBM, as well as by a long exchange of faxes, some of which were simply "blank pages." "If you have swimmer's ear, you can pick up the script on your way home and start the medicine," Oubre told me. "Why do we have to wait four or six weeks?"
These delays might be happening because "there's no downside" for PBMs in reducing the number of expensive medications sent to patients, says Kevin Schulman, a professor of medicine at Stanford University. "They're not responsible for the poor care the patient is getting."
---
The argument for PBMs is that some drugs are so expensive—Nerlynx has an average co-pay that starts at $3,600—that PBMs must ensure they aren't going to patients who won't benefit from them. You don't need a PBM for aspirin, because aspirin costs pennies. The cancer drug Kymriah costs nearly half a million dollars.
In response to the criticisms of PBMs, a spokesperson for the Pharmaceutical Care Management Association, the national PBM association, said that they provide a crucial check on drugmakers' prices. "When more affordable, clinically appropriate, treatment options are available, employers, unions and public programs choose to use prior authorization to lower costs and improve patient safety," the spokesperson said.
To make matters more complicated, pharmaceutical companies have joined some doctors' groups in blaming high drug prices on PBMs, which creates a potential conflict of interest. COA has pharmaceutical companies as corporate members, which give money to the group, and on the PBM issue, at least, COA appears to be aligning with the message of its corporate sponsors—something it has been accused of doing in the past. The two COA-affiliated doctors, Divers and Oubre, have both received money from drug and device companies, according to the CMS Open Payments Database. (Both Divers and Oubre said pharma payments do not influence their stance on PBMs.) In our interview, Okon denied the suggestion that COA is toeing the party line of its corporate sponsors. He claimed that if the PBM rebates go away, he will turn his ire on pharmaceutical companies if they don't lower drug prices in turn. "I'll be the first in line basically damning pharma," he told me.
COA might also oppose step therapy—the practice of trying and failing at cheaper drugs—because oncologists stand to benefit from prescribing more expensive drugs, Anderson says. Okon denies this, and says that the drugs PBMs pick are often not even the cheapest drugs.
It remains unclear whether PBMs are the only, or even the true, culprit in cancer-drug delays. The pharmaceutical companies, after all, are the ones setting prices so high. Insurers also use prior authorizations, and surveys suggest that the practice is growing more widespread. Though Schulman says that Lear's medicines did seem to have been stalled by PBMs, Anderson disagrees. A good doctor, Anderson says, would be able to anticipate the PBM delays and order the medication in advance. (Okon called this idea "absurd," saying it's simply not something oncologists are able to do.) In Lear's case, Anderson says, "none of this was really the PBM doing something bad": Every player in the process seemed to have failed.
In stories about PBMs, the word shadowy comes up, as does cockamamie. They don't disclose publicly how much they profit from rebates, and there are so many players in any given health transaction that the buck is very easily passed on to someone else. The health-care sea is treacherous in other ways, after all, so vanquishing PBMs might not end cancer-medication delays. But the problems these patients experienced nevertheless point to a common pattern when it comes to American health care: Companies charge exorbitantly high prices, mysterious intermediaries stand to benefit, and patients are caught in the cross fire. In some cases, families are left wondering what, exactly, went horribly wrong with a relative's care.
On April 17 of last year, Oubre's office issued a prescription for Verzenio, a breast-cancer medication, for a 55-year-old patient named Jamie Spada. Spada was a cheerful mom who volunteered at the Red Cross and ran charity drives for children. Knowing her time might be short, she took 30 vacations in four years until doctors told her she could no longer travel.
More than a month after the medication was ordered, the specialty pharmacy informed Oubre's office that they could not fill the prescription, and that it would have to be sent to a different pharmacy. The new pharmacy said it required a prior authorization.
On May 24, Spada's patient notes suggested a confused nurse trying to determine whether a prior authorization was required or not: "Received letter saying no auth was needed. Called to see when it would be dispensed was told by Rachel that an auth is needed." Two days later, the medication finally arrived at Spada's home. But it was too late. Spada was too far gone for the medication to do any good, and she had already been admitted to the hospital.
"She lost six weeks or so of time that she could have been taking medication. Maybe her quality of life would have been better," Spada's daughter, Gabriella Burst, told me. As for the reason for the delay, Burst said, "we never got a true explanation."
On June 25, Oubre's office made a final note in Spada's file: "Patient expired."