The Tragic Post-Hockey Life of an NHL 'Enforcer'
For 11 seasons, Todd Ewen fought in almost every game he played. He didn't live to his 50th birthday.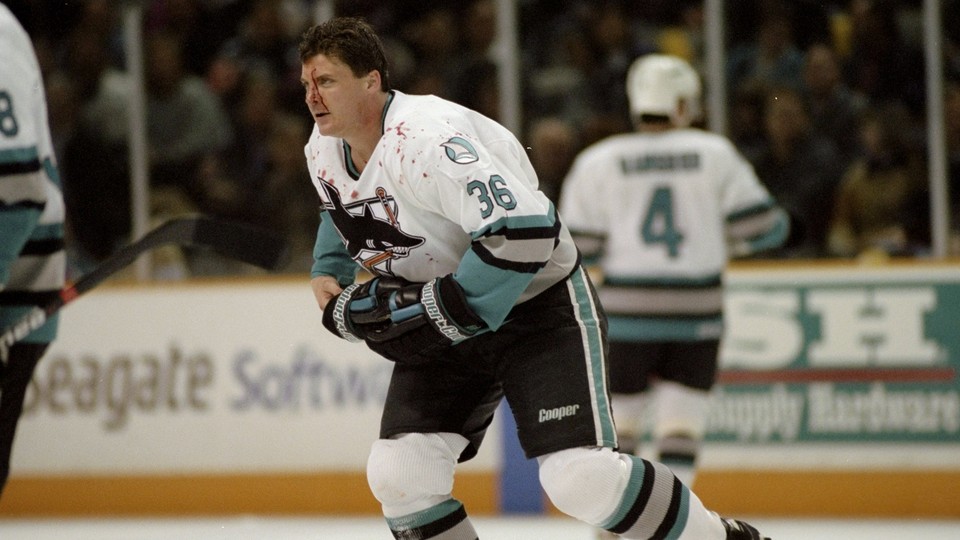 On January 24, 1987, Todd Ewen, a young right-winger for the St. Louis Blues, knocked the Detroit Red Wings' notorious tough guy, Bob Probert, unconscious with one bare-knuckled punch to the head. Ewen was a new recruit, just 21 years old, and the punch immediately solidified his place in the Blues' lineup—as well as his role in the National Hockey League as one of the many players who regularly fought members of the opposing team.
Later that same game, Ewen and Probert fought again, despite Probert having been out cold on the ice less than an hour before. This frequency of violence was typical. Ewen would go on to play 11 seasons, a soldier in the vast army of so-called enforcers in that era of the NHL. He would fight almost every game, mashing his fists into a pulp that doctors were forced to reconstruct with wire and screws.
Ewen and Probert's destinies intertwined after they first met on the ice. Probert was just a year older than Ewen, and he had a similarly grueling decade-plus career. After the two men retired from hockey—in 1998 and 2002, respectively—both started to forget things. They angered quickly. Each would be dead before his 50th birthday.
Their deaths were among the earliest to fan the flames of a national debate about the lasting effects of hockey's brutality on its players' brains. But through a twist, Ewen would become a key figure in the NHL's controversial defense of the sport.
During his playing days, Ewen was a gentle renaissance man when he wasn't on the ice. He wrote children's books and crafted models out of hockey tape for his young fans. In 1998, Ewen retired from professional hockey and returned to the St. Louis suburbs to live with his wife, Kelli Ewen. After retiring, Kelli noticed changes in Todd. "We just saw some aggression that we hadn't previously seen," she says. "Mood swings, irritability, and not sleeping. Just a pattern of things that was alarming to me."
Todd's behavior only became more erratic. During one episode, he choked Kelli and the police had to intervene. In time, depression and reclusiveness replaced Todd's anger. He routinely became lost and disoriented in the streets around his own home.
Todd confided in Kelli that he feared he might have chronic traumatic encephalopathy, or CTE—a neurodegenerative disease that most experts agree is linked to repetitive head trauma. Research on the disease has largely focused on former professional football players, but it has also been discovered in former NHL players. In 2010, Probert, the Red Wings' bruiser, became the second NHL player to be diagnosed with CTE. His death was followed in quick succession by the deaths of four other former players, all under the age of 40, all diagnosed with CTE.
In 2013, 10 former players launched a class-action suit against the NHL for their negligence regarding head injuries. Todd was aware of the suit but declined to participate. He ended his life in the basement of his home on the afternoon of September 19, 2015.
---
Damage to the brain caused by hits to the head has been observed for nearly a century. CTE was originally studied in boxers in the 1920s as dementia pugilistica. In the early 2000s, the Nigerian American neuropathologist Bennet Omalu described the pathology of CTE following research on former professional football players. Since then, CTE has been found in the brains of hundreds of athletes across a wide range of sports. It manifests as small lesions of a protein called tau, which kill the surrounding neurons. The consequences are devastating. Anger, personality changes, and memory loss are common.
After Todd's death, Kelli and many others were convinced he had CTE. Kelli had Todd's brain sent to the Canadian Concussion Centre to be analyzed. Six months later, the center's neuropathologist, Lili-Naz Hazrati, called with shocking results: Todd did not have the disease.
The NHL seized on Hazrati's negative diagnosis in its defense of the player's ongoing head-injury class-action suit and in public statements by the league's commissioner. The NHL's attorneys argued that Todd Ewen died by suicide because he believed he had CTE, and therefore it would be dangerous for the league to warn players about the disease because they might kill themselves in fear. The NHL contracted 19 expert witnesses, including Hazrati, who in their testimonies injected doubt into the science of CTE. (The NHL did not respond to multiple requests for interviews.)
In April 2017, Hazrati invoiced the NHL $25,000 for her work on the trial. In her expert report and in a subsequent deposition on March 2, 2018, she claimed that there was no link between CTE and head trauma and that CTE was not a disease at all. In an email response to my repeated requests for an interview, however, a representative provided a statement that appeared to conflict with this claim, saying that "Dr. Hazrati does not deny that concussions can cause damage to the brain, potentially resulting in a progressive neurodegenerative disease." (Hazrati declined multiple interview requests.)
The science of CTE is inherently contentious. Currently, the disease can only be diagnosed posthumously, and since it appears to present itself most commonly in professional athletes, researchers are forced to navigate a complicated web of relationships with athletes, sports leagues, and fellow scientists. The very existence of the disease poses an existential threat to certain sports leagues. While most researchers agree on the basic premise that CTE is a neurodegenerative disease linked to head injury, a cottage industry of CTE deniers has nevertheless sprung up. Hazrati's research features heavily in the former pro footballer turned commentator Merril Hoge's 2018 book Brainwashed: The Bad Science Behind CTE and The Plot to Destroy Football.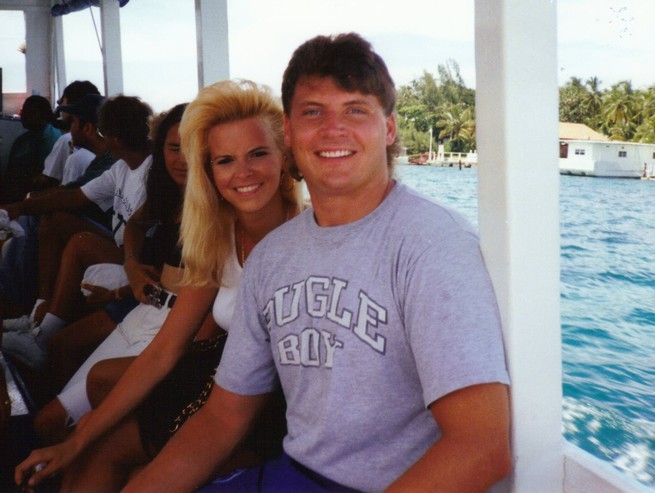 In 2014, Arland Bruce III, a retired Canadian Football League player, citing Hazrati's research, accused the Canadian Concussion Centre of obfuscating the science of CTE in a lawsuit against the CFL and the Concussion Centre's parent company. The case went to the Supreme Court of Canada, which declined to hear it. Kelli, too, held on to her doubts. She says she repeatedly asked Hazrati to retest Todd's brain but Hazrati declined. Eventually Kelli had sections of Todd's brain sent from the Canadian Centre to Boston, where a world-leading expert on CTE, Ann McKee, could retest them. In late 2018, McKee announced her own conclusions from the tests: Todd did, in fact, have CTE.
By 2018, more than 140 former players had joined the class-action suit against the NHL. In July of that year, they were denied class-action status due to conflicts between applicable state laws. The NHL offered a settlement to players in the suit that amounted to roughly $22,000 per player with up to $75,000 in medical treatment. According to a lawyer representing players in the case, most involved are expected to take the settlement.
In November, Hazrati told the Canadian sports network TSN that she does not dispute McKee's findings, but noted that she was "surprised to see that Todd had so very little [of the] disease for an enforcer."
Meanwhile, McKee's positive diagnosis relieved any doubts Kelli had about her husband's condition. But the results were only partial vindication. The NHL so far has not acknowledged any link between head injuries sustained during the game and CTE. Hockey players still slam into one another day after day. The NHL has taken incremental steps to limit fighting and hits to the head, but as CTE is being found in a growing number of hockey players, there's arguably far more the league could do to save future players from Todd's path.