The Biggest Consequence of Trump's New Abortion Rule Won't Be for Abortion
New restrictions on the Title X program may affect poor women's access to other kinds of health care.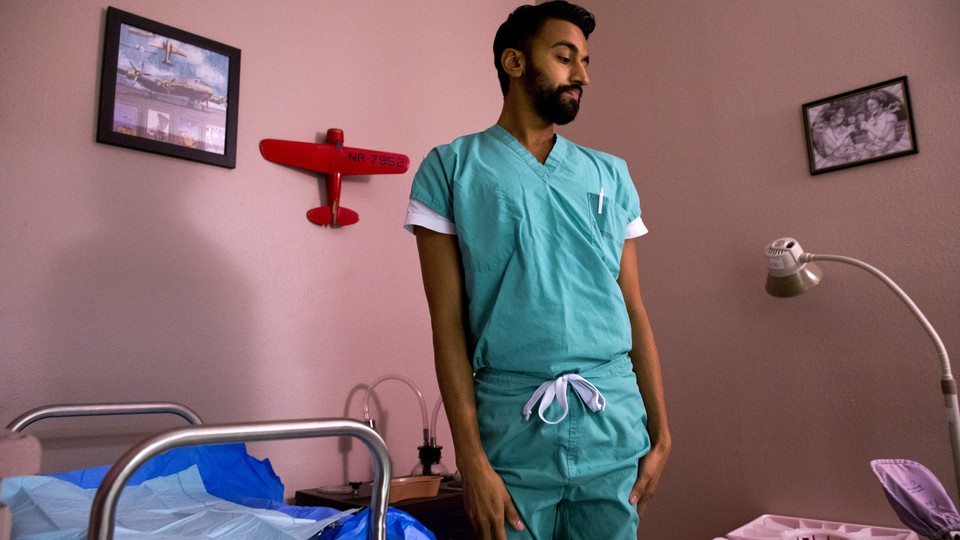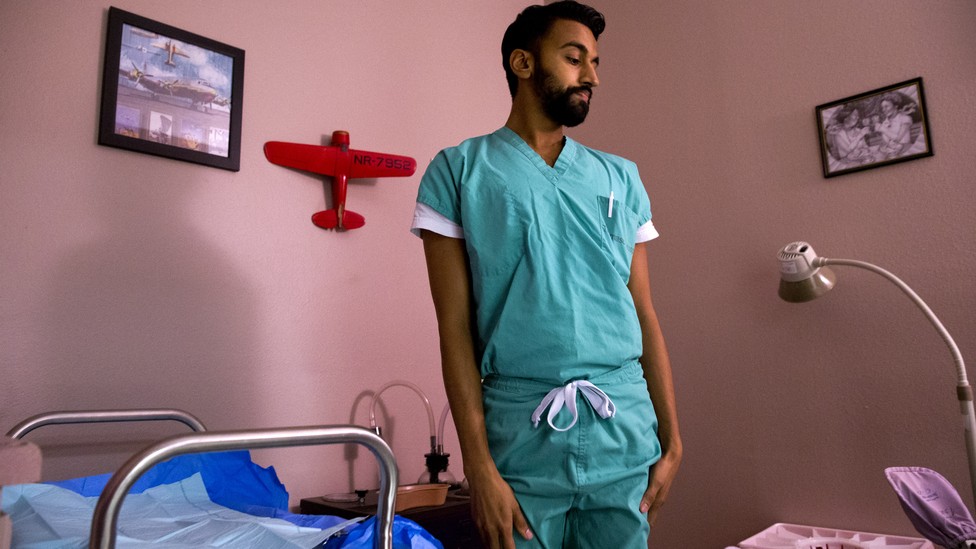 In late February, the Trump administration dropped a new rule that has alarmed doctors' groups and brought conservatives closer to achieving their long quest to defund Planned Parenthood.
Clinics that receive funds from the federal family-planning grant program Title X will no longer be able to perform abortions in the same space where they see other patients. Abortion and other health-care services will be required to be physically and financially separate entities. Title X participants will also no longer be able to refer patients to abortion providers, though they can mention abortion to their patients.
About 20 percent of Title X providers would potentially have to renovate their clinics to meet the new guidelines, according to the Department of Health and Human Services. It will likely cost each of these providers $20,000 to $40,000 to come into compliance with the physical-separation element of the new rule.
The move is seen as a blow to Planned Parenthood, which operates about 40 percent of the 4,000 Title X clinics in the country. In the past, restrictions on state or federal funding for the family-planning organization have caused clinics to shut down. Such a measure might conjure images of scores of Planned Parenthood clinics suddenly closing their doors. But the impacts of the rule are likely to be more subtle, and to mostly affect poor women's access to medical services unrelated to abortions. (The rule won't go into effect for at least 60 days, and it might be legally blocked altogether. Several states and organizations have already said they will sue.)
Since Title X was established in 1970, the program's funding has been restricted from going toward abortions. Clinics such as Planned Parenthood that offer abortions—but also health departments, federally qualified health centers, and other Title X grantees that don't—use the Title X program. The money is used to provide nonabortion health services, such as cancer screenings and birth control, mostly to poor and uninsured women, on a sliding fee scale. If a woman has no money and no insurance, she can, say, get a Pap smear at a lower cost, with the difference covered by Title X money. Title X also pays for staff, training, and community outreach.
The anti-abortion-rights community sees this existing restriction as still too lax. They argue that Trump's new rule makes it more certain that no government money will go to an entity that provides abortions, and that the rule allows more faith-based organizations to participate in Title X. "We applaud the decision of the administration to ensure that federal family-planning dollars are not used to subsidize abortion operations," says Steven Aden, the chief legal officer at Americans United for Life. "Any time abortion is advocated as a means of family planning, that's tax money going to the promotion of elective abortion."
In Aden's view, it will not be difficult for Planned Parenthood and other clinics to separate their clinics into abortion and nonabortion facilities. But these clinics maintain that complying with the new rule is not as simple as it seems.
Opponents of this ban sometimes call it a "gag rule." Aden told me he disagrees with this description. "There's no gag rule because if they so desire, Title X recipients can still discuss abortion as one of the options," he said. Still, Planned Parenthood views the rule's ban on referrals to abortion providers as medically unethical. Leana Wen, the president of the Planned Parenthood Federation of America, has said that she will refuse Title X funding if the rule holds up in its current form.
Without that funding, says Kristin Metcalf-Wilson, the senior lead clinician for Planned Parenthood of the Great Plains, many clinics in those states would not have the resources to reduce the fees for nonabortion medical procedures for poor, uninsured women.
If Planned Parenthood loses Title X funding and stops accepting patients on a sliding scale, the rule's opponents argue, other Title X clinics will not have the capacity to absorb those patients. Metcalf-Wilson says the Title X funding is too large an amount for other funders, such as private donors, to make up for.
Other clinics might decide that the new rule's requirements are too burdensome, and opt to simply forgo the Title X funding, potentially driving up the costs of their services. "I think there are family-planning providers that will find they will qualify for the [Title X] funds, but the terms are not those that are worth it for them," says Alina Salganicoff, the director of women's health policy at the Kaiser Family Foundation.
The rule would also affect abortion clinics that rely on getting patient referrals from Title X clinics. "Many of the local Title X programs have referred patients to us," says Corinne Rovetti, a nurse practitioner and co-director of the Knoxville Center for Reproductive Health, which provides abortions and other services. "Now they will not be able to give that information."
It's not clear yet whether the loss of Title X funding would mean the closure of more Planned Parenthood clinics. In the clinics it supports, Title X provides about a fifth of the revenue. In the past, funding cuts and legislative restrictions have prompted abortion clinics to shut down. After Kansas removed Planned Parenthood from the state's Title X program in 2014, the organization closed a health center in the city of Hays, a spokeswoman told me. After Texas mandated that abortion clinics meet the same standards as ambulatory surgical centers, down to their hallway widths and room sizes, half the clinics in the state closed within three years.
In 2016, I visited a woman who ran a Planned Parenthood clinic in a town in West Texas, where, she said, state restrictions on funding meant that if women asked the clinic about abortion during a medical exam, Planned Parenthood staffers had to tell them, "You'll have to look it up in the Yellow Pages." After further funding cuts, the last abortion clinic in the region closed in 2013.
Many independent abortion and family-planning clinics across the country don't receive any kind of state or federal money, including Title X. These clinics don't necessarily face financial challenges. Gabrielle Goodrick, a doctor who runs Camelback Family Planning, in Phoenix, provides both abortions and other gynecological procedures and gets no federal or state funding. Though many of her patients struggle to afford abortion procedures, which cost $500 to $600, she says it is not a challenge for her to keep her doors open.
In Tennessee, the Knoxville Center for Reproductive Health does not receive any state or federal funding either. Instead, it keeps its fees low so that uninsured patients can afford basic procedures. A Pap smear costs some patients as little as $30, for example. The business model relies on privately insured patients, patients who pay full price for abortions, and an anonymous donation from the National Abortion Federation that is earmarked for needy women seeking abortions. Currently about half of the center's patients require that financial assistance.
Without the Title X money, some Planned Parenthood clinics might cut back on staff or reduce their hours, Salganicoff says, which would keep the clinics in place while nevertheless reducing access. (Aden, from Americans United for Life, disputes this: "Planned Parenthood's share of the Title X load is very small compared with public health agencies and other private health services.")
This is all happening at a time when it's becoming harder for freestanding family-planning clinics to make money because women no longer need as much reproductive health care. More women are getting IUDs, which require a doctor's attention only every few years. The recommended span between Pap smears has been increased from a year to three years. There are now fewer unintended pregnancies, and thus fewer abortions. Even the total number of Title X patients is going down. And apps now circumvent the clinic entirely, sending birth control to your door.
"That's all good news for women," Salganicoff said. "But those changes put challenges on family-planning providers."
If the new rule goes into effect, they'll have another challenge to contend with.