What It's Like to Survive Being Shot 16 Times
One man's life seven years after a gruesome and miraculous run-in with the police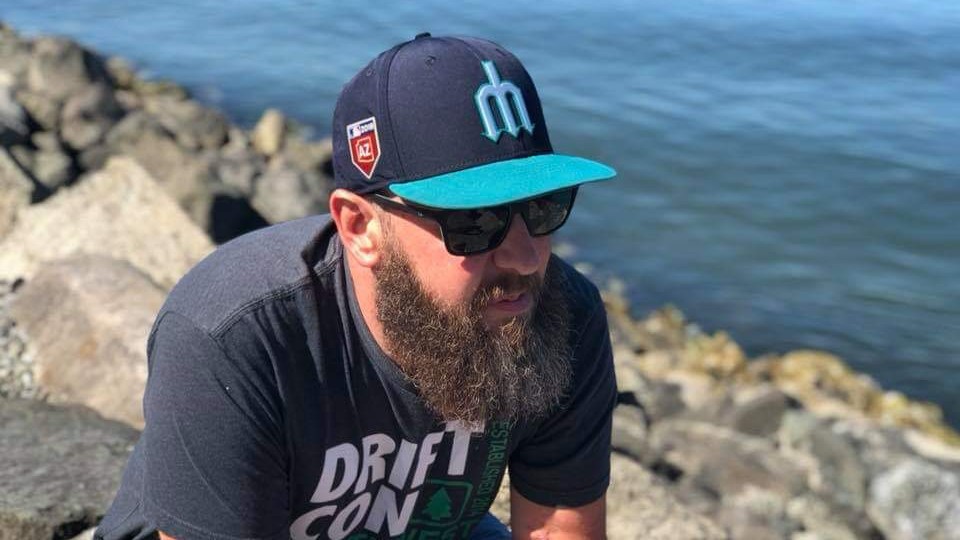 Dustin Theoharis doesn't like to talk about the day he was shot 16 times. Neither do the officers who shot him, so it's hard to describe exactly how it unfolded.
What's clear is that on February 11, 2012, several law-enforcement officers entered a house in Auburn, Washington, where Theoharis happened to be renting a room. They detained the homeowner's son, who was wanted for violating his parole conditions. Then two of the officers pushed through a pair of French doors into the dark former storage space where Theoharis, 28 at the time, was sleeping.
Conflicting accounts make the next several seconds fuzzy. Kristopher Rongen, an officer with the Washington State Department of Corrections, has told the story this way: He announced "Police, police, show your hands" in a loud voice, but Theoharis refused to do so. Rongen asked Theoharis whether he had weapons, and Theoharis admitted that he had three—then added "right here" and moved to sweep the floor with his hand. Rongen and the second officer, Aaron Thompson, a detective with the King County Sheriff's Office, feared that Theoharis was reaching for a gun and opened fire. (Both officers declined to be interviewed.)
Theoharis, meanwhile, says that he didn't have any guns. He remembers being startled by two strangers standing at the end of the bed—cops, no less. He says that they asked for identification, so he reached for his wallet. That's when they started shooting. No one disputes that the officers hit both of Theoharis's legs, both of his arms, his shoulder, and his abdomen. One bullet edged his jaw. Another lodged in his back. Theoharis fell to the floor, writhing in pain with 16 bullet holes in his body.
Miraculously, he survived. It took him about a year to recover from the injuries. At first, he was breathing with the help of a tube and unable to talk, blinking once for "yes." Doctors plucked bullets from his body during multiple surgeries. He relearned how to walk. He couldn't return to his job as a refrigeration mechanic, because he lost coordination in one of his hands; however, a $5.5 million settlement with the sheriff's office and the corrections department staved off financial concerns.
It's profound luck that Theoharis can be counted among the tens of thousands of Americans injured by guns each year, and not the thousands killed by them in homicide cases. Nevertheless, luck only goes so far. In the years since the shooting, Theoharis has grappled with lingering injuries and the emotional toll of such violence. Though upbeat and optimistic, he's still figuring out how to navigate his spared life.
---
Over the summer, I drove out to meet Theoharis in Puyallup, Washington, where he owns a duplex not far from where he grew up. He and his girlfriend, Tara Miller, rent out one of the house's units and spend a few months in the other each year. Mostly, they live in Arizona, where Theoharis used some of his settlement money to buy a second house and escape the gloomy weather. He says the cold makes his body ache, but he and Miller love to return to the Pacific Northwest during the brief window that the gray skies cede to the sun.
When I arrived, Theoharis welcomed me at the door. Their home was neat and furnished with a comfortable sectional in front of a large flat-screen TV. Golf was on, and quiet pops punctuated our introductions as balls sailed across the green. Dressed in a T-shirt, shorts, and socks, Theoharis perched on the edge of the couch and fidgeted with an e-cigarette as he told me about life after the shooting. If someone can have an aw-shucks attitude about besting 16 bullets, Theoharis is that self-effacing survivor. He shrugged and chuckled as he recalled the time that he pulled a forgotten bullet from under his left arm as if he were tweezing a splinter.
But Theoharis's body remains vulnerable. Miller, standing behind her boyfriend, widened her eyes and shook her head at me as Theoharis mused about skittering across the lake on a wakeboard or water skis, as he used to. She returned to the kitchen, where she was working, after he waved away the idea; he's too afraid of wiping out and smacking his face on the water. His jaw already hurt just from talking too much, he said. He's more fragile now. He avoids moving heavy objects. Running is hard on his joints, but sometimes he rides an exercise bike. He golfs a lot.
That Theoharis can do anything in the first place is a matter of chance. "You can be shot once and die, or you can be shot multiple times and live," says Eileen Bulger, a surgery professor at the University of Washington and the trauma chief at Harborview Medical Center. "It very much depends on where the bullets go and how much damage is caused in the path of the bullet." Even when someone survives, being shot can cause lifelong nerve damage, bowel obstructions, or other problems. What doesn't kill you can still shorten your life span.
Theoharis knows about reduced life expectancy, though he admits that he doesn't entirely understand the calculus. "Maybe my giblets are all messed up, or something like that," he told me. He has an umbilical hernia, which he explains means that "it's easier for giblets to pop through" his abdominal muscles. His spleen is gone. He's missing teeth, though it's not apparent when he talks.
In a counterintuitive twist, the shooting could have possibly extended Theoharis's life, in a way, even as he bears its physical scars. Before the incident, Theoharis was addicted to opioids, which are involved in the majority of drug-overdose deaths in America. He began treatment after he was released from the hospital and had the time to attend several 12-step meetings a day. "I just wanted to live a happy frickin' life," he said. "I get another chance."
---
Still, if the future physical-health problems of shooting survivors are uncertain, the lasting mental-health impact may be even harder to pin down. Theoharis tries not to think back on what happened, but said that he has "some issues" with post-traumatic stress disorder. Loud noises can spook him. Sometimes he startles more easily. He likes to shoot targets at a range, but being around other people with guns makes him uneasy, he said.
Brad Stolbach, a trauma psychologist who teaches at the University of Chicago, says it's unlikely that someone would survive a shooting like the one Theoharis endured and not be traumatized in some long-term way. Research by Stolbach and others shows that people who have been shot in any circumstance are "very, very, highly likely" to meet the criteria for post-traumatic stress disorder, he says, which can lead to flashbacks and nightmares, along with dissociative thoughts and feelings about what occurred.
These symptoms can be especially pronounced when the traumatic experience involves someone who is supposed to be a protector, like a parent or law enforcement, Stolbach adds. "Any kind of trauma can mess up your trust in the world and in the people around you and in your own safety," he says. "But when someone in a position of trust and authority is the perpetrator of the harm, then that is absolutely going to affect how you experience people in positions of trust and authority."
High-profile police shootings in recent years have prompted national conversations about use of force and racial disparities. Among the hundreds of victims of police violence in 2015, people of color were disproportionately affected. A recent study found that police killings of unarmed black men hurt the overall mental health of black Americans. Theoharis, who is white, stands apart from those discussions. I was surprised when he told me that he doesn't begrudge the officers who shot him. Rongen and Thompson made a "huge mistake," he said, but he noted that John Urquhart, the King County sheriff at the time of the shooting, apologized to him. (A spokesman for the sheriff's office couldn't confirm that Urquhart apologized.) The two officers "were doing their job, and I think it's a job a lot of people wouldn't want to do," Theoharis said.
A few years after the incident, Theoharis heard secondhand or thirdhand that at least one of the officers was struggling with what happened. Rongen and Thompson are still employed by their respective agencies. In declining an interview, a spokesperson for the Washington State Department of Corrections said Rongen didn't want to relive the events of that day "and any trauma."
Officers in Rongen and Thompson's situation could be vulnerable to psychological fallout, too. In general, police are an extremely resilient group, says Diana Falkenbach, a clinical psychologist who teaches at the John Jay College of Criminal Justice and works with police. But "if you make a horrific mistake that … almost ends someone's life, you can imagine how difficult it would be to go into a situation again and again." Cops have one of the highest rates of suicide compared with other groups, Falkenbach notes.
In June 2016, Rongen was shot himself. He was working an operation with a regional crime task force, according to a description of the shooting that of his a friend posted online. He had a warrant for a suspect, a felon with a gang affiliation, but as he tried to arrest the man, he was shot twice. The first bullet entered and exited his right shin and calf. The second shattered his kneecap. He was treated at the same hospital as Theoharis.
When I visited Theoharis over the summer, he hadn't heard about this incident. I explained that I learned about it from a GoFundMe campaign organized by Rongen's friends and colleagues to help him and his family deal with the financial strain of his injuries. When I told Theoharis about the fundraising effort, he sounded surprised.
"He had a GoFundMe?" Theoharis asked. Then he shook his head. "I should have contributed."