The Best Combs a Presidential Candidate Could Use to Eat a Salad
Senator Amy Klobuchar reportedly once resorted to this strange method. So I tested out some combs.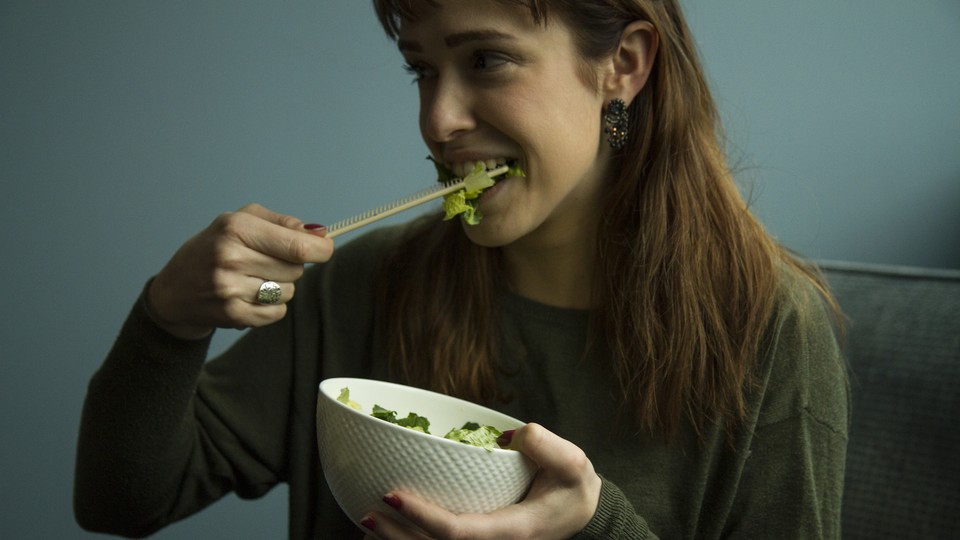 The road to 2020 has started off bumpy for Amy Klobuchar. After the Minnesota senator announced a run for president less than two weeks ago, multiple reports have emerged of her mistreating members of her staff over the years. The latest and largest account came on Friday from The New York Times, and among the numerous incidents it describes, one in particular has left people confused.
Before a flight to South Carolina in 2008, according to the Times, Klobuchar dispatched an aide across the airport terminal to get her a salad. He made it onto the plane with the meal, but he failed to bring a fork. Frustrated and peckish, Klobuchar apparently proceeded to eat the salad using a comb she grabbed from her bag. She then reportedly reprimanded the aide for his mistake and told him to clean off the comb when she finished.
This is a serious account of workplace bullying. A campaign spokeswoman told the Times that Klobuchar has acknowledged she can push people hard, "but these anonymous stories—some of which are just plain ridiculous—do not overshadow the countless experiences of people on the senator's team who she has been so proud to work with." (Klobuchar's office did not immediately respond to a request for comment before this story was published.)
Still, the alleged comb use itself is hilariously absurd. Did Klobuchar wash the comb before eating? Don't all airplanes have forks on board? Is it even possible to eat a salad with a comb?
Klobuchar's purported choice of replacement utensil might not have been as uncommon as it sounds. As a high-school swimmer rushing through the locker room, I too once found myself hungry and forkless, and resorted to eating a cup of Greek yogurt with a comb. But a salad is a different textural animal entirely. It's layered and varied, and sometimes there are croutons.
To get to the bottom of how Klobuchar might have pulled this off, I realized I had to try her choice of cuisine. So I grabbed a salad and bought (and sanitized) three combs and two brushes. For scientific accuracy, I rated each hair tool on the scale of a fork, in terms of its ability to move a Caesar salad from a bowl to my mouth. "50 percent fork" is half as good as a fork, etc.
Here are the definitive results:
The Blingy Brush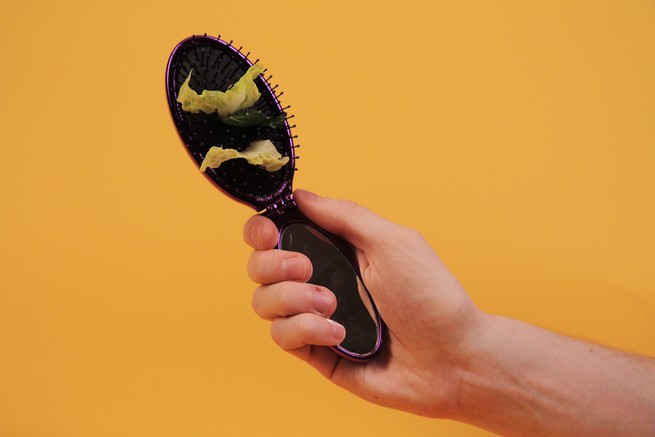 Right from the start, the most obvious selling point for this lustrous metallic brush is the mirror on the inside of the handle. It's more useful for a politician on the go than a fork because it doubles as a way to ensure that your teeth are lettuce-free before a big television appearance. Unfortunately, no amount of reflectiveness can save this would-be utensil from itself. Of all the combs and brushes tested, the bristles on this one are the most flexible by far, which might be a gentle plus for hair, but leads to a low yield when picking up leaves and a painful rubber-band-like rebound after the bite. My lips still hurt.
Verdict: 15 percent fork
The Pointy Comb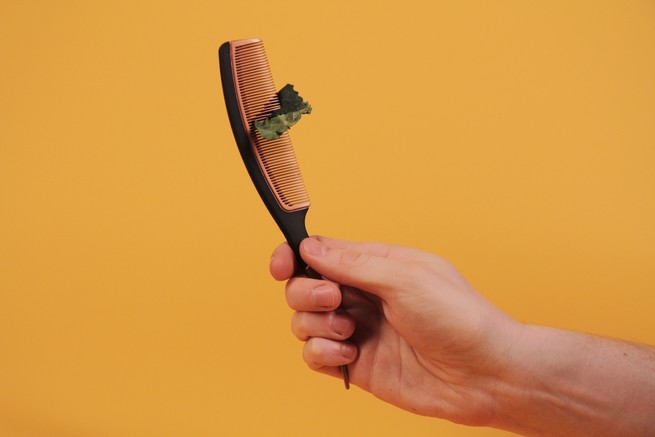 I had high hopes for this comb: Traditional but still fun, it immediately struck me as exactly the type of comb a middle-aged senator would keep on hand. My first bite was underwhelming. The close-set teeth make it hard to spear a satisfying amount of lettuce, though the handle acts as useful leverage. But the optimal strategy, unequivocally, is to use the spear end of the comb. With that sharp pick, shish-kebabing lettuce is a breeze (though croutons, not so much). The best part? Eat with the bottom half, and you don't even have to wash this comb before brushing your hair.
Verdict: 80 percent fork
The Salon Comb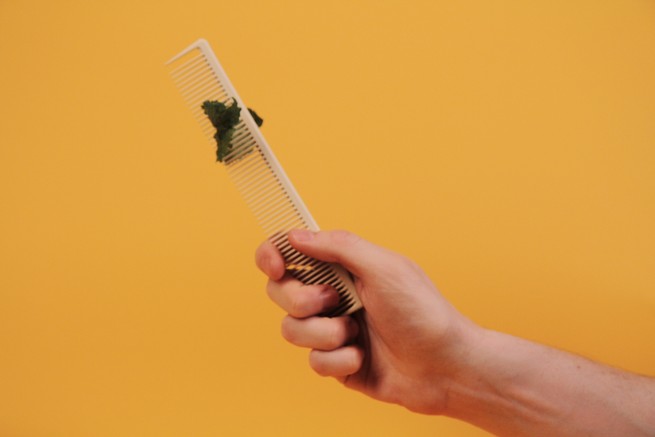 This is the classic. It's old-fashioned, more about function than pizzazz. Despite its time-tested reliability as a styling tool, the comb is rather lackluster in the culinary department. Before it's even touched lettuce, the length and angle make diving into a bowl of greens tricky. Once you've maneuvered your way in and arrived at a comfortable alignment, though, this comb becomes a sturdy, passable tool for a forkless flyer. Be careful—this is not a variety of comb known for its ability to bear heavy loads, so wield with caution unless you want to swallow sharp plastic on the campaign trail.
Verdict: 65 percent fork
The Round Brush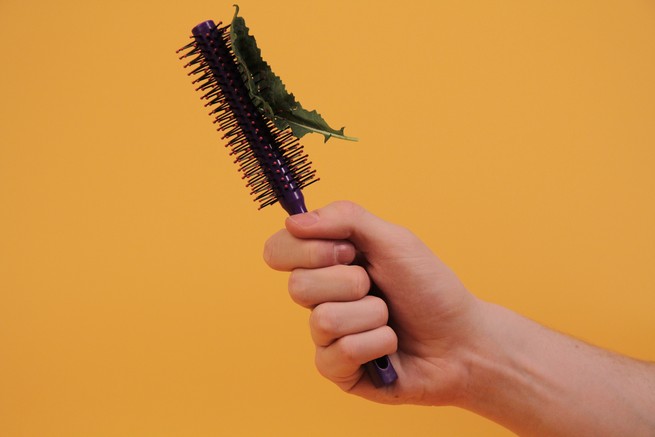 Now I know why they don't make circular forks. While grip was an issue with most of the tools we tested, this one in particular required an extraordinarily uncomfortable and unnatural hold to get the torque needed to score veggies. Eating an entire salad with this would count as a legitimate upper-body workout. Thanks to the firm bristles, the brush at least beats out the Blingy Brush, though it doesn't change the fact that there are hairbrush bristles in my mouth.
Verdict: 50 percent fork
The Pick Comb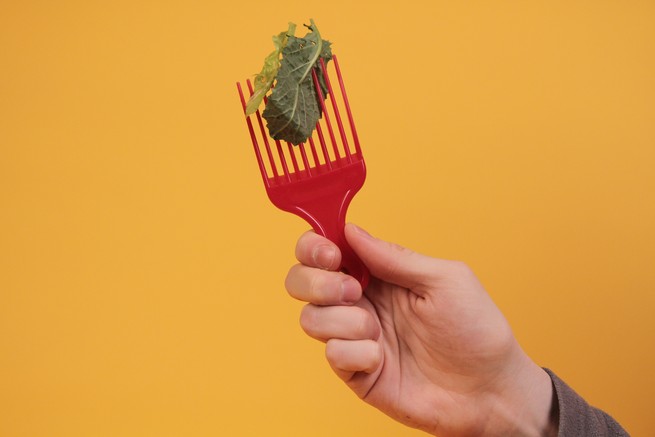 Conceptually, this was the clear front-runner from the start. The elegant pick comb already looks so much like a fork that the competition hardly stood a chance. In fact, the pick comb's size and plentiful tines handled much more food at once than a traditional fork. If you need to get that salad down before the plane lands, the pick comb is better than a fork. It will get the job done faster. Its handle is ergonomic. The lack of complicated nooks and crannies even makes it easier for you—or your subordinates—to wash.
Verdict: 120 percent fork