The Sad News About CBD Cupcakes
Cannabidiol-infused foods won't get you high, probably won't cure your anxiety, and are very likely illegal. On the plus side, they still taste good.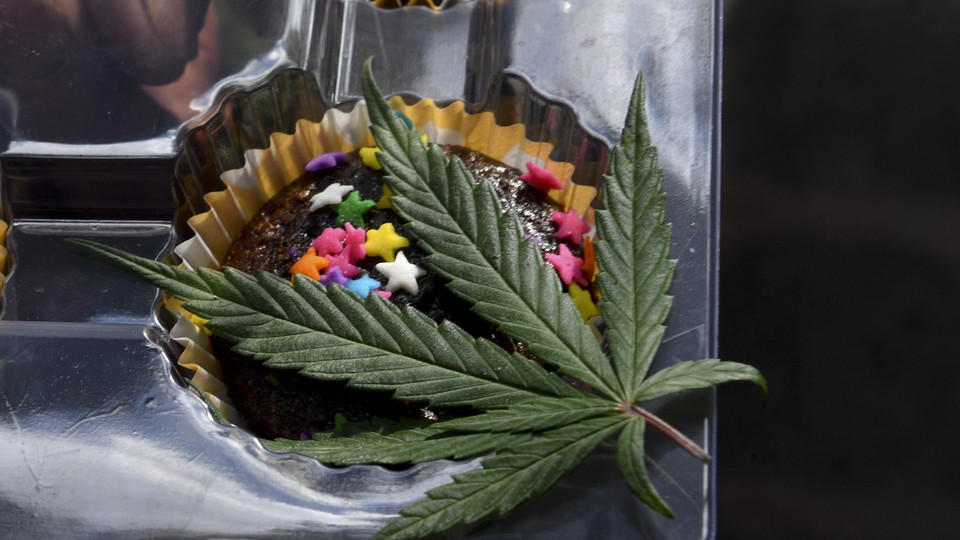 As I stood at the window of a Weed World Candies truck on Manhattan's Sixth Avenue last week, a gray-haired man I didn't know tapped me on my shoulder. "It doesn't work," he said, motioning at the truck, which sells candies laced with a cannabis- or hemp-derived compound called cannabidiol.
"I didn't ask you," I responded, turning back to the window.
"It doesn't work," he reiterated, louder, as though it was easier to believe that he had been misheard rather than dismissed.
We went back and forth like that for several rounds, yelling at each other in 30-degree weather in front of an RV wrapped in marijuana-leaf graphics and blasting Bob Marley music. Finally, he stopped trying to enlighten me and shuffled off to let me buy my lollies in peace. As I tore into my new treats, I realized the whole thing had been a scene from the internet's dominant cannabidiol discourse come to life: Some money had been spent and some opinions had been said, but no one had gained any information.
Cannabidiol—more commonly abbreviated as CBD—isn't psychoactive and, apparently to the man's disappointment, won't get you high. Instead, many people report that consuming it makes them feel less anxious, helps them sleep, or eases joint pain. Over the past two years, CBD in the form of oils and supplements has become widely distributed across the United States, even in places with no level of cannabis legalization. Now the trend's new frontier is food. My first clue that it had hit some kind of critical mass was seeing a local restaurant put a sign out front announcing the debut of CBD empanadas. From design-oriented Instagram seltzer to your local pizza place, brands and restaurants want you to order some CBD and eat your feelings.
The problem is, it's not easy to know what you're actually ingesting, or if it'll actually change how you feel. At best, CBD in America exists in a confusing state of quasi-legality and yet-to-be-realized potential. Experts estimate that the market for it could balloon to $22 billion by 2022, but with cannabis and hemp laws changing rapidly across the country, the chemical is almost entirely unregulated on the consumer market, with no end-product labeling or composition standards to help shoppers understand what they're buying.
The market is rife with misinformation even when CBD is sold as a relatively simple oil or supplement. When it's squirted into a latte or baked into a cookie, CBD's uses and effects get even more opaque. The chemical's loudest advocates make health claims far beyond the current scientific evidence, and its harshest critics often dismiss the compound entirely as just another snake oil in America's long tradition of health scams. Journalists are starting to get a handle on what CBD actually does and what is actually known about it, but along with researchers and regulators, we're still playing catch-up when it comes to the people who have pushed the compound into what feels like mainstream overnight success: entrepreneurs.
"Every day, I get a pitch or two for new CBD products," says Rosemary Donahue, Allure magazine's wellness editor. In recent months, she has seen the products start to shift away from supplements and toward "beverages, like coffee and seltzers, and even chocolates." These products provide an easier point of entry for the casually curious: You may not want to order a vial of weird-tasting oil from a company you've never heard of online, but spending $3 to squirt some CBD into your daily latte feels pretty low-stakes. Even Coca-Cola is reported to be looking into the CBD-beverage business.
Whether that $3 will get you anything is a more complicated question. Esther Blessing, a researcher and psychiatry professor at New York University Langone Health, is one of only a few researchers who have completed a review of CBD's effects on mood. She looked at its potential to treat anxiety, and although she stresses the results are very preliminary, she sees a lot of promise. "Studies so far have shown that CBD of a specific dose is roughly as effective as drugs like Valium and other benzodiazepines in reducing experimental anxiety," she says.
But experimental anxiety, which is when stressors are applied to make a volunteer feel anxious for a test, is different than clinical anxiety, and long-term, rigorous clinical trials are necessary to find CBD's real-life effects on patients. Several are under way right now, including one Blessing is conducting at NYU, but the process of completing those, finding appropriate dosages, and creating a consistent drug that can meet Food and Drug Administration approval standards takes time. "Getting into the full pipeline of FDA approval is probably eight to 10 years away," Blessing says.
In the meantime, there's virtually no way for consumers to feel confident about what or how much they're taking when they buy a CBD cookie, and dosage has a big impact on what we know about CBD's effects so far. How transparent a bakery or coffee shop decides to be about its sourcing and dosing is completely up to them. "It's actually really hard to get pure CBD. It's really expensive, and there's a limited number of high-grade producers across the world," Blessing says. "If I'm a coffee company that's coming onto the scene and I want to make some money, I don't really want to put a lot of stuff in it."
Sometimes, products that claim to contain CBD don't have any at all when tested, Blessing says. More commonly, though, cookies and beverages simply contain far less than 300 milligrams of CBD, which is the minimum amount she says has been found effective in the preliminary science so far. Vybes, a brand of CBD-laced drinks, has 15 milligrams of the compound in each bottle. Feelz by Chloe, a line of CBD desserts from the vegan fast-casual chain By Chloe, has said in the past that each dessert contains only 2.5 milligrams of CBD a serving.
Still, Blessing notes, amounts below 100 milligrams haven't even been tested, so it's not impossible that small amounts may have some effects. As far as anyone knows, heating up CBD doesn't degrade its effects, and early evidence suggests that taking it along with high-fat food (like a dessert) aids the body's absorption of the chemical. Beyond that, all anyone has is guesswork. By Chloe didn't respond to a detailed list of questions about its sourcing and dosing, but I tried a few of the company's CBD treats anyway. They were all incredibly tasty, and after consuming three cookies in the course of 24 hours, I accidentally fell asleep on my couch at an indeterminate time of the evening and woke up at 4:30 in the morning. Was it the CBD, or was I just tired? Maybe it was a classic placebo effect, in which I expected to be relaxed and became so.
CBD research is still in its infancy because both the substance itself and the cultivation of the plants from which it's derived have long been illegal in the United States. And despite all those cookies you see for sale, CBD does seem to remain illegal, unless FDA approved. In December, hemp cultivation was legalized nationwide as a provision of the Agriculture Improvement Act of 2018. But the FDA released a statement explicating the agency's stance on CBD's legality: In short, the FDA does not recognize a distinction between cannabis- and hemp-derived CBD and, for the time being, considers both to be illegal—especially as a questionably safe food additive. Although CBD isn't dangerous to healthy people, it can affect how the body metabolizes certain types of medication, which Blessing says could lead to overdose in some cases. (Because of the government shutdown, the FDA is unavailable to explain its stance or enforcement plans in further detail.)
Even if you live in a state where recreational marijuana is legal, the mainstream sale of CBD in bakeries and coffee shops is still a whole different issue, according to Griffen Thorne, a California-based attorney with Harris Bricken, a firm specializing in cannabis-trade issues. For cannabis, "one of the things that's a really big requirement in California is safety testing at the distributor level," Thorne says. "That's not really there yet for hemp CBD products." For instance, CBD products sometimes contain enough lingering THC to produce psychoactive effects.
Because hemp-derived CBD currently lacks labeling and purity standards that are required of cannabis products sold at legal dispensaries, it exists in a regulatory limbo that laws don't yet address. In the meantime, the Los Angeles County Department of Public Health has announced that starting in July, putting CBD in food products will cost businesses points on their health inspections.
Despite some relatively tough talk from regulatory bodies, it can seem like they're trying to close the barn door after the horse got out. CBD is already everywhere, and people are curious about it for reasons that seem to go far beyond trendiness, such as financial precariousness and health-care costs. "People are panicking and looking for things. They're like, 'What if I don't have insurance because I get laid off? What can I replace my meds with?'" says Donahue, the Allure editor. CBD fits neatly with a growing distrust in technology and in the pharmaceutical industry, and America's moderating view of cannabis means that many people see CBD as a safer alternative for anxiety or pain that's worth trying.
For most of those people, if they eat a cookie, it seems like the worst thing that could happen is nothing. At least they got to eat a cookie.