Did Obamacare Repeal Hurt the Republicans?
How the GOP repeal effort did—and did not—come back to bite those who championed it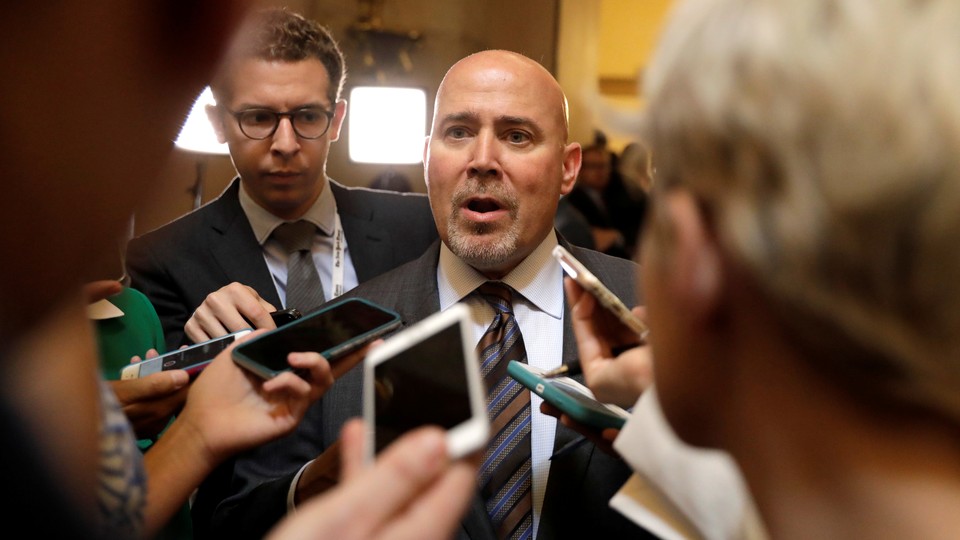 BARNEGAT, New Jersey—Health care was supposed to be the biggest issue on voters' minds on Election Day, and in New Jersey's Third Congressional District, it was supposed to be the issue.
Incumbent Representative Tom MacArthur, a Republican, had not only previously voted to repeal and replace the Affordable Care Act, or Obamacare, but authored an amendment that would have let states charge more for preexisting conditions and opt out of certain types of coverage, such as maternity care.
His opponent, Andy Kim, a counterterrorism official under Obama, hammered the health-care point in a campaign ad, saying that MacArthur "wrote the bill" and took money from drug and insurance companies. (MacArthur has denied that he tried to take away preexisting-condition protections.) Though the race still hasn't been officially called, on Wednesday night, Kim declared victory with a lead of just a few thousand votes.
The race was seen as, potentially, an example of Republicans nationwide paying the price for attempting to gut Obamacare last year. But whether voters remembered the repeal effort, and punished Republicans for it, is a more difficult question to answer.
MacArthur clearly did face a more uphill battle this year than in the past. He won reelection in 2016 by 20 percentage points. On Tuesday, I interviewed two dozen voters in Barnegat, a small town near the coast, and Democrats indeed tended to cite health care as a reason to vote for Kim.
Leslie S. said that she has special-needs kids and grandkids and "cannot vote for anyone who would take away Medicaid."(Most of the voters I spoke with asked me not to use their full names.) She supported the Democrats, as did Katlyn M., a woman with a chronic illness that could be considered a preexisting condition.
The Republicans I interviewed, meanwhile, were more focused on the economy and immigration. In fact, several MacArthur voters told me that they had no issue at all with their own health insurance. They want Republicans to stay in power so that President Trump can complete his plans for a border wall and continue to grow the economy.
"Border security is important to me," said Tim K. "I'm concerned that the asylum process allows for too porous of a border."
Other Republicans supported MacArthur's move to repeal Obamacare; they regretted that it had failed. "We're in favor of Obamacare repeal," said Jane L. "I had to be on it for a year, and we were paying $1,000 a month for my premium."
Like some Republicans, some Democrats voted based on party loyalty and had little sense of MacArthur's health-care amendment when I asked. But others had, in fact, weighed MacArthur's health-care history and voted for his opponent. "They need to provide comprehensive coverage for everybody," said Luis M., who voted for MacArthur in a past election but went for Kim this time. "[MacArthur] has sold his soul to the devil."
The repudiation of the repeal effort is a bit surprising, since only about 9 million Americans are on Obamacare plans, and they would feel changes such as the end of preexisting-condition protections most acutely. After the repeal effort failed, the Trump administration opted to dismantle Obamacare through small, administrative maneuvers, leaving the future of the law largely out of congressional hands. Finally, both Obamacare and the repeal effort were so convoluted that most voters likely forgot what the MacArthur amendment was. In Michigan, for example, voters reelected Representative Fred Upton, a Republican who was also considered vulnerable because of his role in the Obamacare repeal effort.
It's possible, then, that Kim and other Democrats simply succeeded at branding themselves as more "pro" health care, whatever that might mean. Several of the Kim voters I spoke with didn't know the specifics of the Republicans' repeal attempt, but they had the vague sense that Democrats would give them access to health care, while Republicans would not. With the name Obamacare, President Barack Obama tried to convince people that he cares. Republicans, rightly or wrongly, might have come off seeming as if they don't.
Then again, most people said that health care was just one of the issues that brought them out to vote. An even more electrifying motivator drove some Democrats to the polls: President Donald Trump. "Health care is expensive, and even though you pay for it, you go, and nothing is covered," said Faith D. But she also wanted a check on the president. "He's an embarrassment to the United States of America," she said.