'Juul's a Business, and They're Behaving Like a Business'
The e-cigarette giant is on an atonement tour. But who is it really for?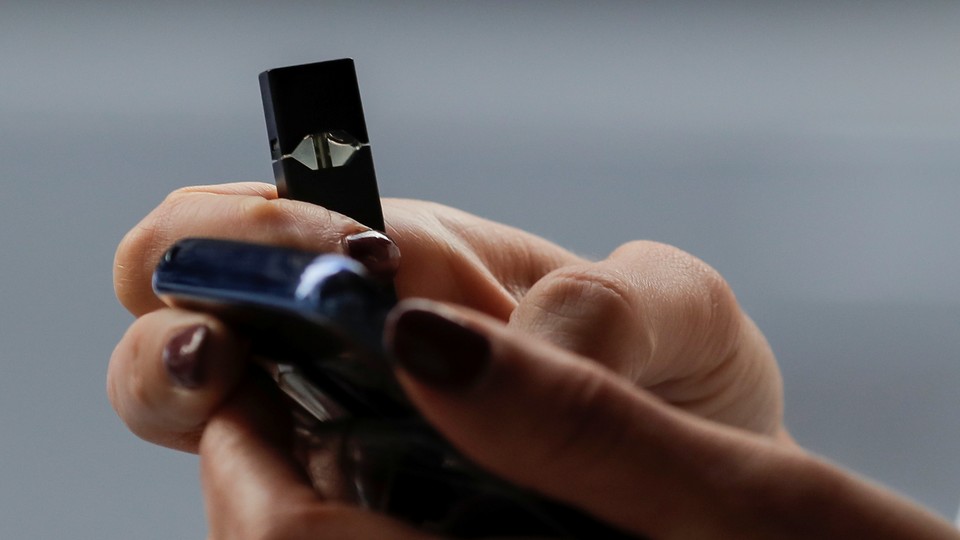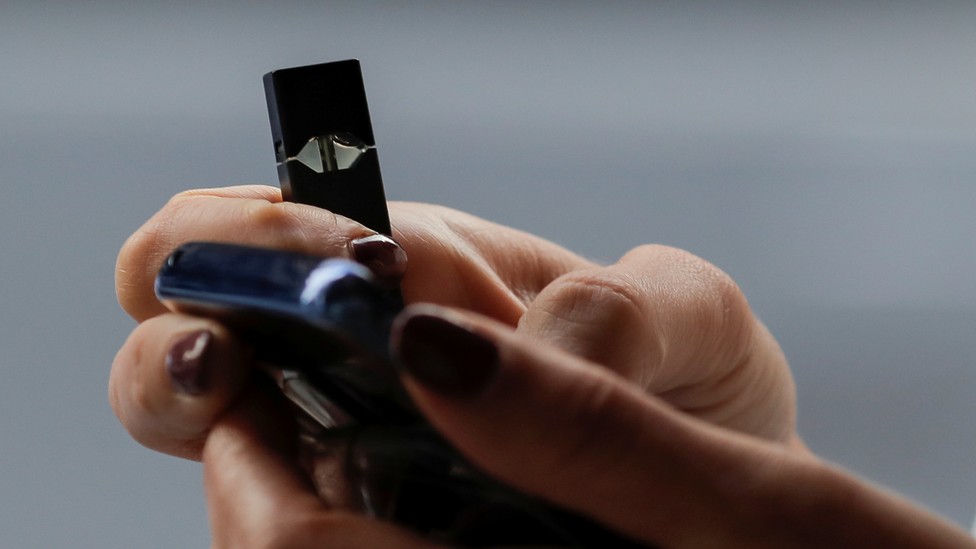 Juul Labs' Instagram account was once a repository of images of attractive young adults hanging out in sunny locales while puffing away at the brand's popular vapes. Now it's more like a digital grave. Everything is buried, save for one post, a lone marker explaining the void.
Earlier this month, the e-cigarette giant pulled a highly publicized corporate-responsibility move on social media, deleting nearly everything from its popular Instagram account and scaling back its use of other platforms, all in the name of atonement. The sin? Helping to introduce millions of American teens to nicotine, with a big boost from social-media marketing that has made its devices trendy accessories for high schoolers.
On the surface, Juul has assembled a sequence of top-flight public-relations responses to enormous public outrage, which began earlier this year when its popularity with minors became apparent: E-cigarette use among teens has climbed 78 percent since 2017. In the past few months, the three-year-old company, which has 76 percent of the multibillion-dollar American e-cigarette market, has released a prevention curriculum for high schools, removed most of its flavors from stores, halted or curtailed its activity on social media and YouTube, and developed a lower-nicotine-content alternative to its current pods that will be sold overseas.
But there's an important difference between assuaging the fears of adults and meaningfully changing the habits of children. Juul's Instagram may look dead, but the brand is very much alive. Experts point to these social-media changes as just one in a long line of public moves the brand has made to calm the worries of those who wouldn't use a Juul in the first place, while skipping many of the steps that might actually help underage users quit.
Things began to snowball earlier this month when news started circulating that the Food and Drug Administration, which regulates tobacco products, would seek to ban the sale of flavored vape-juice pods in convenience stores and gas stations. The move was criticized on both sides of the e-cigarette debate: Youth tobacco-prevention advocates said it was too limited to create a meaningful barrier between teens and "Juuling," and vape advocates accused the FDA of making helpful cessation tools inaccessible to adult smokers. Before the organization could even formally declare its intentions, though, Juul announced that it would be removing most of its flavored pods from all retail locations.
That might sound like a good move, but it's important to look at the fine print, says Robert Jackler, a Stanford University professor who has done extensive research on e-cigarette marketing. "They didn't say they were removing the pods from stores forever," he told me. A few days after Juul's announcement was widely reported, the company released an action plan that detailed how flavors would eventually return to tobacco and vape shops—if stores adhered to the brand's more stringent distribution policies, such as requiring shops to scan IDs instead of just checking them.
Some of the most popular flavored pods, in mint and menthol, will remain in all stores that want to sell them, because Juul claims they mirror what's widely available in traditional tobacco products. Jackler fears that these remaining flavors still pose an enormous risk to public health. "All these kids who were buying flavored pods at stores, they're now going to be able to choose mint or menthol, and we know those flavors are very popular among young kids already," he says.
Bonnie Halpern-Felsher, a professor of pediatrics also at Stanford University, thinks that the rollback's limited, temporary scope and its conveniently press-friendly timing are suspect. "Juul is trying to look good and not do good. They didn't make these announcements until it became clear they were going to have to do it anyway," she says. She told me that teens primarily buy vape products from classmates, which means it would take only one kid who had figured out how to game the system (or secured help from an older sibling or friend) at any particular school to continue to distribute pods to dozens, if not hundreds, of classmates. That's true even with advanced age restrictions for online shopping and more limited in-store availability.
The same action plan that contained details of Juul's voluntary restrictions also announced the company's retreat from social media. As Jackler notes, though, the brand's own Instagram presence isn't that important to its popularity anymore. Teens promote the product themselves, on their own accounts, for fun. "All these young people are effectively brand ambassadors," he says. "So, sure, [Juul will] take down Instagram now that they have a mature market and are solid in their user base." The company has promised to monitor its social-media mentions and report users doing anything obviously unsafe or illegal, but since Juul can only use publicly available information and the platform's standard procedures to evaluate posts, its power to moderate is limited.
Juul received initial public praise for launching a youth tobacco-prevention curriculum that it would contract out to American high schools. Once researchers, including Halpern-Felsher, analyzed the specifics, though, they found that it lacked information about the dangers of Juul specifically. Also, according to The Daily Beast, the program required high schools to allow Juul employees to observe sessions and submit survey data on its teen participants to the company. In the name of prevention, the e-cigarette maker would get an up-close look at thousands of its most ardent fans. (Once the particulars were clear, response to the program was so negative that Juul now says it is no longer shopping the curriculum to schools.)
According to Jackler, many students still don't realize that what they're addicted to is the same substance that comes from cigarettes. "Research shows that over 60 percent of teenagers don't know that nicotine is in Juul," he says. "They just know it's this wonderfully flavored thing. It gives them a buzz when they use it."
I asked Juul what it was doing to communicate this to teens more effectively. Ted Kwong, a company representative, told me, "We package our product in compliance with FDA regulations, including a prominent nicotine warning label." Beyond the in-school curriculum itself, which would have reached only kids whose schools opted in, Juul makes no efforts I could find to speak directly to teens about its high nicotine content and the danger that nicotine addiction can pose to the highly susceptible brains of teens. When I asked Kwong whether I had missed anything, he told me, "We have launched a print, radio, and digital campaign—'What Parents Should Know About Juul'—highlighting adult-smoker testimonials to reinforce our target consumer." But the Juul's facility as a smoking-cessation device is a positive message about the product aimed at adults, not explicit information about nicotine for minors.
Even in comparison with other, similar American products, Juul's nicotine content is quite high. "The legacy of Juul is that it's reset the level of nicotine across the vapor industry, from 1 to 2 percent to up to 6 percent and more," Jackler told me. Most Juul pods contain the equivalent of almost two packs of cigarettes. (Two flavors have a lower, 3 percent option.) Juul has not announced any plans to lower the nicotine content in its American offerings.
Jackler doesn't buy Juul's new image as a product that takes public health seriously by offering a cigarette alternative for adult smokers. Even if it's a reasonable tactic from a marketing standpoint, it's still a sleight of hand, given that a significant number of Juul users don't smoke cigarettes and aren't adults. No matter its current market orientation, Juul has helped an untold number of kids get addicted to a substance they might not have tried otherwise. "The best way to prevent adult smokers is to prevent teens from getting hooked on nicotine to begin with. Many of these vapers are going to grow up to become lifelong nicotine addicts," Jackler says. "Juul's a business, and they're behaving like a business."