Marijuana Stocks Spiked After Jeff Sessions Resigned
The former attorney general was a major political roadblock to further cannabis legalization.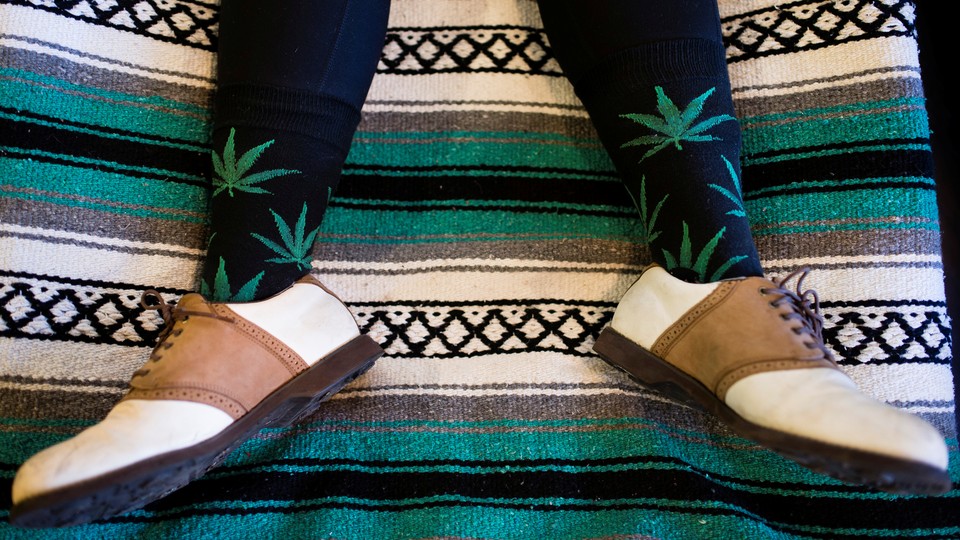 Jeff Sessions is gone, and marijuana advocates—and the businesses that serve them—are celebrating. Forced out by President Donald Trump, Sessions tendered his resignation as the attorney general on Wednesday afternoon, and his departure has signaled the fall of a major political roadblock to more widespread legalization. In response, stock prices for cannabis businesses have leapt.
Nasdaq's Alternative Harvest Marijuana ETF, a fund that bundles tradable assets for the cannabis industry, was up 5.6 percent in the hour after the Sessions announcement, with a peak share price of $36.97—a nearly $2 gain for the fund. On the day, the fund was up more than 7 percent at the close of trading.
Individual cannabis-company stocks are also seeing the effects of Sessions's departure. According to CNBC, the Canadian company Tilray got a boost of 30 percent in the day's trading, along with jumps of more than 8 percent for both Canopy Growth and Aurora Cannabis. All of these companies continued to see gains in the immediate extended-hours trading.
People in favor of legalization were already having a good week. As a result of Tuesday's midterm elections, Michigan became the the tenth state in the country to legalize recreational marijuana use, Illinois elected a legalization-minded governor, and voters in Missouri and Utah voted to legalize medicinal cannabis. On top of that, Representative Pete Sessions (no relation to Jeff) of Texas lost his seat in the House of Representatives, where his position at the head of the Rules Committee allowed him to block votes on marijuana amendments. That position will now be held by a Democrat as the party retakes control of the House.
That Sessions's resignation alone prompted such sharp gains in an already promising week for cannabis investors demonstrates just how big of an obstacle he represented to advocates' hopes for continued legalization. His fierce opposition to marijuana use and normalization was one of the most well-known arcs in his career. In April 2016, he proclaimed in a Senate hearing that "good people don't smoke marijuana," and he argued that it was a gateway drug for abuse of substances like cocaine and heroin, even linking it to America's growing opioid epidemic. (Some research suggests, to the contrary, that access to marijuana could reduce some opioid use.)
Under Sessions, not only had efforts to legalize marijuana at the federal level for even medical use been stymied, but the Department of Justice reversed Obama-era enforcement guidelines. Those rules instructed federal law enforcement not to interfere with states allowing marijuana sales, which have always been in violation of federal law. The differences in state- and federal-level marijuana legality have proved a growth issue for the cannabis industry—for example, they can create legal and logistical problems for business owners when it comes to things like corporate banking.
Trump has appointed Sessions's chief of staff, Matthew Whitaker, as his acting replacement. It's unclear how long Whitaker could be in the role or who might replace him, and what that person's thoughts on cannabis legalization might be. Republican policy makers generally oppose it, though a majority of Republican voters have been found to support legalization. But for now, weed investors appear to be breathing—or inhaling—a sigh of relief.