Endorsing Dead People Is a Shrewd Political Strategy
Races like Dennis Hof's show that political parties often have plenty to gain and little to lose from backing deceased candidates.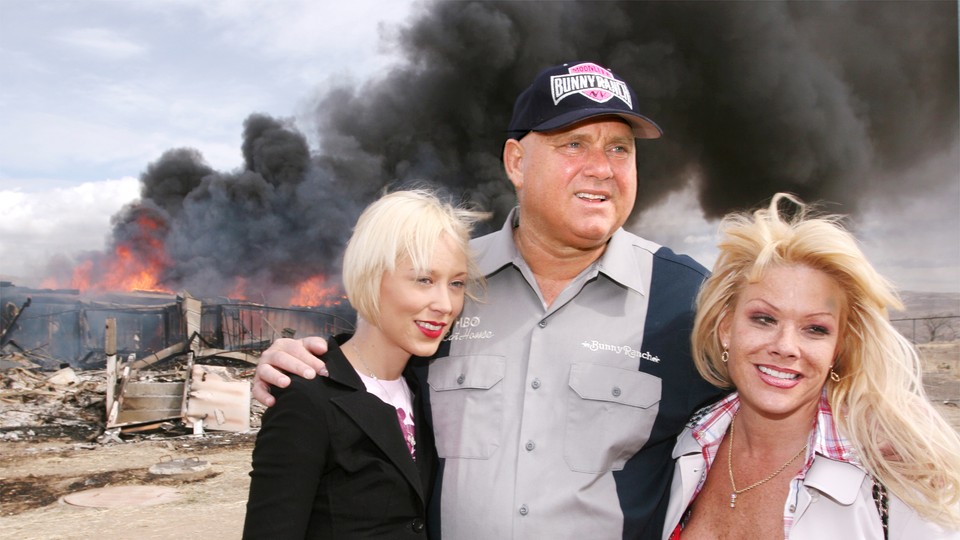 On Tuesday night, a man dubbed "America's most famous pimp" was elected to Nevada's state assembly, despite owning several brothels, facing an investigation into rape allegations, and also being dead.
In the lead-up to the election, Dennis Hof explicitly fashioned himself after President Donald Trump. He vowed to "make Nevada Nevada again," and beat a three-term incumbent in a June primary with an off-message strategy that advocated for educating teens about oral sex over restricting access to abortions. All of which is to say, Hof was a thorn in the side of the Nevada Republican establishment. Until last month, when he died in his sleep of unknown causes and became the party's best shot at holding on to the state-assembly seat in a deep-red district.
After Hof won his primary this summer, the Nevada Assembly Republican Caucus declined to endorse or support any candidate in his race. Dean Heller, one of the U.S. senators from Nevada, and several other prominent Republicans were quick to denounce Hof. But the day after Hof was found dead in his brothel, The Nevada Independent reported that the state GOP had reversed course and had begun planning a campaign to ensure the district's voters voted for the late candidate anyway—all so that the seat was sure to remain in Republican hands.
Under Nevada law, the responsibility of replacing a deceased winning candidate falls to the commissioners of the county or counties the candidate was elected to represent. The replacement must be of the same political party as the winner. By a strange turn of events, then, Nevada Republicans seem to have gotten the best of both worlds: A brash candidate did the work of motivating the base and attracting press coverage to what would have otherwise most likely been an unremarkable local election, but legislators themselves will never have to deal with the candidate's unbecoming ways in Carson City.
The past few decades have been rife with examples of posthumous electoral victory. Many of these races end up in the realm of the macabre because ballots have already been printed by the time a candidate passes away; also, the death-defying campaigns are often aided by the deceased's surviving political allies.
In 2016, Oceanside, California, reelected its city treasurer by a 6 percent margin a month after he died of natural causes. Between his death and his election, he received a ringing endorsement from Jerry Kern, a sitting city-council member: "Vote for him anyway" so the city council could appoint a replacement and avoid dealing with his activist opponent, whom Kern considered a troublemaker.
Jenny Oropeza, a California state senator from a heavily Democratic district, died in October 2010. A week later, the California Democratic Party paid for a flyer to be sent to voters urging them to reelect Oropeza regardless. Oropeza won 58 percent of the vote, triggering a special election in which a Democratic candidate ultimately won. (Appointment systems like the one in Nevada are in place to fill vacancies in only 22 state legislatures; 25 states rely on special elections, and the remaining three use a hybrid system.)
In Pennsylvania, James Rhoades, a Republican state senator, won reelection weeks after dying in a car crash in 2008. Rhoades's opponents temporarily halted their campaigns in a show of respect, but the Rhoades campaign pressed on almost immediately with TV and radio ads encouraging residents to vote for the dead candidate. Rhoades won in a landslide, and a Republican pulled a similarly dramatic victory in the special election that followed.
Then, in 2012, in Alabama alone, two elections were won by candidates who were no longer living. Since the 1970s, at least two posthumous winners of congressional races have been replaced by their wives. This is far from a complete list: Other famous deceased victors include Patsy Mink, the first woman of color elected to Congress, and Bill Nojay, the New York State assemblyman who committed suicide the day he was supposed to turn himself in to the FBI.
Hof appears to be this year's only posthumous election winner. (Scott Maclay, a candidate for sheriff in Spokane County, Washington, who legally changed his name to mock his opponent, died in a motorcycle accident in September; he received 13 percent of the votes.) But he wasn't the only dead candidate to play a role in the 2018 midterms.
In 1972, an Alaska state senator named Don Young lost a U.S. House race to the incumbent, Nick Begich, who had disappeared on a campaign flight—but who had not been declared dead—three weeks before the election. Young won the special election to replace Begich. Now Young appears to have won election to his 24th term as Alaska's only representative in the House. He's the chamber's longest-serving member.