The Charity Walkathon Is Dead
Long live the charity walkathon.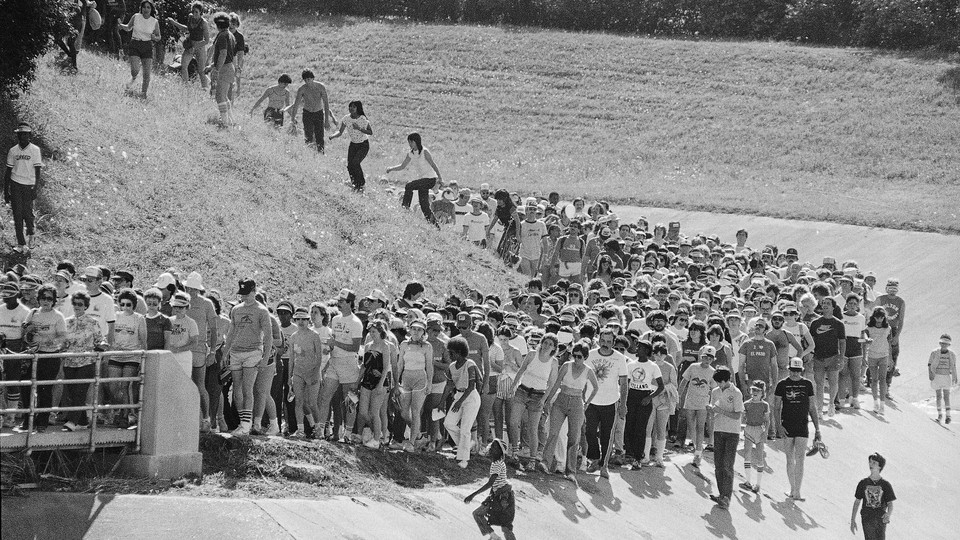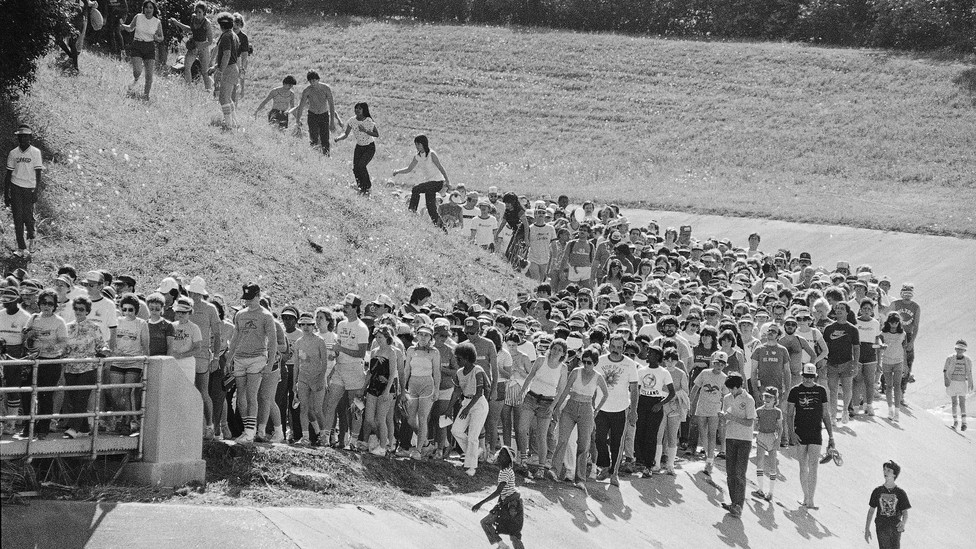 If you are a person of a certain age, you may recall being lined up in rows in your elementary-school cafeteria, the tables and chairs pushed to the side, and being instructed to jump rope as fast as your light-up Keds and the Billy Ray Cyrus tunes could carry you. It was for people's hearts, you were told.
Jump Rope for Heart, as it was known, is now called Kids Heart Challenge, put on by the American Heart Association. And, as with Billy Ray Cyrus, there's evidence that the heyday of it and other charity fund-raising events is in the past.
According to data from the Peer-to-Peer Professional Forum, the organization that tracks walkathon-style events, revenue for the 30 biggest such events is down 6.7 percent overall since 2016, and participation is down 14 percent. The forum's president, David Hessekiel, says this latest decline follows a years-long slump. The "high-water mark" for these types of events was around 2007. After that, the economic recession put a dent in charitable giving in general, and the popularity of fund-raising events never fully recovered. (When asked about this downward trend, Mindy Roewe Lyman, the vice president of field campaigns for the American Heart Association, said, "Any declines we've seen are leveling off.")
The few events that have bucked this trend are, among other qualities, linked to diseases that are growing in prevalence. The Alzheimer's Association Walk to End Alzheimer's grew by 8 percent in the past year, potentially because Alzheimer's is affecting more families.
But elsewhere, the toll has been steep: The American Cancer Society became so reliant on charity walks such as Relay for Life that the organization has suffered severe revenue losses lately. "Our declines were much more pronounced than some other organizations," a spokesperson for the organization recently told The New York Times. "We have been reengineering and diversifying our revenue portfolio." This diversification has included fund-raising partnerships with controversial organizations such as Herbalife International, the maker of supplements, sparking the resignation of a top official earlier this month.
"For many of the legacy programs, flat is the new up," Hessekiel says.
These programs work by stirring people to go out and raise money from their friends and family (they're called "peer to peer" events for that reason), then donate it to a disease foundation. Disease-related groups are especially fond of the various -thons. On the big day, everyone comes out to walk, run, bike, or get shaved en masse.
Before the internet took over, "runs and walks were a way for people to connect around a common cause," says Elizabeth Dale, a professor of nonprofit leadership at Seattle University. "I remember as a kid doing a 15-kilometer walk for multiple sclerosis. We had a family friend with MS, and I got to walk in her honor. There was real value in coming together and participating in something with other people."
Beyond the solidarity, it was the suffering—all those ropes jumped, miles walked, hours biked—that kept the dollars pouring in. According to research by Christopher Olivola, an assistant professor of marketing at Carnegie Mellon University, people are more willing to donate money to those who will be suffering for a cause. In his studies, people offered more to a participant who would hold his or her hands in cold water for a minute, or who claimed an upcoming fund-raising task would be "really tough," or who was biking an extreme distance instead of a short one. It's a phenomenon he calls, fittingly, the "martyrdom effect"—and it was exhibited perfectly by the ice-bucket challenge.
The problem today, speculates Olivola, is that it's no longer extreme enough, or sacrificial-seeming enough, just to walk a long distance or jump in place for a while. Sure, the only thing that should matter is the cause the money's going to, but "in people's minds, what also matters is, how is it being raised? Are people doing something easy, or are they riding through Antarctica on broken glass in gorilla suits?" he says.
Many of these events were never an especially cost-effective way to raise money: Dale says they can cost 25 to 50 cents for each dollar they raise. But as the number of events grew, they cannibalized one another. Hessekiel points to the example of the Leukemia and Lymphoma Society's endurance-sport Team in Training, whose revenues declined, according to his data, by nearly 28 percent in the past year. "It's now gone through a decade of shrinkage, because everyone else was putting together endurance teams, chipping away at what had been a monopoly on their part," he said. Plus, he added, if people want to run a 5K, they'll run one when it's convenient for them—not when it's convenient for a charitable organization.
Another reason for the declines might be the general hollowing-out of the middle class, which has put a dent in the disposable income people have available to donate to charity. "With the growing wealth gap between rich and poor," Dale says, "there are fewer people in the middle to participate in philanthropy." Plus, today people can easily create a Facebook Cause or GoFundMe page with just a few clicks. There's no need to go door-to-door collecting dollars in envelopes. We are bowling, and fund-raising, alone.
The most successful nonprofits, experts say, now focus on putting on a variety of events, so that at least one stands a chance of being in vogue at any moment. That, and they are adding new twists to the events to attract people who might be the more gorilla-suit-wearing, Antarctica-traversing types. Dale says the Arthritis Foundation's Jingle Bell Run, in which participants dress as Santa, shows how charities are now attempting to fulfill participants' craving for novelty. Hessekiel points out that the Leukemia and Lymphoma Society, the same organization that saw the decline in its Team in Training event, has a robust and growing Light the Night walk, which takes place in the dark.
Lyman, of the American Heart Association, mentions that her organization is also changing up its offerings, having added a spin-bike event in some cities. Even Jump Rope for Heart has changed: The association has added dancing, an obstacle course, and a program on "preparing kids for success." It has also introduced apps to help people raise money.
But some of its more traditional elements remain. "We still have envelopes," Lyman says. "We're still getting quarters and dollars."