Smoke Days Are Now California's Snow Days
Wildfire smoke has closed schools and canceled events across Northern California. But not everyone can stay indoors.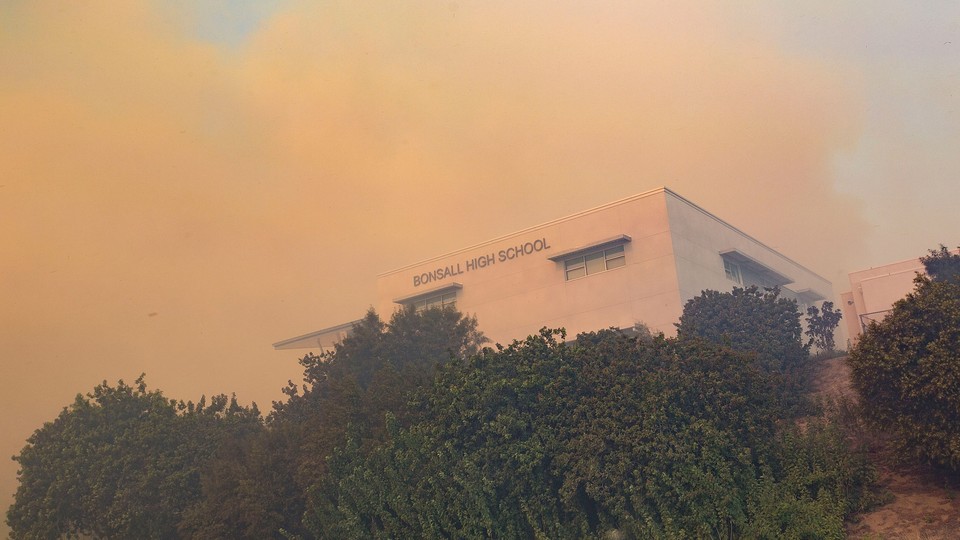 The particulates in smoke don't destroy homes. They don't down trees. But in the case of wildfires, smoke's impacts—and dangers—can reach hundreds of miles farther than the flames themselves. As of Friday evening, the Camp Fire raging in Butte County, north of the San Francisco Bay Area, has a death toll of 71 and has left more than 1,000 people unaccounted for. The fire's smoke, meanwhile, has been endangering the health of millions of Northern Californians.
Northern California had some of the worst air quality in the world at the end of this week, with levels of hazardous airborne particulate soaring. With that has come a variety of public-health moves to keep residents safe in the region's most populated areas. There have been widespread school and university closures. Many businesses have urged employees to work from home. Some public transit in San Francisco has been made free, in an effort to keep people inside as much as possible if they must commute.
In a region whose weather is usually pretty temperate, smoke days have become the Bay Area's version of snow days. But instead of enabling a joyful respite from work, wildfire smoke mixes a blizzard's large-scale logistical nightmares with the anxiety of worsening climate change and a class divide that plagues American public health. Three of the five largest fires on record in California have occurred in the past three years, all in the northern part of the state. For the region's residents, smoke days won't go away once the Camp Fire is contained.
The risks posed by wildfire smoke aren't merely a few days of coughing or headaches. According to Kristie Ebie, a professor of global public health at the University of Washington, the consequences of breathing wildfire smoke can be significant, because of the noxious nature of the tiny debris the smoke carries with it. "That affects not only people's lungs, but it gets absorbed into people's systems," she says. Recent research shows that absorption can lead to cardiac arrest, stroke, and other deadly outcomes.
With kids home from school, people working from home, and few safe ways to leave the house, Northern Californians are looking for any outlet available to find some relief. "It's very challenging, because everyone's cooped up," said Aubrey Hirsch as she sat on the floor of a Berkeley public library and built a Lego boat with her son, whose school closed on Friday. The boy was happy to have the day off, but Hirsch, a writer, lost a day of work.
Local officials have encouraged people to seek libraries as a safe destination for those who need or want to leave their homes, and especially for those who don't have in-home air filtration or air-conditioning, which can help cycle out smoke that seeps in. On Friday morning, every seat at the Berkeley library's regularly scheduled story time was full.
Private businesses were similarly deluged. Annie Frey, who owns The Rec Room, a "play cafe" in Berkeley, says she's reached capacity before 10 a.m. every day this week. Overall, business is up by a factor of five. Frey says she plans to donate some of the extra profit to the Red Cross.
For those who go outside, public-health officials have encouraged residents of the region to use masks. But the kinds that act as an effective filter for the dangerous particulates in wildfire smoke are hard to come by in the Bay Area, and the most commonly available ones aren't universally helpful. Dawn Danby, an ecological designer in Oakland, had no luck finding her family n95-rated masks, which block 95 percent of particles in the air. "It's particularly hard to get masks in small sizes for children that actually work on short notice," she says. Danby packed her 5-year-old daughter and visiting mother into a car to spend the next few days south of the region, where air quality is less dangerous.
Air quality isn't expected to meaningfully improve in Northern California until at least Wednesday, which has created larger logistical nightmares on top of individual struggles. Amid mounting social-media pressure to prioritize student-athlete safety, the University of California at Berkeley postponed its scheduled Saturday night matchup against Stanford, its biggest football game of the season (literally, The Big Game), which will now be played on December 1.
UC Berkeley had also taken longer than some schools in the region to cancel classes earlier in the week, with students complaining on Twitter that the smoke was so strong inside classroom buildings that it triggered fire alarms. The University of California at Davis has similarly faced criticism for dismissing students but still initially asking employees to come to work, before closing campus entirely.
A person's ability to take precautions in smoky conditions often depends on far more complicated factors than their willingness to listen to public-health warnings. The Bay Area is a place of soaring income inequality and a deepening homelessness crisis, and for many of its poor and working-class residents, working from home or getting out of town for a few days aren't useful suggestions.
Sue Levinson, who has been a San Francisco resident for 45 years, told me that she's lived through lots of Northern California fires, but this is the worst smoke she's ever seen. Still, though, some things were continuing apace in her neighborhood. "They're renovating the house next door, and the guys are still out there," she said. "They've been out there all day."
Additional reporting was contributed by Ellen Cushing.