The Gay Men Who Have Lived for Years With Someone Waiting on Their Death
At the height of the AIDS crisis, a number of Americans confronting HIV sold their life insurance for quick cash. Then lifesaving drugs came along.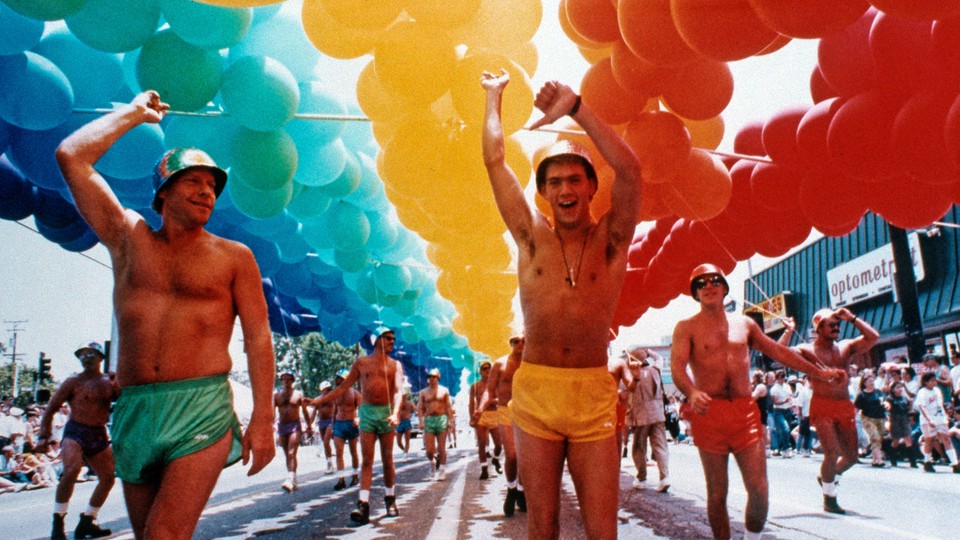 Flipping through LGBTQ magazines from the 1980s and 1990s, you can map the trajectory of the AIDS crisis in the United States by looking at the advertisements. Early in the 1980s, as HIV swept through gay enclaves of metropolitan cities, publications like The Advocate collected advertising revenue from gay bars and bathhouses—institutions that New York City tried to shutter in response to the crisis. By the mid-'90s, pharmaceutical companies had taken over the ad pages of magazines like Out and POZ to promote protease inhibitors, a lifesaving class of HIV drugs.
Yet in the midst of the epidemic, a third, oft-forgotten sponsor kept these magazines afloat: the viatical-settlement industry. In a viatical settlement, the holder of a life-insurance policy names a third, unrelated party as the benefactor, in exchange for immediate cash. Brokers for viatical settlements advertised almost exclusively to people living with AIDS, and the industry quickly received a ghoulish reputation: Investing in a viatical settlement was a bet on another's demise. An imminent death yielded a quicker return.
Brokerage firms now dub these agreements "life settlements," catering to senior citizens, the terminally ill, and those unable to maintain their policies. But viatical settlements first emerged in direct response to the AIDS crisis. "All my first clients were HIV-positive," says M. Bryan Freeman, who brokered one of the first settlements for a person living with HIV. "So many wanted to sell their policies and it was easy to advertise into the HIV community."
A wave of people viaticated their life-insurance policies when confronted with such a gruesome and fatal virus. Some came into enormous sums of cash. Many are alive today because of protease inhibitors. Those who viaticated their policies and continue to live with HIV do so knowing that investors have long waited to collect on their deaths.
The advertisements for viatical settlements in the '80s and '90s usually depicted a singular demographic: white men, usually fit or buff, looking perfectly well. "Exercise your options," reads one advertisement, accompanied by a bodybuilder lifting the world above his head. Some of the ads conveyed a sense of serenity, showing a park bench or a nature scene. Others appealed to the financial concerns stemming from exorbitant medical expenses. One ad in a 1996 issue of The Advocate markets the settlements as "cash infusion therapy," promising "an immediate cure for one of the most damaging side effects of AIDS ... financial devastation."
A smaller number of viatical advertisements pictured men on vacation, hanging out on a tropical beach and watching the sun set. "Distant lands to see. Goals to achieve. Spirit to rejuvenate," reads one advertisement from Legacy Benefits, a viatical-settlement brokerage. The message is clear: Enjoy life now.
Sean Strub's health was in stark contrast with that of the strapping men in those advertisements when he began viaticating life-insurance policies in the mid-1990s. "I was a skeletal 125 pounds, 6'1, covered in purple Kaposi's sarcoma lesions," he says. "Anyone looking at me assumed I didn't have long to live." Strub, a writer and activist, says he viaticated three life-insurance policies, collecting 93 percent of the death benefit on a $150,000 policy, 70 percent on a policy for $300,000, and around 50 percent on a $20,000 policy. He used the money to start POZ magazine.
POZ at first generated much of its revenue through advertising similar settlements to the one Strub had entered into, so he became acquainted with a few people who worked in the viatical industry. "Some were a step from con artists, jumping into an unregulated, emerging, high-profit financial sector," he says. Many flaunted a get-rich-quick attitude. Strub says he once met a buyer who never consulted doctors about the life expectancy of the policyholders. Instead, according to Strub, the buyer claimed he could "look in their eyes and get a sense of how long they will be around."
The industry did have its bright spots, Strub notes: "There also were people who were great, particularly the brokers, who tried to get as much money for the policyholder as possible and enabled many people to realize a dream—buying a home, starting a business, whatever—or to significantly improve their last years, months, or days."
Strub wasn't the only person who used money from his viatical settlement to start his own business. Henry Scott, an acquaintance of Strub's, tested positive for HIV shortly after the introduction of protease inhibitors. Scott says he had a $600,000 life-insurance policy, part of his benefits package from working at The New York Times. As is common practice, the Times stopped paying the premiums on Scott's policy when he left the company. Instead of paying the policy's premiums, Scott decided to viaticate, because he didn't have children and, as he recalls, his monthly premiums cost around $1,000. He later used the money to start West Hollywood Media Company, a hyper-local publisher that covers the West Hollywood neighborhood in Los Angeles.
Once protease inhibitors came to market, the value of an HIV-positive person's life insurance began to drop. For his $600,000 policy, Scott says he received $167,000—a substantial sum, but a much smaller percentage than Strub had fetched.
Others who viaticated their life-insurance policies used the money to buy property. In a 2000 profile in POZ, Cleve Jones, the founder of the AIDS Memorial Quilt Project, describes a gay enclave of Palm Springs as "the town that viatical settlements built ... All these guys who sold their insurance and moved out here to die—now they're redecorating."
While viatical settlements awarded life-changing sums, this influx of wealth was not evenly spread among those living with HIV. Those who do not own life insurance often cite the prohibitive costs of insuring themselves. Only people living with AIDS who could afford life insurance, or who had secured it through employment, could leverage this asset. The turn to viatical settlements reflected how wealth has always determined access to HIV treatments. A year's worth of AZT, the first federally approved HIV drug, cost $10,000 per year when it came to market in 1987. For those who test HIV-positive, cost remains one of the most common barriers to treatment.
When AZT became available, activist groups such as ACT UP, or the AIDS Coalition to Unleash Power, of which Strub was a member, branded the drug's manufacturer, Burroughs Wellcome, as an "AIDS profiteer" to highlight the drug's exorbitant costs. The practice of viatical settlements literalizes this idea of AIDS profiting. In the viatical industry's first years, it was often individual investors who purchased stakes in these policies. That demographic later shifted, as detailed by a 1994 article in The New York Times: "As the young industry grows large, insurance companies and big banks are attracted to this obscure corner of the business world previously dominated by free-wheeling brokers and small entrepreneurs operating largely free from scrutiny."
That individuals, not a collective, might own their life-insurance policies is a bit worrisome for both Strub and Scott. Strub is the mayor of Milford, Pennsylvania, a thousand-person town in which he owns a boutique hotel. "What if they really got annoyed and wanted their money?" he says.
"It's not hard to find Sean Strub," Scott quips about his old acquaintance. For his part, Scott says, "I don't know who owns my policy now. That's part of the strangeness of it."
No law stipulates that the purchaser of an insurance policy must notify the original holder. Nor is there an easy way for the original holder of a viaticated policy to learn who would benefit from their death. Scott says that in the first years after he viaticated his policy, he often received handwritten cards from the company managing his life-insurance policy. They'd include messages like Hope you're having a wonderful birthday or Hope you're doing well, which Scott jokingly refers to as the "Are you dead yet?" letters.
Now, he says, the letters are less personal and less frequent. Twice a year, he has to sign a note confirming that he's alive and seeing the same doctor.
Strub receives similar letters from Legacy Benefits, the viatical brokerage firm. The wording of these letters is somewhat vague: It's unclear whether Legacy Benefits actually owns Strub's life-insurance policy, or if they represent another party.
A recent lawsuit against Legacy Benefits illustrates the complications of an individual owning a stake in a life-insurance policy. As the North Bay Business Journal reported, an individual investor named Chris Amberger sued the firm in 2016. He alleged that Legacy Benefits sold him stakes in two life-insurance policies in 1998, both of which had been viaticated by people living with AIDS. According to Amberger, Legacy Benefits put the life expectancies for the two policyholders at 18 to 24 months. But by that time, doctors had already been prescribing protease inhibitors for at least two years, and the annual number of AIDS deaths had dramatically dropped, from 50,000 Americans in 1995 to 20,000 in 1998.
Both of the original policyholders lived into this century, and may still be alive. Amberger's attorney told the North Bay Business Journal that one of the policyholders had their premiums paid by their employer, General Electric, until they retired. Amberger then began receiving bills for the policy premiums and stopped paying in October of 2015, thereby canceling his interest. He sued Legacy Benefits shortly thereafter. The lawyer who represented Legacy Benefits argued that the firm, in its current structure, had no business dealings with Amberger.
Amberger settled for an undisclosed amount this July after the judge dismissed four of the five charges. (Both Amberger and Legacy Benefits did not responded to requests for comment on the case.)
Like Amberger's persistent policyholders, Strub and Scott survived the most deadly years of the AIDS crisis. Living with HIV for more than 20 years, Scott has never even experienced any of the virus's symptoms—perhaps to the chagrin of whoever has waited several decades to recoup their investment. "They could have done better buying Apple stock," he says.