On the Trail of Missing American Indian Women
Lissa Yellowbird-Chase, an amateur sleuth, believes that every human being deserves to be searched for.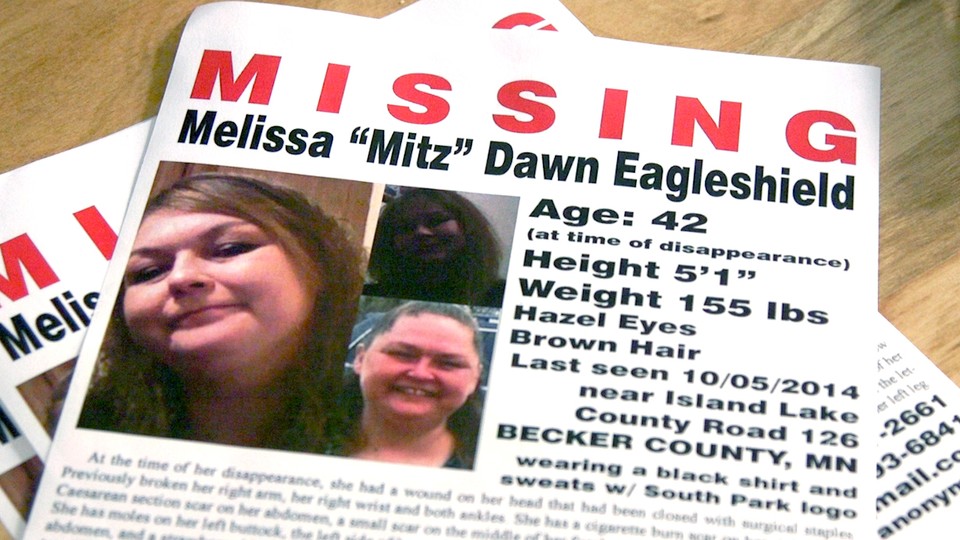 On a Friday morning in May, Lissa Yellowbird-Chase woke up to more Facebook messages than she could hope to answer. Her inbox was full of friends, acquaintances, and strangers asking for her help locating loved ones, or offering their services for future searches. But that morning, Yellowbird-Chase's focus was on finding Melissa Eagleshield.
Eagleshield, a middle-aged American Indian woman, disappeared four years ago from a secluded property in Detroit Lakes, Minnesota, about 50 miles east of Yellowbird-Chase's home in Fargo, North Dakota. No arrests have ever been made in relation to her case. Law enforcement found her coat, shoes, and purse in the house where she was last seen. According to Eagleshield's family, the most substantial physical evidence related to her disappearance was turned up years ago, when search dogs tracked her scent to a beaver dam located a mile away from the house through swampy brush.
Yellowbird-Chase, a member of the Mandan, Hidatsa, and Arikara Nation, has been searching for missing American Indians as a private citizen for the past six years. At any given time, she is typically looking into four or five cases. Though she worked previously in corrections and as a tribal attorney, it wasn't until later in life—after serving jail time and recovering from addiction—that Yellowbird-Chase devoted herself full-time to amateur sleuthing.
Where investigations by law enforcement have run cold or administrative tape stalls an official search, Yellowbird-Chase lends her time. Many of the cases she takes on through her organization, Sahnish Scouts, have been open for years. "Searching for missing people is "tiring, it's relentless, and the system is set up especially for minorities or indigenous people to give up," she says. "What are we going to do when the police are not working with us, the system's not working with us?"
Though she sometimes takes years to uncover anything about a case, Yellowbird-Chase is dogged. She and her fluctuating team of volunteers rely on their own determination, and the fact that they're not law enforcement, to sift out crucial pieces of information. "Being a neutral party, sometimes we can get a little more information out of people," she says. "We don't accept no for an answer, from anybody."
That persistence pays off. In August, after working for months on the case of Olivia Lone Bear, another missing American Indian woman, Yellowbird-Chase brought sonar equipment out to a lake near Lone Bear's father's house. After discovering the outline of a submerged pickup truck, Yellowbird-Chase alerted local authorities, who pulled the truck from the water and found Lone Bear's body inside.
In Minnesota, where Melissa Eagleshield went missing, the homicide rate for American Indian women is seven times that of white women. Across the United States, American Indian women go missing at disproportionately high rates. According to Elizabeth Rule, the assistant director of George Washington University's AT&T Center for Indigenous Politics and Policy, the number of indigenous women who go missing each year is likely much higher than current estimates. Data collection is poor, she says, and there is still no federal database devoted to tracking missing and murdered American Indians.
"We can point to an entire system of violence," Rule says. "If we think way back to the roots of colonialism in this country ... when the federal government initiated assimilation campaigns and a takeover of Indian land, Native women were targeted."
Mary Kathryn Nagle, a tribal sovereignty attorney in Oklahoma City, blames the United States' high numbers of missing American Indians on both a history of mistreatment and legal precedent. "You have a culture that celebrates" crimes against Native women, she says. "And then you have a legal framework that says tribal nations ... can no longer prosecute them."
Nagle is particularly critical of a 1978 Supreme Court case that prohibited tribal nations from exercising criminal jurisdiction over nonmembers who commit crimes on tribal lands. This means that such cases often get sent to the FBI, or to the Office of the U.S. Attorney. But according to a 2010 report from the Government Accountability Office, these agencies decline to prosecute more than half of the violent-crime cases referred to them from Indian country. Legal structures like this help to "create a climate in the United States where Native women go murdered and missing," Nagle says.
While Yellowbird-Chase was visiting the property where Melissa Eagleshield was last seen alive, she struck up a casual conversation with a young woman, who told her she thinks she knows what happened to Eagleshield. The next day, Yellowbird-Chase drove to a local courthouse to sit through an unrelated trial of one of Eagleshield's ex-boyfriends and question witnesses as they left. She is still looking for Eagleshield.
"I put myself in a lot of positions with my addiction, my criminal history," Yellowbird-Chase says. "I gave everyone who surrounded me a million and one reasons that, if I were to go missing, that they shouldn't look for me ... I think that every human deserves to be found. Everyone at least needs to be searched for."