Is Your Local Coffee Shop a Low-Key Opioid Clinic?
Overdoses in public bathrooms are turning baristas and other service workers into unwitting first responders.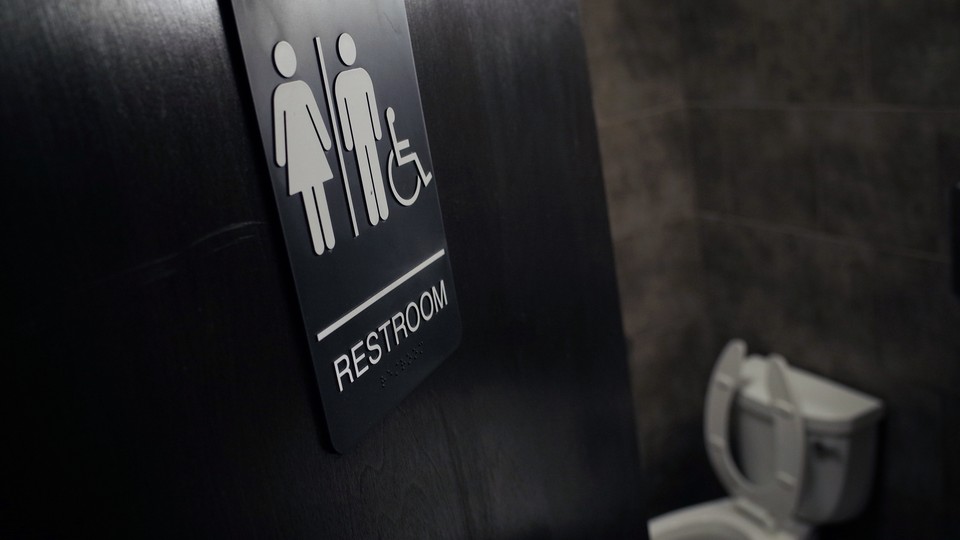 People searching for places to use opioids often rely on public bathrooms. This has been an issue in hospitals; at least eight people overdosed in Massachusetts General Hospital in about a year. But it's not just hospitals. People also overdose in the easily accessible restrooms of popular businesses. In May, a man in Illinois died of a suspected overdose in a Starbucks. Last month, a pregnant woman in Ohio overdosed—and gave birth—in a Burger King.
At these places, employees are often among the first to encounter those who have overdosed. A staff member at a library may leave her post at a circulation desk for a bathroom break and notice someone slumped over and unmoving as she passes stalls to find an open one. She has to make quick decisions: Has this person overdosed? Should she alert medical services? Should she administer naloxone, an opioid-reversal drug?
As a result, service workers are finding themselves in an unexpected position in America's opioid crisis: They're the unwitting first line of medical responders. As debates rage over the legality and benefit of so-called safe-injection sites, fast-food restaurants, coffee shops, and libraries can sometimes function as de facto opioid clinics.
Opioid users turn to bathrooms, especially ones that are single stall, for a number of reasons, says Brett Wolfson-Stofko, an author on a new study about training employees to respond to overdoses. Bathrooms tend to be safer than other public spaces such as parks or alleyways, where users could be assaulted or arrested. Using in a park could delay the process of being found if the user overdoses. And public restrooms offer privacy from family members and friends. "They don't want little kids walking by and seeing them inject," Wolfson-Stofko says. "People are very conscious of that."
Last year, he and his colleagues at New York University's Center for Drug Use and HIV Research found that almost 60 percent of business managers encounter drug use in their public bathrooms. But 90 percent had no training in responding to overdoses or administering naloxone. "It's something that people don't want to admit is happening," Wolfson-Stofko says.
Nevertheless, some places have come up with ways of addressing the issue. A homeless clinic in Boston installed an anti-motion detector that alerts the staff with a loud alarm and a flashing strobe light if people in the bathroom are motionless for a certain period of time. In a bathroom at VOCAL-NY, a nonprofit that serves low-income New Yorkers, a staffer checks in with the occupant every so often via intercom. Some retailers have tried blue lighting in bathrooms that makes it difficult for drug users to see their veins, but that can lead to bloody messes and improperly disposed needles.
When overdoses do occur, naloxone, which is also known by the brand name Narcan, is the most widely available quick treatment. In most states, people around those at risk for opioid overdose can be trained to administer the medication and then get it without a patient-specific prescription. Naloxone is a somewhat pricey reversal drug that works by knocking opioids off receptors in the brain. It's most effective when injected or sprayed into someone's nose. Administering naloxone is "pretty simple and pretty low-risk," says Sarah Wakeman, the medical director of the Massachusetts General Hospital Substance Use Disorders Initiative. "Even if you were to give naloxone to someone who had not used opioids and was not in fact having an overdose, you wouldn't hurt them."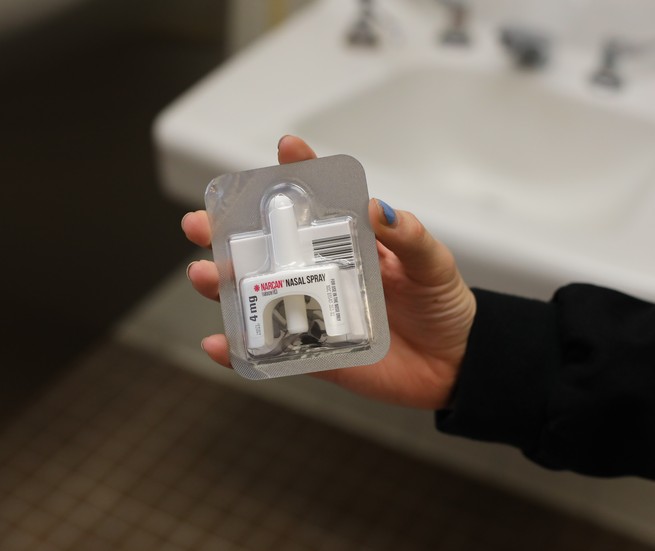 The medication still isn't widely distributed, but intranasal naloxone may make its way into places across the nation, in a similar manner to automated external defibrillators, or AEDs, which help with heart issues. Naloxone is already stocked in some school nurses' cabinets, and Boston's VA has already added it to its AED cabinets. "For a heart attack, we train employees how to do CPR until the paramedics arrive. Why is that not the case with naloxone and Narcan?" asked Jerome Adams, the U.S. surgeon general, in April, in a push for making the treatment more ubiquitous.
In 2014, the Boston Public Health Commission created a Safe Bathroom Initiative, a series of trainings that teaches local-business owners and employees about the common signs and what to do when someone experiences an overdose, including how to distribute naloxone. After three years, says Erin Curran, a spokesperson for the commission, it developed an online course because businesses often face shifting workforces and scheduling or union issues.
In his new study, published on Friday in Drug and Alcohol Dependence, Wolfson-Stofko and his colleagues at New York University offered a similar short in-person educational program to service-industry workers in New York City with no prior medical training. Over about 20 minutes, the workers were taught how to identify and treat overdoses, including exercises in naloxone administration. They were also given strategies for communicating with emergency services and de-escalating encounters with drug users.
Before and after the training, Wolfson-Stofko and his colleagues tested the participants using the Opioid Overdose Knowledge Scale and Opioid Overdose Attitudes Scale. They found that participants' scores jumped several points on their ability to administer naloxone and almost two points on recognizing the signs of an overdose. The workers "demonstrated significant improvements in opioid overdose-related knowledge as well as more positive opioid overdose-related attitudes following the intervention," the researchers write. They report that one participant told them: "The way that I would figure out these instructions on this [naloxone kit], someone could die. So the hands-on instruction is super good."
The study has its limitations. The sample size was small—18 workers were trained—and the researchers recruited contacts from previous work they'd done. Since the participants volunteered to learn, they may have been more receptive to public-health interventions from the start. Moreover, Wolfson-Stofko stresses that initiatives like this short training aren't meant to fully replace emergency medical services or the formal health-care system.
The new study is "not going to take off any of the pressure that exists to really take care of the fundamental problems," says Lisa Parker, the director for bioethics and health law at the University of Pittsburgh. "It's only going to benefit those who are at clear, present risk of harm."
It also seems like a lot to ask often low-paid, young service workers to double as medical responders. That's not what most people expect when they apply to Starbucks or Target. If businesses were to train their employees on how to respond to an overdose, it would raise questions about how service workers might interact with EMTs and how businesses might provide psychosocial support for workers.
"There's definitely secondary trauma to witnessing overdoses and seeing people near death," Wakeman says. Still, she notes, "I think it's much more traumatizing to find someone dead in the bathroom and not be able to help them."