A New World Marathon Record Almost Defies Description
A legendary Kenyan marathoner has once again redefined what humans are capable of.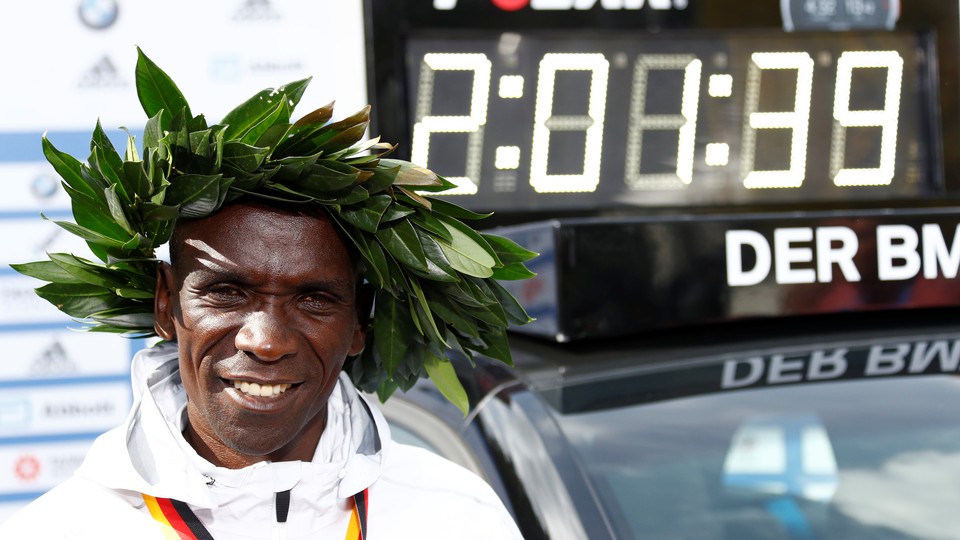 We were packed into our corrals on the Benjamin Franklin Parkway on Sunday morning, waiting to start the Rock 'n' Roll Philadelphia Half Marathon, when the announcement came: Eliud Kipchoge of Kenya had just set a new world marathon record across the world in Berlin. One of the thrills for me of running in Philadelphia and the other big half marathons and marathons is just being in the same race with world-class runners like Kipchoge, even though I usually only catch a glimpse of them at the start.
Somewhere around mile 7 of my race along the Schuylkill River, I found myself marveling at what the great Kenyan distance runner, almost unquestionably the greatest marathoner ever, had just pulled off. He hadn't just set a new marathon record; he'd shattered the old one by a minute and 18 seconds, running the fast Berlin course in 2:01:39.
Consider what that means: The 33-year-old Kipchoge, who is 5 foot 6 and weighs 115 pounds, had run 26 straight, blazingly fast, 4-minute and 38-second miles. I've always said of world-class marathon times like this that if I didn't know it could be done, I wouldn't believe it was possible to run that fast for that long. "It was a performance so far superior to anything we've seen before that comparing it to another marathon feels inadequate," the running-news website LetsRun.com said of Kipchoge's new record. "This was Wilt Chamberlain's 100-point game in basketball, Usain Bolt's 9.58 in the 100-meter dash."
Even if you couldn't care less about distance running or world records, Kipchoge's accomplishment is worth pondering for what it says about human endurance and what the body is capable of, in terms of cardiovascular strength and muscle efficiency. Indeed, one of the reasons marathon running has become so popular is that it enables us ordinary runners to learn those lessons about our own endurance capacity, both physical and mental. The first-time marathon groups I see out running this time of year are as inspiring to me as Kipchoge. For someone to go from couch potato to marathoner in eight or nine months of determined training is an extraordinary accomplishment.
And this quest for self-improvement and a deeper understanding of the limits of human capacity now goes way beyond the marathon, although the health effects of extreme (some might say insane) endurance events are questionable and not all that well understood. The Ironman Triathlon—a 2.4-mile swim, a 112-mile bike ride, and a 26.2-mile run—is an incredible feat in its own right. And it's no longer enough. Competitors now do doubles, even a "quintuple"—five Ironmans in five days.
Scott Jurek, the legendary ultramarathon runner, set a new record in 2015 for running the Appalachian Trail in 46 days. That works out to running 47 miles a day for a month and a half. Since then, his record has already been broken twice. I have no idea how that is even possible.
And how fast do you think a human being can run the 135-mile Badwater Ultramarathon, which starts below sea level in California's Death Valley in mid-July, where temperatures can top 130 degrees, and ends at a chilly 8,360 feet on Mount Whitney? Pete Kostelnick did it in just under 22 hours in 2016. (Jurek won the race in 2005 and 2006, and Dean Karnazes, who has run 50 marathons in 50 states in 50 days, won in 2003 and 2004.)
But none of that compares to Kipchoge's new marathon record and its combination of speed and endurance. "Kipchoge's run was so remarkable it's hard to give it its proper due," said LetsRun.com. "In today's age of hyperbole, this run deserves every accolade said about it. The lower the world record gets, the harder it is to be broken, and the less it should be broken by. Yet Eliud Kipchoge just broke the world record by more than any man in the last 41 years, and he ran the last 10 miles by himself."
Kipchoge, who won the gold medal in the marathon at the 2016 Olympics, has dominated marathon running like no one before him over the past five years; going into Sunday's race, he had won nine of 10 marathons he had entered since 2013. In a profile published on Saturday, The New York Times' Scott Cacciola called him "a man of immense self-discipline" who keeps meticulous running logs and has never had a serious injury. He is also marathon running's "philosopher king," according to Cacciola, distinguishing himself as much with his motivational speaking as he does out on the course. "Kipchoge is the type of person," writes Cacciola, "who says stuff like: 'Only the disciplined ones in life are free. If you are undisciplined, you are a slave to your moods and your passions.' And: 'It's not about the legs; it's about the heart and the mind.' And: 'The best time to plant a tree was 25 years ago. The second-best time to plant a tree is today.'"
It was little wonder that two years ago, Nike chose Kipchoge as the runner around whom to build an experiment aimed at breaking two hours in the marathon, which the company called "Breaking2, an innovation moonshot designed to unlock human potential." Nike optimized Kipchoge's months of training. Conditions during the race itself, which was held on a race-car track in Monza, Italy, were optimized as well. And the experiment almost worked: Kipchoge ran the marathon in an incredible 2 hours and 25 seconds. It did not count for world-record purposes.
For Kipchoge, that would have to wait until Sunday morning. Even he didn't think he could run a 2:01 on Sunday in Berlin. "I had a great belief that I would run a world record," Kipchoge said after the race. "But I didn't know I'd run 2:01. I didn't know that what I was believing translated to 2:01, but I'm happy for it."
Meanwhile, in Philadelphia, the American runner Des Linden, the winner of this year's Boston Marathon, won the women's half marathon in 1:11:49 (5:28 per mile pace), and Ethiopia's Shura Kitata won the men's race in 59:17 (4:31 per mile), just slightly faster than Kipchoge had run for twice as long in Berlin. Kitata finished second at this year's London Marathon—to Eliud Kipchoge.
When I ran my first marathon in 1994, the world record was 2:06:50, which had stood for six years. It has been broken 10 times since then and Kipchoge's time on Sunday in Berlin is more than five minutes faster than the record 24 years ago. In a lot of contexts—Amtrak departures or the wait time to talk to a customer-service representative—five minutes isn't much. In distance running, it is an eternity. Runners train for years to take 20 or 30 seconds off their times.
If I didn't know that Kipchoge had run a marathon in 2:01:39, I wouldn't believe it was possible. But now that I know he's done it, I believe I'll still be running marathons when someone—possibly Kipchoge himself—runs 26.2 miles in less than two hours. And that would be the greatest distance-running feat of all.