A Plane Quarantine in New York Started Out Like a Sci-Fi Nightmare
One hundred supposedly sick passengers ended up being only 19. But the story tapped into potent fears about flying.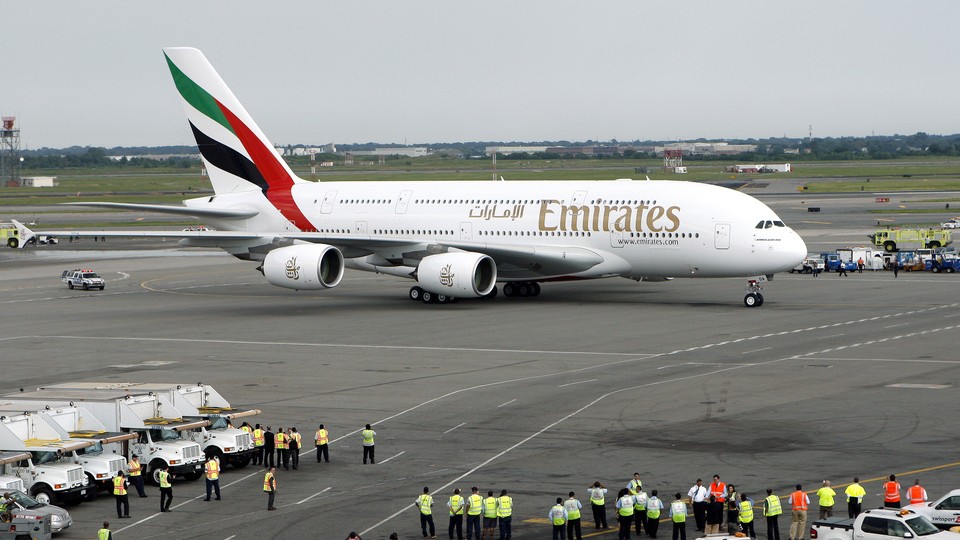 Updated on September 5, 2018, at 5:58 p.m. ET
It really did sound like the beginning of a zombie movie.
On Wednesday morning, a flight from Dubai landed in New York City, and passengers were not allowed to leave. One hundred people on the plane, initial reports claimed, had fallen ill. Ambulances and Centers for Disease Control and Prevention officials rushed to meet them.
For a couple of hours, before any more information emerged, the scenario conjured up scenes from The Hot Zone, in which a passenger with an Ebola-like virus hands a bag of bloody vomit—"bulging and softening, threatening to leak"—to a flight attendant. Or the novel Station Eleven, where a plane lands from a quarantined region of the world and no one ever disembarks.
But the burgeoning horror story at John F. Kennedy International Airport deflated as new information came out. Ultimately, only 19 of the 549 people on the plane were sick when evaluated, according to the mayor's press secretary. The city health department later added in a press conference that 10 of those people were taken to a hospital—seven crew members and three passengers—with symptoms pointing toward flu. Two hours after their 14-hour flight landed, the rest of the passengers got to leave.
It's difficult to say how the reports of 100 sick passengers originated, but it's not hard to see why. Being stuck on a plane already inspires a mix of impotence and rage. Add something to fear—an overheard cough, a suspicious number of trips to the bathroom—and imagining the worst is all too easy. One passenger told NY1 that "well over half" of the passengers in the main cabin were sick. She said she'd asked the flight attendant for a face mask but didn't get one, so she spent the flight with a blanket over her head.
Sick people on planes are, unfortunately, not an uncommon presence. On one particularly hellish flight in 2013, 26 passengers—all from the same tour group—had a "mass-vomiting episode" while aboard a 13-hour flight from Chile to Australia. The airline said the passengers had come aboard already sick, likely with a highly contagious norovirus that causes vomiting and diarrhea. The 26 of them had to share eight airplane bathrooms. When the flight finally landed in Australia, 16 people went to the hospital, three of them on stretchers.
During the Ebola outbreak in 2014, the CDC recommended that health-care workers who had been exposed to the virus take only private flights out of caution. (The virus is spread through direct contact with bodily fluids.) When one nurse later diagnosed with Ebola flew on a Frontier flight, her plane was decontaminated three times. The CDC director also chastised her in a press conference.
A week before that happened, a man on a flight leaving Philadelphia reportedly sneezed and said, "I have Ebola, you are all screwed." The remark triggered a whole procedure: Passengers could not leave while officials in blue hazmat suits boarded the plane to investigate.
It was a joke. He didn't have Ebola. It was just the ordinary nightmare of flying, where hell is other people.