Swim Caps Are Keeping Black Women Out of Pools
Their limited design is yet another contributor to America's racial disparities in swimming.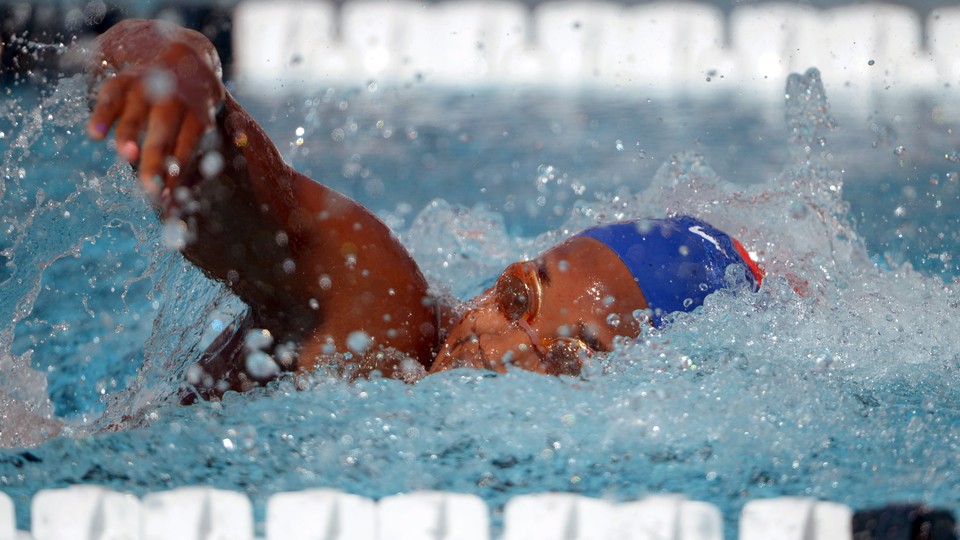 Noelle Singleton challenges any swim-cap maker who claims a swimmer's hair won't get wet with their caps to send her one. She'll post a review on social media of her swimming a 100-meter individual medley in it.
Swim caps matter for Singleton, a 30-year-old black swim coach in Georgia with a thick, full-moon-shaped afro. Known on her AfroSwimmers Instagram account as Coach With the Fro, she has been offering swim lessons that target the black community for 16 years. The first question she always gets from female clients, she says, is: "What do I do with my hair?" She gives them tips, including which swim caps to buy. But, "I tell them up front: Please expect your hair to get wet," Singleton says.
Historically, swimming pools have played a murky part in racial segregation and disparity in the United States. Despite a public-pool boom in the 1950s and '60s, generations of black people have not learned how to swim. In 2017, a report from the USA Swimming Foundation found that 64.2 percent of black adults said they had no or low swimming abilities, versus 39.7 percent of white people. Among the black parents in that group, 78 percent said their children had no or low swimming abilities, too.
Numerous factors contribute to why blacks are less likely to swim: a lack of lap pools to learn in, a lack of representation in water sports, a fear of drowning, and a lack of affordable swim lessons. But one thing that's often overlooked is that swim caps aren't designed to protect common hairstyles among black women, adding yet another barrier to their participation in swimming, kayaking, water polo, diving, and other aquatic activities. "It's an epidemic," Singleton says of their exclusion.
For black women, hair is a long-standing point of pride, self-expression, status, and heritage. Some women will spend hundreds of dollars—and sit for hours—to get box braids or install a weave. That's not including the hair products required for daily maintenance. All this makes swimming risky. Chlorine can damage the softness of an afro, the tightness of a box braid or sisterlock, or the clean scalp hidden under a sew-in weave. For some hairstyles, the prospect of starting over with washing, conditioning, sitting under a hair dryer, combing or picking out hair, and restyling in general is frustrating.
While doing research for an earlier version of the USA Swimming Foundation report, Carol Irwin, an associate professor at the University of Memphis School of Health Studies and one of the lead researchers on the study, remembers asking black women around campus if they swam. Most said they did not, because of their hair and chemicals that dried out their skin. So Irwin and her colleagues put the hair question on the 2010 survey, "thinking it might be significant." Black respondents reported significantly greater concern about getting their hair wet, and about the negative impact of chemicals on children's appearances, than white respondents did.
According to the federal Centers for Disease Control and Prevention, black children drown at 5.5 times the rate of other children. Drowning was the second-leading cause of unintentional deaths among black boys and girls under 18 in 2016. Still, as Irwin points out, the drowning rates are higher among the boys. "I truly believe [black women] avoid the water like the plague," she says. "They might get into the shallow end and splash around, but it has to be limited because of their hair. Maybe their hair is saving them, I don't know."
Swim caps have conventionally been designed as one size fits all for straighter, less curly hairstyles. They help with resistance in the water, but are not meant to keep water fully out. Singleton tells her students that the most important factor in choosing a swim cap is size and type, not brand, but she says many students don't know how to put on a swim cap properly in the first place. There's little instruction on the internet on what to do if they have afros or dreadlocks. "I've had black girls that have had the entire backs of their hair broken off from breakage, or [from] not having the right moisturizers because of the chemicals and the rubbing of the caps," she says.
But recently, the cultural push for products that accommodate diverse bodies and hair types has begun to permeate the aquatics world. Some swim caps now do exist that are designed for dreadlocks, braids, afros, and more. And swim caps are now made of silicone instead of latex, which helps keep the cap from rubbing off hairline edges.
In 2014, a client told Stella Walker, a hairstylist in North Carolina, that she was looking for swim caps to accommodate her sisterlocks. Walker, who specializes in the style, started looking online for options. She soon found herself reaching out to companies manufacturing swim caps to see if they could help her create larger sizes. She never heard back from them, she says, so she looked to China to make them. "People pay a lot of money to have those styles, so those folks definitely don't jump at the opportunity to get in a pool without a cap," Walker says.
Just like hairstylists who sell weave hair or shampoos as side revenue, Walker now sells her jumbo and extra-large Lock Journey caps in online stores including Etsy and Amazon. Her caps are designed for traditional, waist-length locks, but she says anyone with long hair can use them. She says the key for her caps is that they create a seal along the hairline and are worn below the ear for a tighter fit.
Walker has heard some clients say they would squeeze on two or three traditionally sized swim caps to protect their hair. She shudders when she comes across advice like not wearing a cap at all, or not applying moisturizing products when swimming without a cap. Chlorine can cause dryness, hair breakage, or color damage, Walker warns. And adding moisturizer before putting on a swim cap causes it to slide around, allowing water to get inside.
Singleton, the swim instructor, sees this rise in entrepreneurs as positive. But she worries when she hears companies say their larger caps keep all water out of women's hair. "If you have the proper swim cap that has the correct fit, it is possible to help eliminate the amount of water your hair will absorb while swimming," she says. "But to make something that says it keeps your hair dry, it's false advertising and inaccurate."
Despite the hair issue, Singleton says she's starting to see a growing number of black parents putting their children in swim lessons, and even getting into the pool themselves. The statistics seem to back her up: Even though 64.2 percent of black people said they have no or low swimming abilities in the 2017 report, that number was still close to five percentage points less than in the 2010 report. (For white people, the number dropped about two percentage points over the same time period.)
"The parent can't swim, so they don't go to the pool or swim," Singleton says. "I'm seeing a lot more people step off that train of thought and say 'I don't know how to swim, but I don't want my child to not have opportunities.'"