Why Are Obstacle-Course Races So Popular?
As marathon participation declines, more people are signing up for extreme events such as Spartan and Tough Mudder.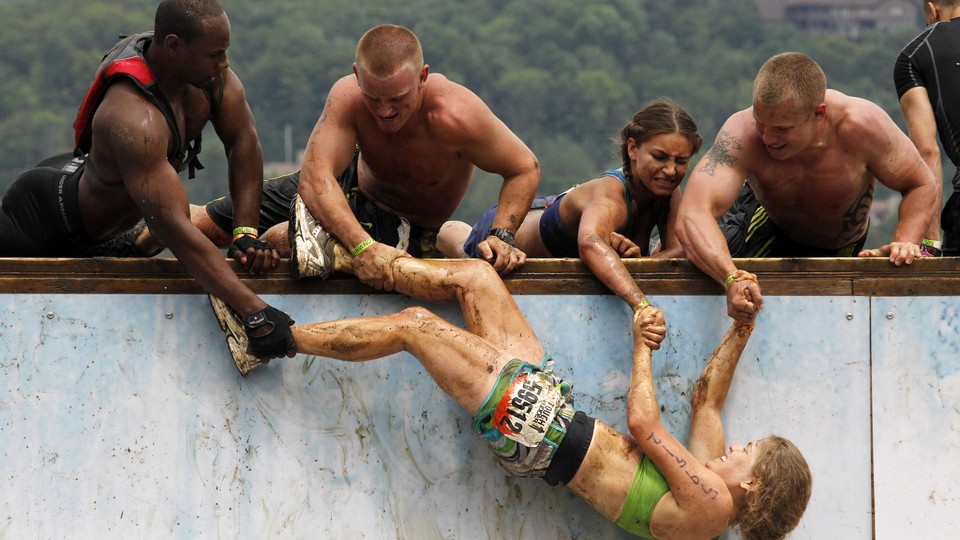 Completing a marathon has long been the ultimate feather in the cap of an amateur endurance athlete. But the idea of trotting along a boring old paved road for 26.2 miles doesn't thrill everyone. For the endurance athlete who gets bored easily, a new genre of race has emerged—peppered with obstacles requiring feats of strength and dexterity (Crawling under barbed wire! Climbing a rope! Throwing a spear! Burpees!), and designed to be an over-the-top spectacle where participants emerge covered in mud (and maybe blood), as if they've survived a battle.
The two biggest names in the world of obstacle-course races (OCRs) are Spartan and Tough Mudder. These organizations put on OCRs that cover distances between three and 30 miles with the addition of up to 35 obstacles along the way. In some of the most intense races, participants might be asked to army crawl under live electrical wire or carry 60-pound sandbags up a ski slope in the middle of running a half marathon.
Participation in traditional road races such as marathons and 5K's, while still high, is on the decline in the United States. After peaking at 19 million finishers in 2013, participation fell to just over 17 million in 2016, according to The New York Times. Running USA's annual report stated that only 3 percent of those running road races in 2016 completed a marathon. At the same time, participation in Spartan, Tough Mudder, and other OCRs are on the rise. Since each was founded in 2010, Tough Mudder reports 2 million total participants and Spartan claims 5 million.
In a phone interview with Spartan's founder, Joe De Sena, I asked him about the appeal of OCRs compared to traditional road racing. Basically, he said, OCRs are more fun than marathons. "Look, at the end of the day, most of us are extremely lazy and our modern environment allows us to be lazy. If someone wants to change that and feel good and go exercise, does a 26.2-mile run on pavement sound appealing?" De Sena asked. "In contrast, with [Spartan], it's just badass and more fun. The imagery, the videos, it's just more likely to rip someone off the couch."
De Sena also believes that the longest OCRs are tougher than marathons, and help people get in better shape. "When I look at the starting line of a marathon, the human beings I see don't look like they have maximized their potential," De Sena told me. "But when I look at the human beings at the start of a Spartan championship race, it's like, Wow, that's the perfect body."
De Sena obviously has his reasons for saying that, but others from the world of marathons might agree that it's beneficial to mix some strength and agility training in with the intense endurance of distance running. In a profile in Runner's World, Ryan Hall, the American record holder in the marathon with a time of 2:04:58, confessed that while he was at the peak of his marathon physique he felt weak and underdeveloped. Since retiring from competitive distance racing at the age of 33, Hall has added strength training to his routine, as well as 40 pounds of muscle (documented in a shirtless Twitter selfie). Hall remarked that he felt like strength training was "giving life to my body instead of taking it away."
I reached out to dozens of OCR participants online to ask them about their race experiences and many echoed De Sena's pronouncement that OCRs were more challenging than a marathon.
Daniel Norton, 41, a software engineer from Charlotte, North Carolina, is a former marathon runner who insists that his Spartan experience was far tougher than any marathon. Norton had a single word to describe what it was like to complete the Spartan Super race in Asheville, North Carolina, a course covering 10 miles and 29 obstacles spread out over the rugged terrain of a mountainside granite quarry: "grueling."
"I saw several people just stop and sit down," Norton said. "There were times I was desperate to do the same … but I certainly enjoyed the journey."
The added challenge of an OCR, which may be a deterrent for some, is the thing that makes it appealing for others. Philip Wilson, a professor in the department of kinesiology at Brock University in Canada, says that variety can keep people motivated, even if the exercise is challenging.
"The notion of difficulty is tied to the perception of challenge that comes with the activity. It is a fine line. Too much difficulty and people feel like they are a failure and are likely to quit … too little difficulty and people likely find it monotonous and not stimulating," Wilson said. "So, yes, challenge matters, and the research suggests it is all about how the person interprets the challenge and whether the challenge is optimal in relation to the person's own capabilities or not that makes the difference in motivational terms."
So while couch potatoes may not find the OCRs' obstacles to be an "optimal" challenge, many OCR competitors are likely "already highly competent exercisers" looking for a push, Wilson says.
"Running a marathon has totally lost its cachet," said Travis Macy, an endurance coach in Evergreen, Colorado. "Among the athletes I coach, it's not uncommon to hear them say, It was just a marathon or, I might hop in a marathon as a tune up for another, longer race they're doing." Further evidence that the marathon is no longer the pinnacle of endurance running: the rise of ultramarathons. While marathon participation has been on the decline since 2013, over the same period of time Ultrarunning magazine reports that the number of finishers in ultra-running events—any distance over a marathon and typically at the 50-mile and 100-mile distances—has increased by 34 percent from 79,046 in 2013 to 106,033 in 2017.
Macy has run more than 120 ultra-endurance events, and is a veteran of OCRs as well—he was the winner of the 2015 Breckenridge Beast Spartan race in Breckenridge, Colorado. Lately, he says he's training more clients specifically for OCRs, with some of the trail runners he coaches going from "dabbling" to becoming full-time obstacle-course racers. "In my opinion, obstacle-course racing does a great job fulfilling two innate human needs: one, be primal, and two, be communal," Macy said.
By "primal," Macy explained, he means simply that people have an urge to use their bodies. With "communal," he's referencing the almost tribal communities that have sprung up around Spartan and Tough Mudder. At the start of a Spartan race I attended at Dodger Stadium this past April, for example, I saw teams wearing matching uniforms and coordinated body paint as they chanted "Aroo!" in guttural unison. In contrast, at the start of the Los Angeles Marathon this past March, I did not notice any such thing.
The professional endurance athlete Amelia Boone, who is both a Spartan and Tough Mudder world champion, agrees with the communal explanation for OCRs' appeal. "There's something to be said for shared suffering," Boone said. "When most people run their first Spartan race, as I did when I started out, you sign up with friends or family and you do it as a team. You see people helping each other over obstacles. In a 5K [road race], there might be verbal encouragement, but nobody is literally pushing your ass over a wall."
While marathons are not inherently communal, obstacle course races show that the loneliness of the long-distance runner need not be a chronic condition of the sport. Consider also that while marathon participation is on the decline, Running USA reports that relay races have been growing in participation over the last decade. According to one Harvard study, the social pleasure of shared experience tends to outweigh the joy of doing something extraordinary on your own.
So can the growing popularity of OCRs be explained by their inherent knack for "ripping people off the couch" to exercise, as Spartan's De Sena puts it? Or are they merely a more fun, communal alternative for those already intrinsically motivated to exercise, as Wilson's research might indicate? It's difficult to say for certain, but research from the Centers for Disease Control and Prevention on overall exercise trends suggests that since 2010 when Spartan and Tough Mudder were founded, the United States has not seen a statistically significant increase in overall exercise.
Still, it seems like the social aspect of these races has given at least a few people who have never run any type of race before a reason to sign up. Jonathan Fine, Spartan's head of global brand communications, confirmed this in an email exchange: Close to 80 percent of Spartan racers in the U.S. sign up as part of a team. And according to the Tough Mudder website, of the 2 million participants since 2010, 95 percent competed as a part of a team.
Potluck Mittal, 27, a software engineer from San Francisco, signed up with his co-workers. "I'd never really done an athletic competition before," Mittal said. He ended up enjoying the event, describing it as a "social activity crossed with fitness … a dope combo." He has already signed up for another Spartan and is looking for some friends to do it with him.
"A lot of people beat around the bush and wait until they're in shape to sign up for one of these things," Macy told me. "I'd say if you've been thinking about it, just do it."