When Will People Get Better at Talking About Suicide?
As suicide rates rise, and stigma recedes, many discussions and portrayals are still clumsy or hurtful.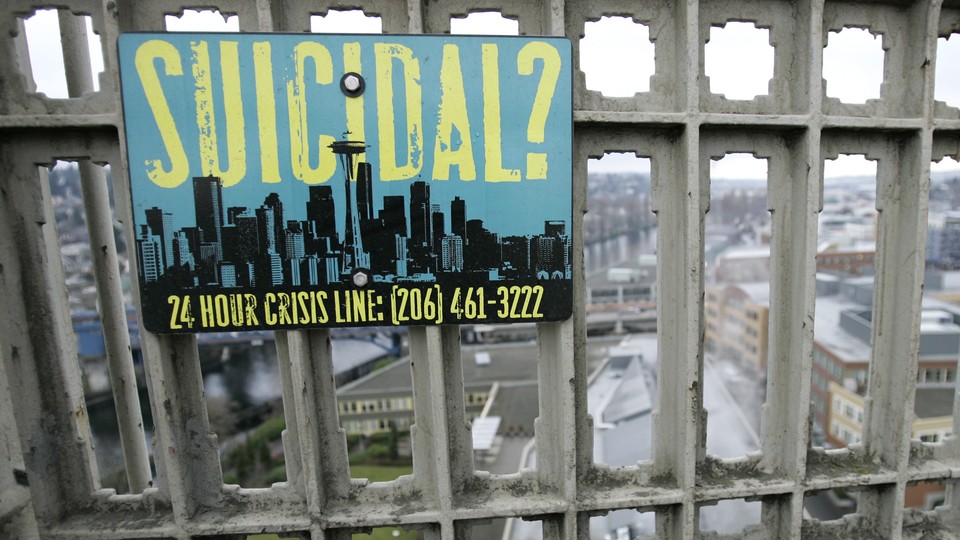 If you are having thoughts of suicide, please know that you are not alone. If you are in danger of acting on suicidal thoughts, call 911. For support and resources, call the National Suicide Prevention Lifeline at 1-800-273-8255 or text 741-741 for the Crisis Text Line.
Suicide is on the rise in the United States, but people still don't know quite how to talk about it.
According to data released this week by the Centers for Disease Control and Prevention, suicide has risen by 30 percent in the United States between 1999 and 2016. It is the tenth leading cause of death in the country. This news happened to come out the same week that two high-profile figures—the fashion designer Kate Spade, and the chef and food journalist Anthony Bourdain—died, apparently of suicide.
Any celebrity death, regardless of cause, leads to a predictable pattern of behavior on social media, a unique and uncomfortable blend of public mourning, attention seeking, and "grief policing." When a famous person's death is a suicide, there are more layers—distribution of resources and hotlines, speculation about the deceased's mental state, the sharing of personal struggles with mental illness, along with calls for destigmatization.
Much of this is well intentioned, just people processing the news together on the platforms we've grown accustomed to using for the processing of all things. But inevitably there are crass responses, too.
When it comes to suicide, the perverse incentives of the internet combined with human callousness can sometimes lead to incidents like a YouTube star posting a joking video about the dead body of an apparent suicide victim, or to publications responding to the suicide of a celebrity not with responsible journalism or thoughtful remembrances but shameless attempts for clicks. In the latest such case, Newsweek responded to Bourdain's death on Friday with a series of stories with headlines like "Who Is Anthony Bourdain's Daughter, Ariane? Celebrity Chef Found Dead at 61" (which appears to have been later changed to "What Anthony Bourdain's Daughter Ariane Said About His Cooking"), seemingly intended to wring traffic from search engines.
Death is always messy and hard to understand, suicide even more so. It's a broad (and increasing) public-health problem with a million different faces, affected by many factors. Mental illness is one of them, but the CDC also found that experiences such as relationship problems, financial problems, loss of housing, and substance use, among others, contributed to some suicide deaths. The traumas and losses of people's lives and the ways they respond to them are infinitely varied and context-dependent. And that makes suicide hard to talk about.
"We use the heart-disease analogy a lot, because in a lot of ways it fits suicide beautifully," says Christine Moutier, the chief medical officer at the American Foundation for Suicide Prevention. "In addition to biological risk factors, life stressors, the environment, smoking, obesity, stress, and relationship conflict play into heart-disease outcomes. That is the same with suicide. It's just that because it is a behavioral manifestation of a complex set of variables, it's harder for people to get their head around."
There's also a reasonable fear of the damage that can be done by discussing it in the wrong way. Research has shown that portrayals of suicide in the media can lead to imitative attempts by others. The Netflix show 13 Reasons Why came under fire in 2017 for its graphic and, some said, glamorizing depiction of a teen character's suicide, and indeed, a study later found that suicide-related searches on Google rose in the days after the show's release. For this reason, journalists typically abide by careful guidelines when reporting on suicide, which include recommendations like avoiding detailed descriptions of methods, not oversimplifying the causes that lead to a person taking their life, and avoiding photos of grieving loved ones, so as not to sensationalize the death.
"People worry about talking about [suicide] because it provides people with a script," says Bernice Pescosolido, a professor of sociology at Indiana University who studies suicide and the stigma of mental illness. But when people hear each other's stories of struggling with mental illness, or with suicidal thoughts, it reduces stigma and helps people to know they're not alone, she says. And social media provides an opportunity for these helpful conversations, as well as harmful ones.
"I think we're definitely in a transition phase right now," Moutier says, "where there's both a huge progression of improvement, and a mixture of some of the old assumptions and judgements still floating around. I'm referring to blaming the person for being cowardly, or assuming that suicide is a sudden and unpredictable fluky moment of losing their head. That really goes against the science."
This cultural transition may be awkward, because as stigma slowly recedes and people become more willing to have these conversations, that doesn't mean they know how to have them. For example, Pescosolido says she sees among her students more openness to sharing their experiences with mental illness, but they still "don't know how and when to disclose it."
Resources like suicide hotlines are important tools, but they are not the only forums for people to talk about what they're going through, and may not be attractive to everyone in need. On Friday, the day Anthony Bourdain died, many people on Twitter were emphasizing the importance of reaching out to loved ones who seem at risk for suicide, or simply those who are struggling. The model Chrissy Teigen wrote, "In my deepest, darkest postpartum depression, I would have personally never called a phone number."
In my deepest, darkest post-partum depression, I would have personally never called a phone number. If John or my doctor never reached out, I would have never even known. It really can be a lonely hole. Watch the people you love and don't be afraid to speak up.

— christine teigen (@chrissyteigen) June 8, 2018
Check on your strong friends.
Check on your quiet friends.
Check on your "happy" friends.
Check on your creative friends.
Check on each other.

— lauren warren (@iamlaurenp) June 8, 2018
Pescosolido has a theory, based on some of the sociologist Émile Durkheim's late-19th-century writings on suicide. People are quick to blame loneliness and a lack of social integration for suicide, she says. "The other dimension that we tend to forget about is how much people guide you, and oversee what you do, and tell you when you screw up and help you right your path—the regulation that social networks accomplish in your life," she says, wondering whether "the ability of your family, friends, or society to guide you is what's been going away, not so much the lack of connectedness."
Sometimes a restricting sort of politeness, the desire not to bother each other, can build walls between people, especially in a time when we're hyperaware of how many other texts and emails and Facebook notifications our friends are probably getting. Pescosolido posits that society has come to focus on the rights of individuals, to the detriment of people's obligations to each other. "I think that comes at a social cost," she says. Formerly taboo subjects like suicide have become less off-limits as stigmas have eased, but these shifts take time.
"In the 1950s, you never told anybody you had cancer," she says. "Many problems have gone through this, and we've made progress on others. Issues with the mind, and the brain, and personal relationships are the last frontier. They're the last thing we need to learn how to talk about."