The States That Exercise Least
A new CDC report highlights geographical trends in leisure-time physical activity.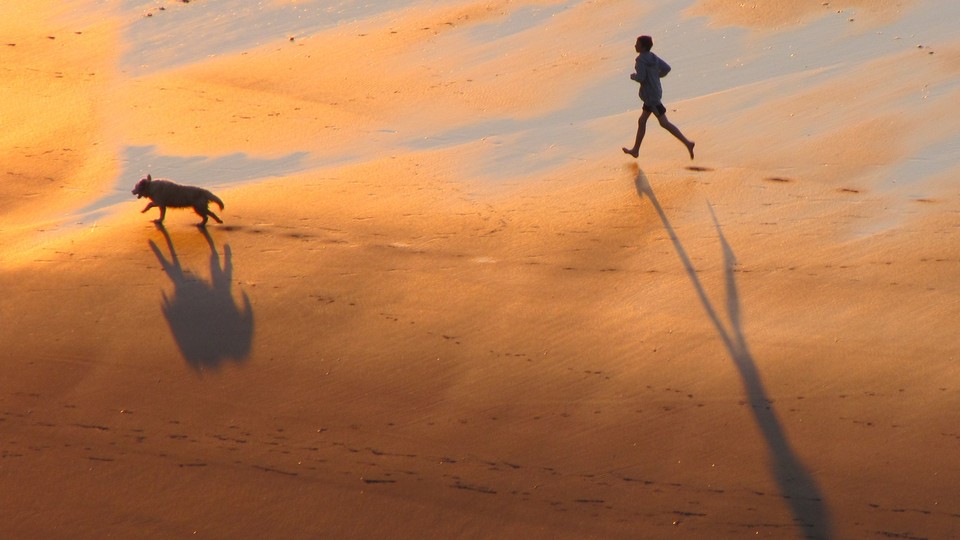 The federal government recommends that every week we all do "muscle-strengthening" activities at least twice, along with 150 minutes of "moderate intensity" aerobic physical activity. However, only about 23 percent of U.S. adults actually manage to work out this much during their leisure hours, according to a new CDC report released Thursday.
And, the CDC found, the percentage of people who get enough exercise varies greatly by state, from a low of 13.5 percent of adults in Mississippi to a high of 32.5 percent in Colorado.
---
Percent of adults who met both the federal guidelines on physical activity, by state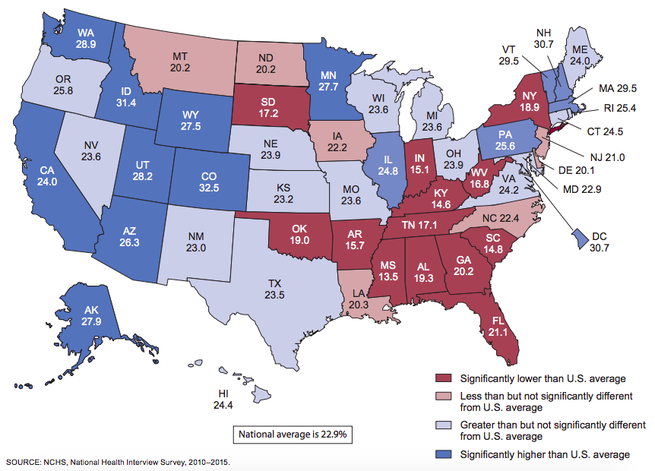 ---
Men are more likely than women to get enough exercise, and less than 10 percent of women in Mississippi work out sufficiently (compared to 31.5 percent in Colorado). People who had jobs were also more likely to get enough exercise than those who didn't, potentially because of the high cost of gyms. (The study only measured physical activity performed outside of work, not commuting or physical activity done on the job.)
In 13 states—Alabama, Arkansas, Florida, Georgia, Indiana, Kentucky, Mississippi, New York, Oklahoma, South Carolina, South Dakota, Tennessee, and West Virginia—a significantly lower percentage of adults got enough exercise than the national average. Most of these states are in the southeast, which is sometimes referred to as the "Stroke Belt." As Claire Suddath once wrote for Time, some areas of the southeast U.S. lack public transportation options and even sidewalks. It's also too hot to exercise outside much of the year, unlike in healthier states such as Colorado or Minnesota. Also, people who are already in poor health—as people in places like Kentucky disproportionately are—tend to exercise less, the CDC notes.
Meanwhile, in 14 states—Alaska, Arizona, California, Colorado, Idaho, Illinois, Massachusetts, Minnesota, New Hampshire, Pennsylvania, Vermont, Utah, Washington, and Wyoming—and the District of Columbia, a significantly higher percentage of adults exercised enough, compared to the national average. Several of these states are in the mountainous, activity-filled west, but others are simply wealthier than average. According to the CDC, "people in professional and managerial occupations" are more likely to get enough exercise.
Although exercise is not the best way to lose weight, people who exercise tend to have a lower risk of chronic disease, disability, and premature mortality. The differences in physical activity among the states is yet another example of how where you live determines how healthy you are.