Hateful Messages Are an Occupational Hazard of Journalism
The stress of dealing with them wears on reporters, and it can be hard to know when they mean real danger.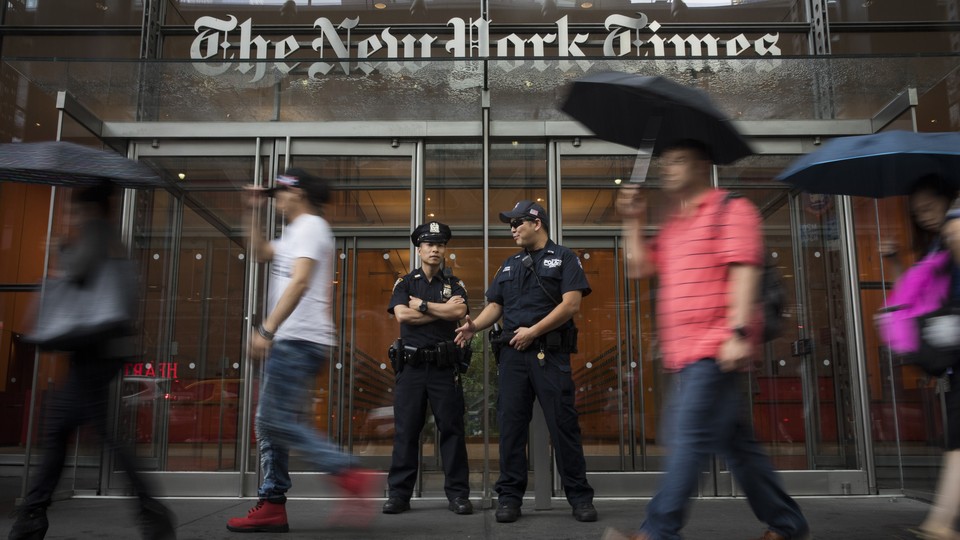 For journalists, being hated is part of the job.
People will hate things you write, and they'll tell you. They'll hate the media in general, and they'll let you know. They may hate you for your race, gender, religion, or sexual orientation; thanks to the visibility that comes with the job, you'll hear about that, too. In the age of email and social media, it seems like more than ever, hateful messages are the cost of doing business in the news business.
Five staffers at the Capital Gazette in Annapolis were killed on Thursday by a shooter with a long-standing grudge against the newspaper. The man had been harassing the paper and its employees since 2011, according to The Baltimore Sun, and he had also personally threatened the Gazette's former editor and publisher, Thomas Marquardt, as my colleague Emma Green reported. Marquardt told Green he wasn't surprised when he learned who the suspect was.
In the aftermath, Libby Nelson, the news editor at Vox, tweeted: "Every journalist knows their version of That Guy. And most of us just shrug it off and laugh about it, because what else are you going to do? The idea that they might do something about it—if that's what happened here—is bone-chilling." Perhaps motivated by a similar worry, police officers in Chicago and New York were deployed to several major media outlets on Thursday after the shooting.
Every journalist knows their version of That Guy. And most of us just shrug it off and laugh about it, because what else are you going to do?

The idea that they might do something about it — if that's what happened here — is bone-chilling.

— Libby Nelson (@libbyanelson) June 29, 2018
The majority of Americans do not trust the news media. There are many complex reasons why, and there's enough blame to go around to many different parties, journalists included. So it's hardly surprising that they get some rude messages. "But I'm not talking about the rudeness. I'm talking about intimidation," says Elana Newman, a psychologist who works with the Dart Center for Journalism and Trauma. "I've been working for the Dart Center for 20 years in some capacity, and when we used to ask people what the most stressful parts of journalism are, they would talk about the hours, or getting it right. They would talk about all sorts of things. Now what comes up is really this kind of stuff."
According to research by the psychologist Kelsey Parker in 2015, 63 percent of journalists from several English-speaking countries said they had experienced occupational intimidation in the previous 12 months. Globally, almost two-thirds of female journalists "experienced acts of 'intimidation, threats, and abuse' in relation to their work," a report from the International Women's Media Foundation and the International News Safety Institute found. Another study, of Swedish journalists, found that a third had experienced a threat in the past year. A far greater number—74 percent—had received "abusive comments which are unpleasant but do not involve any direct threat."
Journalists have had their families harassed, had their addresses and other personal information published (a practice known as doxxing), and had SWAT teams sent to their houses by trolls.
"Raise your hand if you know (or are) a journalist who has received a death threat in the last year," Sam Escobar, the digital deputy director of Allure magazine, tweeted on Thursday after the shooting. The tweet received replies from journalists on every beat imaginable—health, politics, music, gender, tech, beauty—and a cartoonist.
Raise your hand if you know (or are) a journalist who has received a death threat in the last year.

— Sam H. Escobar (@myhairisblue) June 29, 2018
Some of my colleagues shared stories with me of their own experiences. "A man once told me to kill myself and that he wanted me dead because he didn't like my review of the movie Sing," said Sophie Gilbert, a staff writer at The Atlantic. "Then he left threatening Instagram comments on a picture of me and my baby niece, and the cops got involved. It was scary but also absurd because it was related to a movie about a singing koala."
Caroline Kitchener, an associate editor who works on the The Atlantic's membership program, told me about a time she wrote a piece on political extremism and went on C-SPAN to talk about it. Afterward, the members of the subreddit The_Donald, an online forum for Donald Trump supporters that, as Kitchener explained in her piece, is "often associated with the alt-right," found pictures of her on Google and "put them on The_Donald with Pepe the Frog between my legs," she said. Pepe, a cartoon frog often used in racist memes, is classified as a hate symbol by the Anti-Defamation League.
All of this takes its toll, affecting both job performance and journalists' mental health. "There are few studies of the impact of harassment on journalists," a report from the Dart Center reads, but individual journalists have reported symptoms including "anxiety attacks," "insomnia," " weight loss," "extreme and excessive vigilance," and "social isolation."
In the Swedish study, 17 percent of respondents avoided covering certain issues or people because of comments they received. Sixty-eight percent felt hurt by the comments. Nine percent of respondents had considered quitting the profession altogether because of them. How did they cope? Mostly by just trying to ignore it. The researchers found that after receiving threats, 66 percent of the time, journalists did nothing. This was the case 85 percent of the time for "abusive comments."
It can feel wrong to dwell on your own relatively minor hostile encounters when in the course of your job you are exposed to the breadth and depth of human suffering. Many of my colleagues who reached out to me with stories qualified them by saying in the scheme of things it wasn't that bad, or that other people had surely experienced worse.
"You're used to reporting on others and not becoming part of the news," Newman says. "So I understand that. But it's not a reason not to be safe. Yes, it's true: You are privileged. But when your life is in danger? That's a freedom-of-the-press issue. At what point does it become a way of preventing journalists from telling stories that need to be told? I understand that it feels self-indulgent. But that doesn't mean this isn't an important opportunity for people to understand the risks that journalists are taking."
"Our results show that intimidation and harassment indeed constitute an effective way to silence journalists, even in the context of a stable democratic society like Sweden," the researchers behind the Swedish study wrote. This might also be effective in the United States, where the far-right extremist Milo Yiannopolous has said, "I can't wait for the vigilante squads to start gunning journalists down on sight" in response to requests for comment on stories, according to the Observer. Where President Donald Trump, at a rally three days before the Annapolis shooting, referred to the press as "the enemy of the people," a preferred term of his. (Trump has since offered his condolences to the victims; when CNN's Jim Acosta shouted to Trump to ask if he would stop using the phrase, he did not respond.) And where on Reddit and other forums, people celebrated the news of the Gazette journalists' deaths.
Threats and hateful messages are an occupational hazard for all working journalists. But it's sometimes hard to tell where the line is between an annoyance and a danger. How do you know when the threats are real? When a hailstorm of emails might transmute into a shower of bullets?
"What makes this so difficult," Newman says, "is we can't tell what's a disagreement and what's a threat. You can tell at the extremes ... [but] it's the middle stuff that has everybody confused."
The Capital Gazette on Thursday lived through a journalist's worst fear upon receiving such a message. But through the grief, despite whatever intimidation the shooter may have intended, the Capital Gazette journalists honored their colleagues in the best way they could: They put out a paper. They told their stories anyway.