How a Public Suicide Harms the People Who See It
For unwitting bystanders, the experience can be traumatic.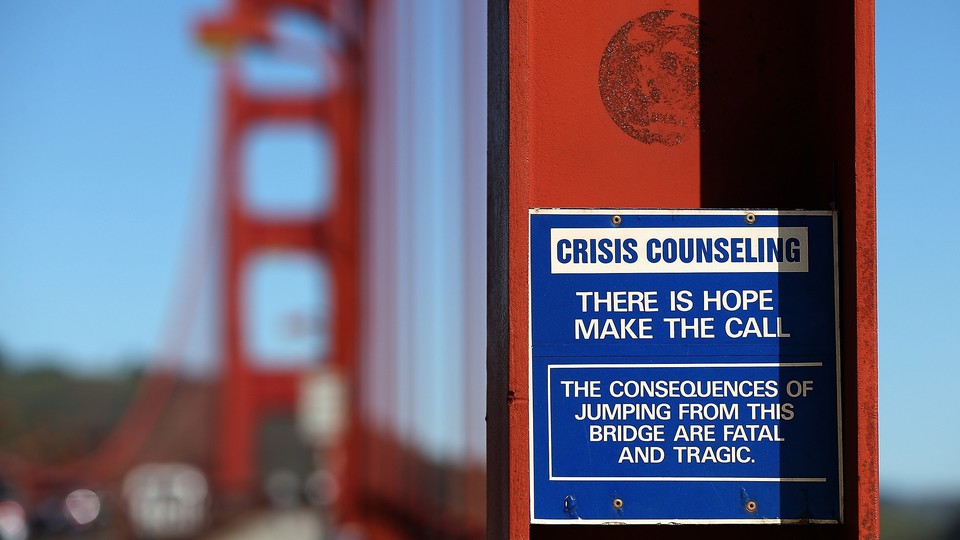 If you are having thoughts of suicide, please know that you are not alone. If you are in danger of acting on suicidal thoughts, call 911. For support and resources, call the National Suicide Prevention Lifeline at 1-800-273-8255 or text 741-741 for the Crisis Text Line.
One evening last March, Nancy Bacon saw a stranger die. She had just touched down in Toronto and set off for a business meeting, chatting on her phone as she navigated the rush-hour traffic of the financial district. She was jaywalking, hurrying across a particularly busy street, when a fire extinguisher seemed to fall from the sky, smashing to the ground just a few feet away from her.
"I was actually annoyed," she says. Her first thought was that some mischievous kid had thrown the extinguisher through a window high above. But when she lifted her gaze, Bacon's annoyance turned to horror. What she witnessed next would haunt her for months. "I saw the guy falling," she says. "I saw him hit the ground."
Bacon looked on as the police arrived and attempted CPR. She noticed that the man's shoe had come off.
A suicide can be dangerous to those closest to the victim, leaving family and friends vulnerable to depression and self-harm. When the act is committed in public, any incidental observers are left to grapple with it, too. While studies on witnessing strangers' suicide are scarce, a small body of research—alongside a larger body of anecdotes—has begun to show that the experience can be damaging, even traumatic.
Each year in the United States, approximately 45,000 people kill themselves. There's little data on how many of these suicides occur in public view, and even less on how many people witness them when they do. One study analyzed all completed suicides in Riverside County, California, from 1998 to 2001, and estimated that around 17 percent took place in public places, like roads, railways, and fields. Another study, from 1994, reviewed forensic reports of 1,183 suicides among people affiliated with the U.S. Air Force and found that 4 percent were committed in the presence of at least one other person.
Ashley Tate Hatton was studying for her Ph.D. at the California School of Professional Psychology when she saw the controversial documentary The Bridge, about people who leap from San Francisco's iconic Golden Gate Bridge. Watching the victims fall—even on camera—Hatton felt queasy, complicit. When it came time to choose a subject for her dissertation, she decided to study the effects of witnessing suicide in real life. She posted ads around campus and online, and to her surprise, soon found a small group of people who had seen strangers take (or attempt to take) their own lives.
"I thought it was a long shot," she says. She hadn't realized how common an experience it was. "I didn't have to travel outside of Southern California—I was prepared for that."
Three of Hatton's subjects had seen people jump from bridges, three from a building; two had seen people shoot themselves; three had seen people step in front of vehicles. One of the subjects, a man in his 50s, was waiting for a bus when a young man threw himself in the path of an oncoming van. For the next several days, the onlooker thought about it constantly. He became obsessed with the precariousness of life, and told Hatton that he began to feel as though "every second could be [his] last." When she met him three years later, she found that he no longer ruminated incessantly about the memory, but he still dreamed about it from time to time. He told her he had become a more cautious driver; he worried about running someone over.
All but one of Hatton's subjects said that they considered the experience traumatic, and one, according to Hatton, met the criteria for chronic post-traumatic stress disorder. (Those who had been more involved—who had called 911 or tried to talk the victim down from the ledge—tended to be more affected.) Nine of the 10 said that pictures about the event popped into their minds; six admitted they thought about it without meaning to; three had physical reactions when they were reminded of the event, including sweating, nausea, and trouble breathing. Eight said that the experience had a significant impact on their lives, including one who started volunteering at the Red Cross, and two who resolved not to act on their own suicidal fantasies.
Hatton's sample was small, and people who would sign up for her study were probably more shaken than average. "When you have only a few people who experienced something, you have no idea how representative they are," points out George Bonanno, a professor of clinical psychology and the director of the Loss, Trauma, and Emotion Lab at Columbia University. Still, projects like Hatton's are a start. "There's surprisingly little research on the nuances of different traumatic events," Bonanno says.
Last spring, a young man leapt from the building next to the one I was in. I didn't see him jump, but I heard him land; I thought it was a clap of thunder. A woman I was interviewing in that moment gasped, so I turned and followed her gaze. I can still see the scene outside the window: an empty pair of pants dangling over the ledge of the low roof that had broken his fall, a human arm sticking out an unnatural angle. I heard the man moaning, and I saw a woman who appeared to be his mother crying in the street, reaching up to touch his foot. I didn't know what to do; I felt useless as other members of the lab ran out with a ladder to help the woman reach her son.
That evening, I violated Amtrak's noise policy by crying on the Quiet Car. I had violent nightmares: that a teenager was teetering on a ledge; that an acquaintance was threatening to jump in front of a train. I talked with friends about what I'd seen. I spent an afternoon trying to find out whether the man had lived. I gave up, the dreams faded, and I don't think about it much anymore. The memory remains clear, upsetting even, but I wouldn't call it traumatic.
Teresa Lopez-Castro, an assistant professor of psychology at City College of New York, emphasizes that most people who experience or witness trauma don't go on to develop PTSD, even if—as I did—they experience distress in the weeks or month following the trauma. She pointed to a comprehensive 1995 study that found more than half of adults in the United States reported being exposed to a potentially traumatic event at some point in their lives, but only about 5 percent of men and 10 percent of women ultimately develop PTSD. Nonetheless, Lopez-Castro notes, "witnessing the violent death of a person—whether it be a stranger or a loved one—certainly carries the potential for causing psychological distress, and places the individual at risk for developing post-traumatic stress disorder."
Bacon, the woman who witnessed the suicide in Toronto, always thought of herself as tough. She has traveled, mostly by herself, to 66 countries; she has been nipped in the ribs by a lion. But the day after seeing a stranger fall to his death, she walked around the city in a daze. "I thought every single person I passed was going to kill me," she says, even though she recognized this as "a completely irrational fear."
When she got home, she began combing through Toronto obituaries. She hoped that learning more about the stranger would help her process what she had seen, but she never definitively found the right person. She made her first-ever appointment with a psychologist. And she talked about it with whoever would listen. "There is not a single friend, client, colleague, 7-Eleven employee" who didn't hear about it, she says. (Hatton—who's now a clinical psychologist specializing in PTSD—says that sharing the experience is a "very important" part of recovery.)
Still, Bacon suffered from nightmares and night terrors for weeks. "I was kicking and tossing and turning so much I ripped the sheets off my bed, " she says. She never used to lock her doors at night; now, more than a year later, she says she bolts both her front and bedroom doors.
The experience has changed how she relates to others and how she thinks about mental health. She started donating to suicide hotlines, and she's become more proactive about reaching out to friends who are struggling. "If I see a negative post or even a drunk post on Facebook or Twitter, I don't ask them if they need help," she says. "I go to them."