The Obesity Cure Is Out of Reach in the Heaviest States
Bariatric surgery works, but hundreds of thousands of eligible patients can't get it.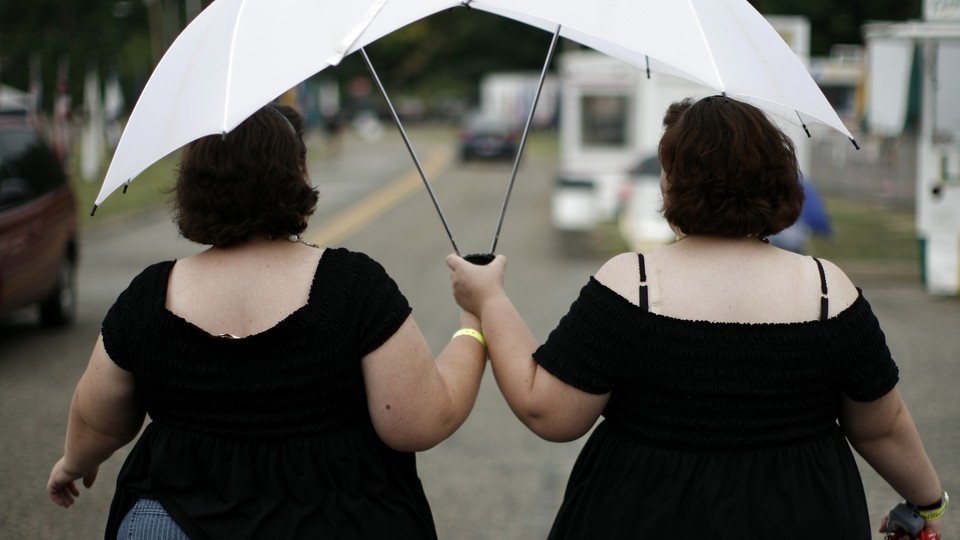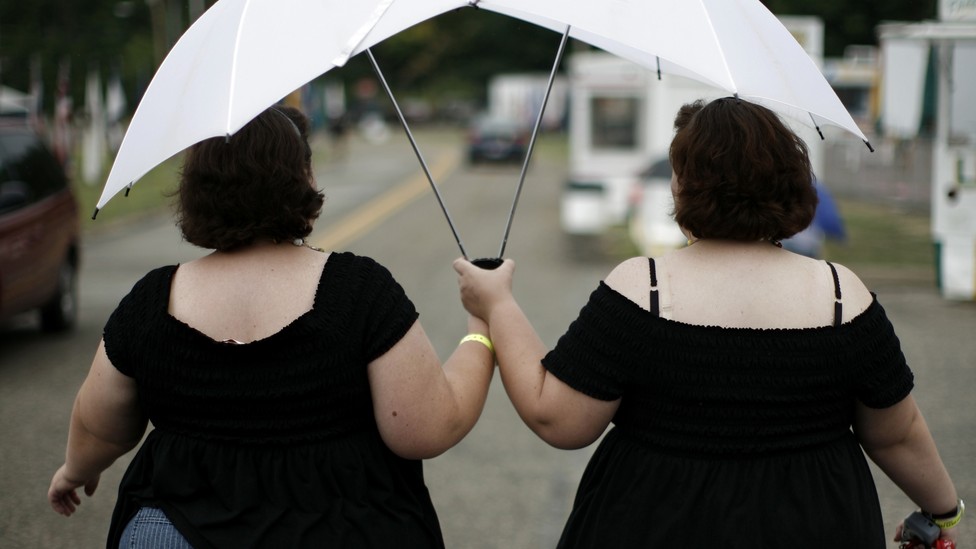 In Mississippi, more than 37 percent of adults are obese, making it the second-most obese state in the nation. But Mississippi is also one of two states, along with Montana, that doesn't cover bariatric surgery in its Medicaid program, which serves 760,000 people.
One popular type of bariatric surgery, the gastric sleeve, costs between $20,000 and $35,000 without insurance, experts told me. It shrinks the stomach to about the size of a banana, changing the body's hunger hormones and reducing a person's natural weight—one they don't have to starve themselves to stick to. For the morbidly obese, diet and exercise don't usually have this same effect on their own. (People who lost hundreds of pounds sweating it out on the TV show The Biggest Loser, for example, tended to gain it all back.)
People who get bariatric surgery have to change their eating habits dramatically, and it comes with the risk of complications like bleeding or digestive issues. Still, studies show bariatric surgery is more effective long-term than diet and exercise for people who are more than 100 pounds overweight, especially if they have other medical problems like diabetes. To put it most starkly, the surgery cuts obese peoples' risk of death in half.
But experts and surgeons say the procedure is treated by insurance companies less like a life-saving treatment and more like a nose job: frivolous and optional. According to the American Society for Metabolic and Bariatric Surgery (ASMBS), many states don't cover the procedure in their state employee, Obamacare, or Medicaid plans: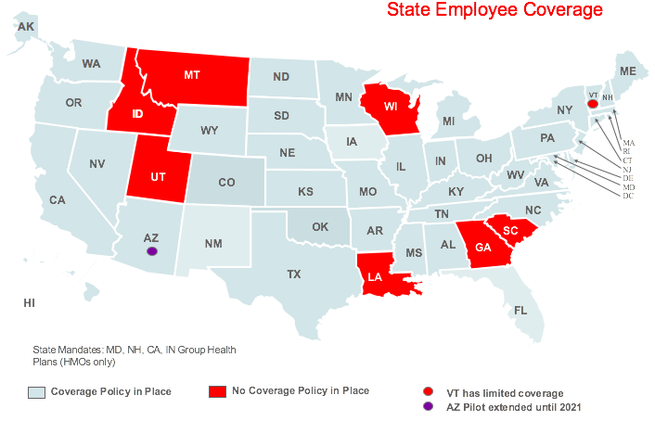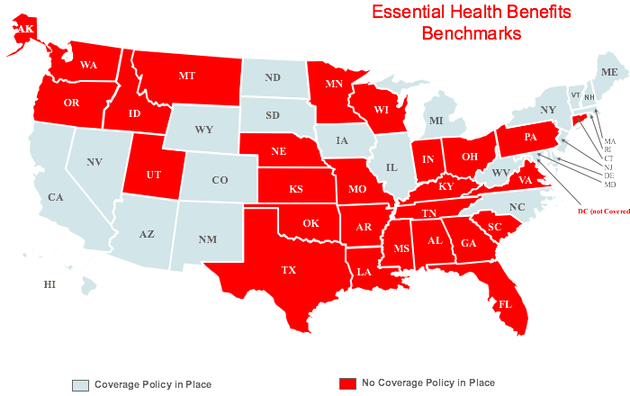 Blue Cross Blue Shield, the only Obamacare insurer in South Carolina, does not cover bariatric surgery for the more than 200,000 enrollees in that state. The state also doesn't cover the procedure for state employees and their spouses and children, another half a million people. "Keeping the plan affordable for everyone is one of our biggest challenges and, unfortunately, it results in certain services not being a covered benefit of the plan," a spokesperson for PEBA, South Carolina's state employee health plan, told me via email.
Obamacare enrollees in Arkansas, the third most obese state, also can't get bariatric surgery. In Wisconsin, where, according to ASMBS, bariatric surgery isn't covered for state employees or Obamacare enrollees, Jon Gould, a surgeon at the Medical College of Wisconsin, tells his obese patients there's not a lot he can do for them. Some, he said, will temporarily take a job with an insurance plan that covers the procedure. It would be cost-effective to cover the benefit, since bariatric surgery often makes diabetes and other pricey health problems quickly disappear, Gould said. But state budgets, which help fund Medicaid, are often pinched and need immediate returns on investment, not savings on insulin and doctors' visits that may not add up until five or 10 years later.
In 2015, a company called BARInet, which helps companies figure out how to pay for weight-loss surgery, devised a bundled payment system for bariatric surgery designed for Mississippi's Medicaid program. The plan was to contract with specific hospitals and surgeons to pay a lump sum of about $25,000, total, for each person's surgery, including any additional costs from complications. That, the thinking was, would be cheaper than paying separately for each stage of the surgery, like the psychological testing and nutritional guidance. A 2015 story in Modern Healthcare made it seem like a done deal for Mississippi's Medicaid program.
But then, something went wrong, and accounts differ of what exactly that something was.
Don Davenport, the president of BARInet, speculated that the deal soured because Mississippi Governor Phil Bryant began to see it as an expansion of Medicaid, which was too closely associated with Obamacare in the deep-red state.
David Dzielak, Mississippi's former Medicaid director, remembers the proposal becoming known locally, and pejoratively, as the "belly-band bill." That's what caused the governor to get cold feet, he said.
"Adding a bariatric benefit in a conservative state where there is a prejudice or bias against morbidly obese people ... so many people think you're enabling them," Davenport said. "For us, it's been frustrating because if you just adhere to logic, it's a good investment."
(The Atlantic reached out to Governor Bryant's office for comment and will update this story if we hear from them.)
What's more, "even in a state where there's technically coverage, there are so many barriers to getting surgery, it's like not having coverage at all," said Scott Kahan, the director of the National Center for Weight and Wellness in Washington, D.C.
Some states' insurance plans require people considering bariatric surgery to quit smoking, for example, while others don't. In some states, surgery candidates must lose weight before they qualify, while in others, the weight loss is recommended, but optional. Other states require a six-month waiting period. According to the ASMBS, Aetna requires bariatric surgery candidates not to gain any weight during the three-month preoperative phase—something that's challenging for individuals whose biggest problem is that they gain weight uncontrollably. ("The preoperative program is intended to improve surgical outcomes, reduce the potential for surgical complications, and establish the member's ability to comply with post-operative medical care and dietary restrictions," an Aetna spokesperson told me via email.)
Meanwhile, some people who have United Healthcare must do the opposite—fail at weight loss. They have to have unsuccessfully followed "one structured diet program for six consecutive months," such as Weight Watchers. These hurdles are portrayed as medically necessary, until they aren't: Roxane Gay, a writer who recently described her own bariatric surgery experience on Medium, wrote that she was able to easily overcome all of this red tape by simply paying for her surgery out of pocket.
In part because of these hurdles, only a small number—about 1 or 2 percent—of people who qualify for bariatric surgery actually get the operation.
John Scott, a bariatric surgeon in Greenville, South Carolina and the national "access to care" chairman at the ASMBS, said many people in his state go to Mexico for bariatric surgery. It's thousands of dollars cheaper there, but complications arise more frequently. "We've had patients come back from Mexico with leaks and infections from poorly performed surgery," he said. "The state washes their hands, from an insurance perspective, and the patient is on the hook for whatever expenses [arise] from the complication."
Of course, bariatric surgeons benefit from having bariatric surgery covered. But in this case, the interests of surgeons and patients align, from a medical perspective. To Scott, the lack of bariatric surgery coverage suggests that outdated ideas about obesity—like the notion that people bring it on themselves—die hard.
"Obesity is the last acceptable bastion of discrimination in this country, and people who deal with obesity get treated like dirt," Scott said. "That's reflected in these insurance plans."