In One Year, 57,375 Years of Life Were Lost to Police Violence
A new study finds that police killings exact a toll greater than accidental gun deaths.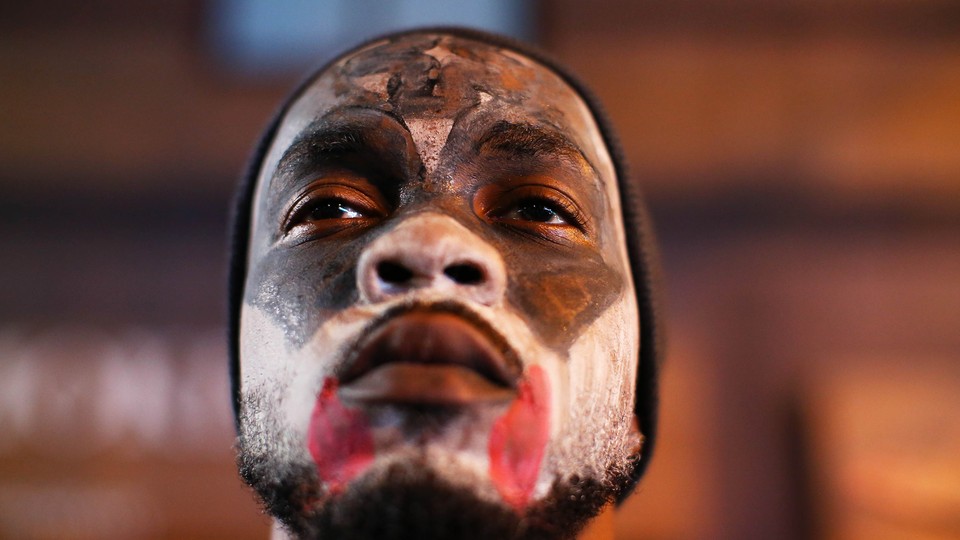 People killed by police in 2015 and 2016 had a median age of 35, and they still had an average of about 50 years left to live when they died. It's this metric—the gap between how long someone lives and how long they were expected to live—that's the focus of a new study by Anthony Bui, Matthew Coates, and Ellicott Matthay in the Journal of Epidemiology and Community Health.
To find the true toll of police violence, the authors focused on years of life lost. They used data from "The Counted," a Guardian database of people killed by police, to find the races and ages of everyone who died at the hands of police in the United States, then compared them to the average life expectancy for those groups.
Of the 1,146 and 1,092 victims of police violence in 2015 and 2016, respectively, the authors found that 52 percent were white, 26 percent were black, and 17 percent were Hispanic. Together, these individuals lost 57,375 years to police violence in 2015 and 54,754 to police violence in 2016. Young people and people of color were disproportionately affected: 52 percent of all the years of life lost belonged to nonwhite, non-Hispanic ethnic groups. Whites also tended to be killed by police at older ages than African Americans and Hispanics—though this is partly because, in the general population, whites are older on average than the other groups.
The total number of years of life lost at the hands of police in one year is similar to the number that Americans lose to meningitis, or maternal deaths. It's more than the years of life lost to accidental gun deaths.
The study findings echo those from past journalistic investigations. Washington Post analyses from the past several years show that black males are shot by police at disproportionately high rates. According to several different studies, black men ages 15 to 34 are between nine and 16 times more likely to be killed by police than other people. In 2017, police killed 19 unarmed black males, down from 36 in 2015, according to The Washington Post. The Post analyses also showed that police usually use fatal force against people armed with knives or guns. (The FBI counted 435 "justifiable homicides" by police officers in 2016, and in 429 of the cases, the person had a firearm when killed.) But unarmed victims of police shootings are also more likely to be minorities, according to FBI statistics.)
Meanwhile, 46 police officers were "feloniously" (as opposed to unintentionally) killed in the line of duty in 2017, down from 66 in 2016. Twenty-seven have been feloniously killed so far this year, and another 15 have died in accidents such as car crashes. Neither the FBI nor this study tracks their average years of life lost, but one source puts the 2017 fallen officers' average age at 43. Another data source suggests that about two-thirds of people killed by police officers were attacking the officer.
There are ways to minimize police shootings, which happen in other industrialized countries far less frequently than in the United States. Gun control could reduce the number of armed people police encounter. A quarter of those killed by police show signs of mental illnesses, so better mental-health care might further reduce police shootings.
Finally, some police departments have tried de-escalating risky encounters. In Germany, police officers spend years in trainings with titles like "Don't Shoot," in which they're lauded for pulling pepper spray instead of pistols. The Los Angeles Police Department recently began presenting a "preservation-of-life medal to an officer who makes great efforts to avoid a fatal shooting," the Post reported. Police shootings in L.A. declined—to 15 in 2017, from 21 in 2015. It's a slight change, but as this study shows, every life, and every year of it, counts.