The New Ebola Outbreak Could Take 'Three, Maybe Four' Months to Control
The DRC's top virologist says the response has been quick, but it started late because of delays in reporting suspected cases.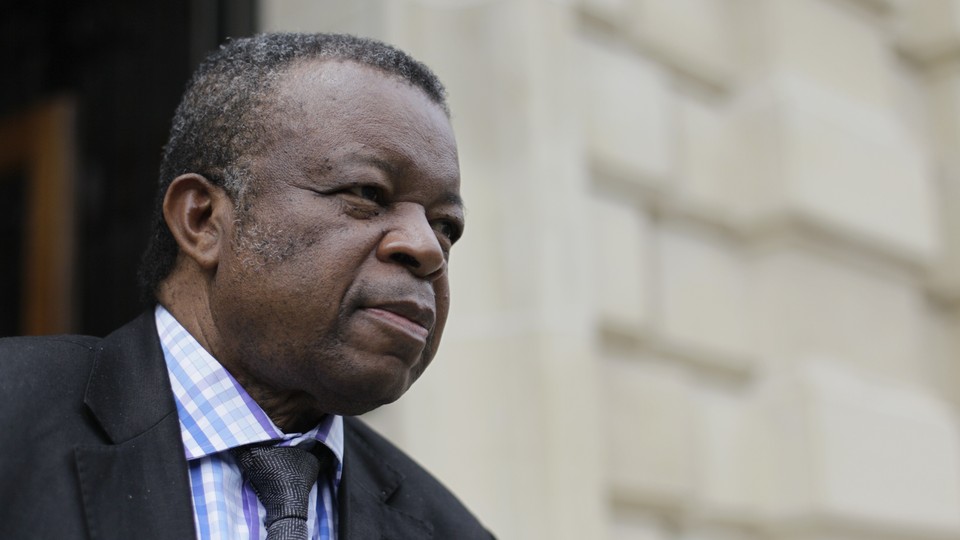 The Democratic Republic of Congo is currently fighting its ninth Ebola outbreak—and Jean-Jacques Muyembe Tamfum is as calm as ever. Warm, round-faced, and preternaturally chill, Muyembe was the first scientist to encounter Ebola during the first-ever outbreak in 1976, and he has been involved in studying and fighting the disease ever since.
"We have a long-standing experience," he told me on Friday. "I think we will need three months to control [this new] outbreak. Maybe four."
There are currently 32 suspected cases, dating back to April 4; of those cases, 18 have died. This suspected-case count has risen by 11 since the Ministry of Health first reported the outbreak on Tuesday, but it's still unclear how many of them actually have Ebola. (For comparison, during a similar Ebola outbreak last year, the DRC reported 37 suspected cases, of whom only 8 were eventually lab-confirmed.) To date, only five blood samples have been sent to the national lab in Kinshasa for testing, and only two of them were confirmed to have Ebola. Neither of those confirmed cases has died.
Further samples are on the way, but as is often the case in the DRC, shipping is complicated by the lack of good roads and the remoteness of the affected region—a northwestern town called Bikoro and a nearby village called Ikoko-Impenge, 30 kilometers away.
Even in these early stages of the outbreak, confusion is brewing. On Thursday, Reuters reported that cases of hemorrhagic fever were reported in the outbreak area "as far back as December," and the first deaths "were reported in January." That's true, insomuch as health authorities did examine a group of 15 suspected cases and 8 deaths in the same region in January and February. But their investigations weren't conclusive. "There was no proof that it was Ebola," said Tarik Jašarević, a World Health Organization spokesperson. It's anyone's guess when the outbreak actually began, although it seems likely that it was underway by April.
But there were problems in the flow of information. The investigators filed a report on March 1, but the ministry of health for the province didn't channel that report onward, as they were meant to, according to Muyembe. It was May 8 when the national Ministry of Health notified the WHO of the two lab-confirmed cases. That delay is a blow for a country that prides itself on its ability to detect new cases of problematic diseases like Ebola. This time, the fringes of the surveillance web worked as intended, but the threads leading to the center had been severed. "It's not usual," Muyembe says. "We have to seriously discuss why the information was not used properly by the provincial level."
Nonetheless, Congolese health workers, along with the WHO and international partners, are already mobilizing to address the outbreak. They are working to find people who may be infected, track down everyone they had come into contact with, and isolate and treat patients. They are also distributing thousands of leaflets and posters to ensure that local communities practice safe burials. In Congolese funerals, families and friends will dress, clean, hug, caress, and kiss the bodies of the deceased—a loving ritual that tragically allows Ebola to spread.
Speaking at a press briefing in Geneva today, Peter Salama, the WHO deputy director-general for emergency preparedness and response, said that personal protective equipment (like gowns, masks, and gloves) have already been deployed to the ground, and "we should have a mobile lab up and running this weekend."
The DRC Ministry of Health is also considering whether to deploy an experimental Ebola vaccine that has proven its effectiveness in clinical trials but has not yet been licensed. The WHO suspects a decision will be made over the weekend, and meanwhile, they are preparing for a green light. They are readying the freezers and other cold-storage units that will be needed to move and deploy the vaccine. Up to 40 people who were involved in testing the vaccine in Guinea are on standby. "This is a highly complicated, sophisticated operation in one of the most difficult terrains on Earth," Salama said.
To date, the WHO has released $1 million of contingency funds to deal with the outbreak. Yesterday, the Wellcome Trust—a British nonprofit—pledged 2 million more pounds, while the U.K. Department for International Development added a further 1 million pounds.
As in the last outbreak, which took place in the Likati region in 2017, the virus is hitting a hard-to-reach area. "It's 15 hours by motorbike from the closest town," Salama said. The WHO is negotiating with the World Food Program to set up an air bridge—a sequence of air drops—between Kinshasa and Bikoro, so that supplies and aid can be more easily moved.
The region's remote nature would "usually give us a sense of reassurance," said Salama, but some aspects of the outbreak are worrying. The number of suspected cases is significant. Those cases have already been reported in three separate locations, which are at least 60 kilometers apart. Three health-care workers have been infected, and one has died; such professionals are especially susceptible to Ebola, which spreads through the bodily fluids of patients, and they can act as nexuses for more infections.
As Helen Branswell reported for Stat, Bikoro's geographic location is also troubling. It sits on Lake Tumba, which connects to the mighty Congo River. The river then connects to Kinshasa, the DRC's megacity capital with a population of about 11 million, and Brazzaville, the capital of the adjacent Republic of the Congo. There is a risk that travelers could carry the virus along the river to either major city. "If it's a traffic line, there is a risk," Jašarević told me. "The average incubation period is four to six days. You can get the virus and travel for a couple of days before you get symptomatic and become infectious."
But Muyembe thinks the risk is low, "because the circulation on the river is not so high." And in the worst-case scenario, the town of Mbandaka would likely act as the canary in the coal mine. It's a large port town that lies on the Congo River, in the opposite direction to the two capitals, but far closer to Bikoro. If sick people were traveling on the river, they'd show up in Mbandaka first. And Muyembe says that Congolese health workers are already setting up there to monitor travelers and check temperatures.
"I think it's a very different response from ever previously," Salama added. "At all levels, this is being taken as the highest priority."