Can Genetic Counselors Keep Up With 23andMe?
The rise of spit kits is leaving consumers with lots of data and few answers. Genetic counselors could help people understand these results, but there aren't enough of them to go around.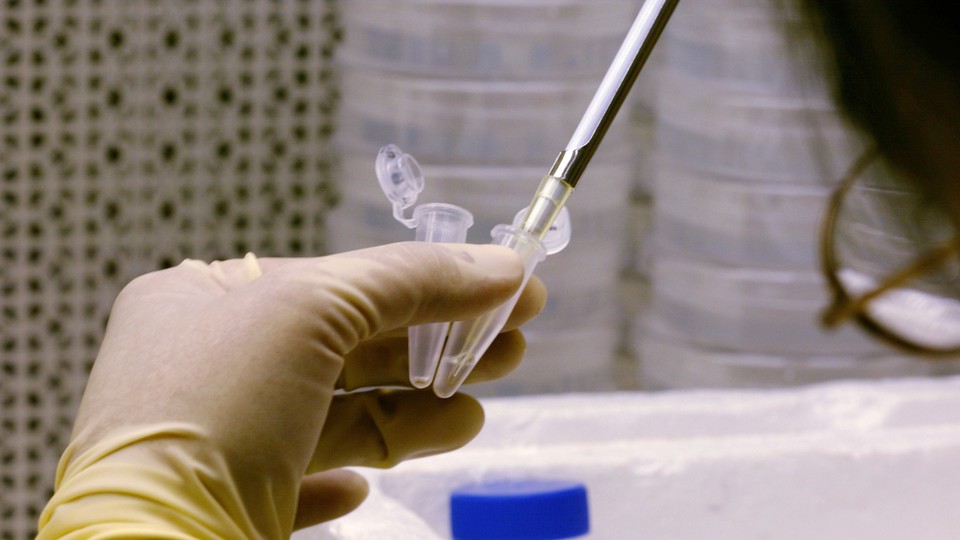 In hindsight, clicking on the email from 23andMe at 10 p.m., alone, on a particularly cold March night probably wasn't the best idea. Still, Nancy Wurtzel thought she was prepared for the genetic-testing company to give her the news that she had inherited the gene for late-onset Alzheimer's disease. Both her parents died from it—her father at 86 and her mother at 92.
But when Wurtzel stared at the blue glow of her computer screen announcing she had two copies of the ApoE4 variant and quoting her a 60-percent chance of developing Alzheimer's by age 85, she panicked. "I could hardly catch my breath, and I felt like the floor was opening up. The reality hit me," says Wurtzel, a 62-year-old public-relations consultant from Minneapolis. "I thought, 'What do I do now?'"
What she should have done, she has come to believe, was see a genetic counselor. The 23andMe results included a link from the National Society of Genetic Counselors (NSGC) on where to find one in her area. But Wurtzel dismissed the idea. "I was kind of cocky because I had already done so much research. I thought, 'What will they tell me that I don't already know?'" She knew there was nothing she could do to prevent Alzheimer's (although some research suggests lifestyle changes might delay onset). Besides, she didn't want to pay $250 to $350 out of pocket for a consultation.
As the field of precision medicine explodes, the nation's 4,600 genetic counselors have the job of interpreting genetic-testing results for patients and advising them on whether they should get more testing or medical treatment. Or for patients like Wurtzel, they provide reassurance that the presence of a genetic variant doesn't automatically mean one will get sick later on.
The way genetic counseling has worked for decades is that doctors refer patients to genetic counselors after testing—and often before to go over expectations—and insurance typically covers the visits. With the arrival of direct-to-consumer (DTC) genetic testing like 23andMe, however, people can order so-called spit kits online, return their saliva sample in the mail, and read their results at home several weeks later. Because DTC patients are out of the referral pipeline, they may be on the hook financially for genetic-counseling visits to translate those often confusing and scary results, or left trying to decipher them on their own.
Now genetic counselors are figuring out how to help the growing DTC set, while their field is in transition. As demand for their services grows, the field is facing a national shortage in which there are an estimated two to three jobs available for every graduate of genetic-counselor training programs. To address it, in addition to recruiting future students and expanding training programs, professional societies are at work trying to change the way genetic counselors are viewed in the health-care system. Currently, only eight states allow genetic counselors to directly order tests for patients. To give counselors more professional autonomy industry leaders are calling on Congress and state legislatures to recognize genetic counselors as independent health-care providers. The moves, says NSGC President Erica Ramos, would reflect their growing importance in a field in which scrutinizing our genes is quickly becoming routine.
For the past few months, Taylor Berninger, a genetic counselor in San Diego, has been emailing back and forth with her colleagues about how to cater to 23andMe clients. Unlike traditional patients who visit her because they're worried about a specific medical condition, she says that DTC patients are more likely to want their DNA decoded out of general curiosity. "The healthy person is trying to determine what kind of disease risk they face in the future," says Berninger, who works at University of California at San Diego Health. "So they have different questions." She also finds that they're more likely to bring in a long health report, including insights on their risk of cardiac disease and what mutations they could pass on to their children. "We decided to ask 23andMe patients to bring us their top three questions. That way they don't say, 'Here's a bunch of data. Tell me what it means!' It makes the visit less daunting for both of us," she says.
That amount of data is quickly expanding. A year ago, the U.S. Food and Drug Administration gave the green light for 23andMe to start releasing results to customers about their genetic risks for 10 health conditions, including late-onset Alzheimer's and Parkinson's diseases. The company recently added breast cancer to its list, and began informing customers last month of whether they were a carrier for BRCA1/BRCA2 breast-cancer gene mutations. So far, 23andMe has more than 5 million customers, although the company doesn't release how many have purchased the health reports. Last month, the biotech company PerkinElmer announced it would start offering its clinical test of 59 genes involved in 34 conditions—previously available only to physicians—through the consumer sequencing marketplace Helix, a spin-off of the genomics giant Illumina. And more tests are on the way: FDA Commissioner Scott Gottlieb announced in November the agency had streamlined the process so future products could be approved faster.
This has led to controversy around what information DTC patients should be expected to handle without medical guidance. Last month, the CEO of 23andMe, Anne Wojcicki, wrote an opinion piece in Stat titled, "Consumers Don't Need Experts to Interpret 23andMe Genetic Risk Reports." She argues that in this new era of the empowered health consumer, people should be trusted to make rational decisions based on their genetic health risk information. The FDA required 23andMe to "demonstrate that we can deliver genetic risk information to customers in a way they understand," Wojcicki wrote. "In rigorous studies submitted to the FDA ... we demonstrated user comprehension of 90 percent or greater."
Yet Kelly Ormond, a genetics professor at the Stanford University Center for Biomedical Ethics, worries that customers won't understand the nuances or the limitations of their results, especially if their heads are spinning after reading the words breast cancer. "There's a lot of confusion about what these tests detect," says Ormond. Case in point: 23andMe tests only for three mutations in the genes associated with breast cancer that are most common in Eastern European Jews. "If you have a family history and don't know there are other tests that more fully look at those genes and other breast-cancer genes, you might falsely think, 'I'm off the hook' if your result comes back negative," she says. Those other test results help genetic counselors advise patients on when to undergo early screening and whether they should take preventative medication to reduce their risk, adds Scott Weissman, a genetic counselor with Chicago Genetic Consultants in Northbrook, Illinois.
DTC patients are more likely to be caught off guard by worrisome results and need perspective, says Weissman, who's seen an uptick in 23andMe clients over the last six months. "I often hear, 'I didn't realize this was on the test. I don't know what this means,'" he says. "It's important for you to know what the information you're getting can and can't tell you." For example, estimates of your genetic disease risk don't take into account your family history or environmental influences.
Though consumers may well be rational enough to process their own results, Wojcicki's stance ignores the emotional punch people often experience when they receive upsetting news. "Some people respond with denial and avoidance and tuck away the information. Some are angry, and others are just sad and overwhelmed," says Berninger.
---
As the population of genetic-counseling patients has changed and grown, so has the industry that serves them. The profession was born in 1969 when Sarah Lawrence College in New York established the first master's training program in genetic counseling, and the field today includes specialties in cancer, cardiovascular disease, and fertility. There are 95 percent more genetic counselors in the United States today than there were a decade ago, according to the American Board of Genetic Counseling.
Now the industry is fighting to get the respect it feels it deserves. "It's really important that genetic counselors are recognized as providing a unique service that becomes more critical as genetics play an increased role in all areas of health care and medicine," says Ramos. Her organization has drafted a congressional bill seeking to have the Centers for Medicare and Medicaid Services acknowledge genetic counselors as health-care providers and reimburse their services accordingly. It's also sponsoring bills in state legislatures to have counselors licensed as independent medical practitioners.
The designations would be in line with the NSGC's latest survey results showing that around 75 percent of genetic counselors provide direct patient care. "That would pave the way for more hospitals to hire them and pay them more competitive salaries," says Ramos. Although the survey shows that genetic-counseling pay is on the rise—the median was $82,000 in 2018, compared to $75,000 in 2016—that's lower than other medical professions with similar training. Plus, making genetic counselors more available to Medicare patients would lead to an estimated $4 billion in savings to Medicare over 10 years by relieving higher-priced physicians of counseling duties and preventing unnecessary test orders, according to a study the NSGC commissioned from the health-economics consulting firm Dobson DaVanzo.
In the meantime, start-ups have emerged to fill the information gap for DTC patients by making counseling services more accessible and cheaper. In July, My Gene Counsel plans to launch a digital product that will help users interpret their test results for hereditary cancer genes for a $40 yearly subscription. The service will also send you push notifications as new clinical recommendations or trials become available.
A telemedicine company called Genome Medical offers virtual consultations. For $179, you're connected with one of 14 genetic counselors (including Weissman) for a 30-minute "Genetic Navigator" session to discuss your concerns before testing, or afterward to decipher your results.
Despite the dizzying growth of testing services, experts still aren't sure about the right number of genetic counselors needed to serve the population—especially in light of U.S. Bureau of Labor projections that demand for these positions will grow nearly 30 percent between 2016 and 2026. "It's a very underserved profession. There are so many jobs available and not enough qualified, trained counselors," says Stephanie Gandomi, the assistant program director for the genetic counseling program at Boise State University, which is launching an online program to help meet that demand. Enrollment in the nation's 39 genetic-counseling graduate programs has risen from 364 students in 2017 to 402 in 2018, and at least 20 new programs are slated to begin enrolling students in the next few years, according to industry data. The industry's goal: to have one counselor per 100,000 people in the United States by 2020.
Genomics companies are also trying to find creative ways to promote genetic counseling as the hot career of the future. Last year, Illumina, the market leader in DNA sequencers, and the nonprofit One San Diego hosted an educational event for about 200 San Diego–area high-school students and commissioned the "Genomics Rap" from the educational music company Music Notes with this lyric: "I'm cracking the code ... Genetic counselor, yeah! My job is working with patients. Help them understand the meaning of their genomic information."
As more DTC companies tell people about serious health threats lurking in their DNA, including those they are powerless to influence, it remains to be seen how many of these customers will see the need to supplement what they can find on Google with a professional's perspective.
"Not every single patient needs traditional genetic counseling," says Ormond, who's part of a working group that's developing a model about when to prioritize traditional genetic counseling. For example, if your results revealed you were at risk for a genetic heart condition that needed rapid medical attention or an unexpected condition that's harder to deal with emotionally, traditional genetic counseling would be appropriate. But for a straightforward test where the results might not impact your health immediately, it might be enough to have a shorter appointment with a counselor, to chat with a primary-care doctor, or even just to watch some educational videos.
Perhaps the genetic counselor of the future will assume an increased role in providing psychological support and comfort. "Some people just want to talk to an unbiased third party who will listen to their story and provide empathy, so they don't have to keep all their feelings and fears inside," Weissman says.
Wurtzel, who received her 23andMe results in March that revealed her risk for Alzheimer's disease, wishes she'd anticipated her need for a sympathetic ear. "I wished someone was there to listen to what I was feeling at the time," she says. "I don't advise anyone to do it by themselves."