How Tutus Took Over Runners' Wardrobes
They're not just for costume races anymore.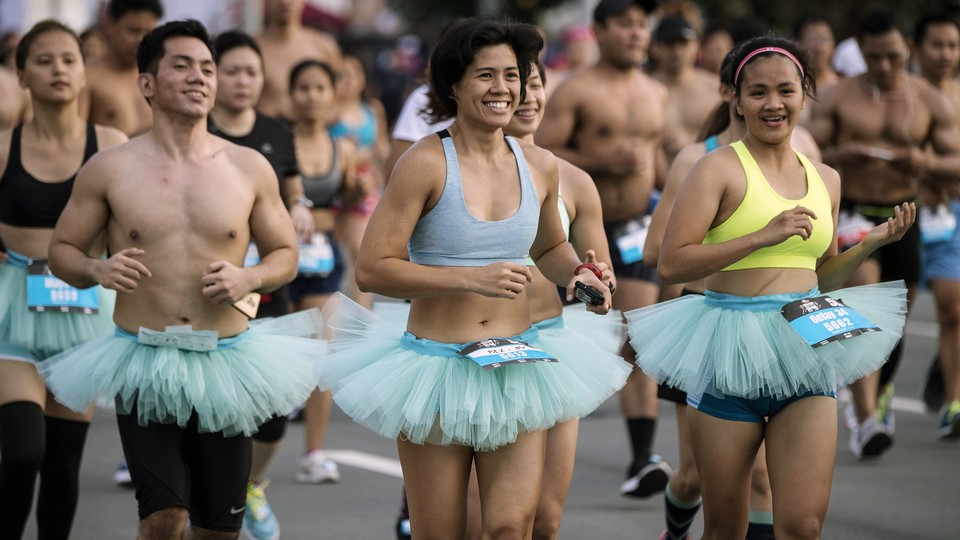 By mile nine, Kelly Lewis and her friends knew they were on to something. She and her pals Elise Wallace and Carrie Lundell had donned sparkly skirts that Lundell, a seamstress, had whipped up as a way to stand out while they ran the 2010 Surf City USA Marathon. At the time, wearing something so outlandish on a non-costume run was such an anomaly that Wallace was reluctant to join in. "She said, 'No way, I'm not going to do it,'" says Lewis, although they ultimately convinced her.
As they ran, runners and spectators kept complimenting their skirts and asking where they got them, Lewis says. "We were like, 'We should try to sell these. Maybe somebody else would want to wear them." Later that week Lewis created a website for Sparkle Athletic. A few months later, there was such a demand for glittery running skirts that the team hired a manufacturer, and later expanded into accessories like rainbow socks, sequined visors, and tank tops emblazoned with phrases like "I don't sweat, I sparkle."
I've run a handful of races per year since my first 5K in 2008, and have done enough theme/costume runs to be used to seeing women (and occasionally men) in fluffy statement skirts—sometimes stiff ballet-inspired tutus, sometimes just sparkly costume skirts (utilitarian running skirts are a different sartorial category.) I stopped thinking of running tutus as a novelty, however, when I saw them being sold as official merchandise at the 2013 Color Run in Chicago.
At this point, the tutu has transcended costume and become a common piece of many runners' race-day wardrobes, regardless of whether it's a costumed event. How and when did that happen?
An obvious place to start, as with most things princessy, is Disney. The company runDisney has been hosting races across Disney theme parks and resorts since the mid- '90s, but in the late '00s it began rolling out women-focused races like the Disney Minnie Marathon Weekend and the Disney Princess Half Marathon Weekend, which debuted in 2009. However, it took a little while for the costume skirts to catch on. For the 2010 Disneyland half marathon, Lewis decided to dress like Tinker Bell. She lined up in the first corral, the sectioned area at front of the starting line reserved for elite runners. "I walked in wearing a lime-green sparkly skirt and wings and everyone in that corral turned around and gave me the up and down, like, 'Why is she in this corral?'" says Lewis. (She set a personal record during that race.)
Now? You can find chat rooms dedicated to the art and science of Disney race tutus. According to the Orlando dietitian Tara Collingwood, a runner who once served as the official nutritionist for runDisney, "At the Disney races, if you're not wearing some sort of sparkle skirt, you're kind of sticking out."
Carey Pinkowski has directed the Chicago Marathon since the early 1990s and says that he began noticing a rise in outlandish race gear over the last 10 to 12 years. "It wasn't until the charities really came to prominence and they identified themselves [with uniforms] to draw attention to what they were doing," he says. In 2011, the Wall Street Journal noted that the rise of the charitable run had arrived hand in hand with technology that made it easier for runners to raise money online. Races are not only fundraising events, but ways for charitable groups like Girls on the Run (GOTR) or the Leukemia and Lymphoma Society to advertise themselves. Pinkowski says, "They have their own uniforms: They're very identifiable, and very much keen on the branding."
Ben Waldman, 37, a volunteer running coach in New York, donned a skirt for charity when he ran the 2013 Nike Women's DC Half Marathon. While men weren't forbidden from the course, he had reservations being a man in a woman's race, even though he was running with women he had trained for the race. Donning his team's tutu, Waldman says, "took away from me being a guy on the course." While he found the skirt less than comfortable, he couldn't deny that it helped increase team camaraderie and made the race more fun and appealing to would-be runners. "A half marathon, which seems so unreachable to so many people, suddenly is more in reach when you see people having a good time and being silly."
It's hard to believe that until 1971, that women weren't officially permitted to run the Boston Marathon. Now, groups like Black Girls RUN! and Girls on the Run help contribute to the rise of (and business of) women runners—Pinkowski says that the Shamrock Shuffle, another major Chicago race he oversees, was 58 percent women this year.
Tara Baize, a buyer for a medical-device company, first met Monika Allen when they served on the board of the San Diego branch of the nonprofit Girls on the Run. They decided to make and sell tutus (the stiffer ballerina style) to raise money for GOTR. Calling their tutu company Glam Runner, Allen and Baize made the tutus by hand (after first watching an instructional YouTube video) and sold them via PayPal. "It took us 2 years even to get 1,000 likes on Facebook," says Baize, 40.
Then, in 2014, SELF magazine posted a photo of Allen and Baize crossing the finish line of the Los Angeles Marathon dressed as superheroes in their signature tutus with the caption "People think these froufrou skirts make you run faster. Now, if you told us they made people run away from you faster, maybe we would believe it." The magazine took down the post and issued a mortified apology when readers pointed out that not only were Allen and Baize running in tutus to raise money for GOTR, but Allen was undergoing treatment for brain cancer (Baize's marathon bib read "Die Tumor Die!!")
The evitable SELF backlash resulted in overwhelming attention for Glam Runner. "We went to 30,000 likes," says Baize. "Then we really started to see tutus everywhere." Business was so busy that she and Allen temporarily had to shut down the Etsy store. Then, in January 2017, Allen succumbed to cancer, which revived the SELF story.
The story of Allen and SELF may have helped imbue the running tutu with a certain glow of rebellion and survival in addition to its aesthetic appeal. "I'm always out there, running my heart out," says Collingwood, 43, the mother of four boys. Wearing a tutu, she says, lets a runner signal "'Hey I'm tough and I can withstand this difficult endeavor that I'm about to do, but I'm still a girl at the end of the day.'"
Lewis says she's proud that Sparkle Athletic skirts are worn by Ironman finishers and Boston Marathon qualifiers as well as by newbies. "We've gotten girls who had written in who are 3:11 marathoners: They're super fast and they're serious," she says. "They write and tell us, 'It's really fun to pass people. But it's so much more fun to pass people in a sparkly skirt.'"
The popularity of the tutu can be traced to its unlikely flexibility as a statement—it can mean you love Minnie Mouse, or that you are part of a fundraising team that has qualified for the Boston Marathon, or that you actually hate running but this is the only way you're going to have fun doing it. A running tutu can be both a sincere and an ironic piece of femininity in a sport where being a woman, even as a casual athlete, can be a deadly liability. The average woman may prefer to be anonymous during her regular runs, free from unwanted attention, but pulling on a tutu for race day can seem like a sly middle finger slung around a runner's hips—Look at me go.