The Doctor Who Suddenly Got 9 Million Patients
For a position that demands high-level policy expertise, President Trump appointed his personal physician, Ronny Jackson.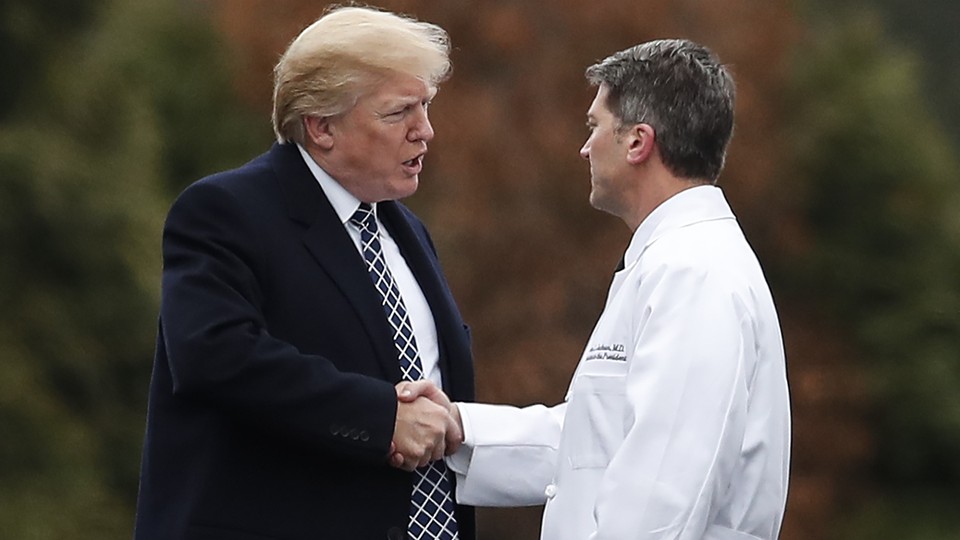 Nine million veterans will soon be under the care of the emergency-physician rear admiral Ronny Jackson, pending confirmation of his appointment Wednesday to lead the U.S. Department of Veterans Affairs.
This seemingly mundane appointment—a doctor and naval officer with years of experience as White House physician under both Trump and Obama—is of great consequence. It comes at a time when the VA is in need of a politically savvy expert on health-care administration, budgeting, and resource allocation, as the system is on the brink of major changes that bear on national security. The system has proven to require a leader who can thread multiple bureaucratic needles with his or her eyes closed. Jackson does not clearly fit this bill.
The VA is the second-largest federal department, overseeing 1,243 health-care facilities including 170 hospitals, which tend to be a ghostly network of dim, mid-century structures that bear the scars of serving as constant political battlefields. They tend to have bad food and no marble and bizarre gift shops that I've seen sell knives and cured meats. Yet VA hospitals seem to underscore the waste of the glitz of five-star-hospital-style academic medical centers. The system punches above its weight in the quality and safety of care it delivers compared to most of the private health-care industry.
While it is crucial to have experienced veterans and physicians in the upper echelons of a system like this, the work is mostly about politics and economics. Jackson is not an expert in policy, and he lacks work experience in health-care administration or management. His chief credential is that he is a physician. I'm also a physician, and—ask anyone—I'm wholly unqualified to lead a hospital system, much less to lead the one most crucial to our national security.
Even as a doctor, Jackson's judgment has been dubious at times. The press conference in January where he extolled President Trump's soundness of mind suggested allegiance to the president above the public or the profession: "I've found no reason whatsoever to think that the president has any issues whatsoever with his thought process," Jackson said, after having administered a 10-minute test for dementia in which the president was asked to do basic math, identify zoo animals, and draw a clock. (A useful and good test, the results of which were, I've argued, overstated in the context of widespread physician concern over the president's soundness of mind.)
Professional bearing intact, Jackson also said that the borderline-obese (BMI 29.9), 71-year-old president—who does not exercise and eats McDonald's to excess (Filet-o-Fish, no less) and is known for angry outbursts and drinks around 144 ounces of Diet Coke per day and barely sleeps—is in "very good health, excellent health." He speculated that the president would remain fit for service until the end of a second term and said he told Trump that "if he had a healthier diet over the last 20 years, he might live to be 200 years old."
As David Axelrod, former adviser to President Obama and now the director of the University of Chicago Institute of Politics, responded publicly to the appointment: "Dr. Jackson is a good and honorable person, [a] fine doctor and career military, but you do get the sense that this [appointment] has as much to do with his boffo press conference on the president's physical [exam] as anything else."
Trump has become known for proximity-based, loyalty-based promotions made with apparent haste. Jackson may simply have been the only doctor in Trump's field of view. With doctors Oz and Phil being televisually obligated, and Harold Bornstein all the way up in New York ... who else is there?
Though if the move was deliberate to a policy end, it was a savvy move from the perspective of those who would like to see the VA privatized. There has been a creeping movement to privatize elements of the VA system, backed by the Koch brothers, among others. At a policy level, the concept is worthy of consideration and debate. Some experts argue that certain elements being privatized could improve quality and decrease costs.
But that doesn't seem to be what's happening. The outgoing VA secretary David Shulkin made this clear on Thursday in an op-ed in The New York Times. He argued that some public-private cooperation had been fruitful: "We have expanded access to health care by reducing wait times, increasing productivity, and working more closely with the private sector." But he also warned that the push toward complete privatization was not being undertaken in good faith. Shulkin writes:
It seems that these successes within the department have intensified the ambitions of people who want to put VA health care in the hands of the private sector. I believe differences in philosophy deserve robust debate, and solutions should be determined based on the merits of the arguments. The advocates within the administration for privatizing VA health services, however, reject this approach. They saw me as an obstacle to privatization who had to be removed. That is because I am convinced that privatization is a political issue aimed at rewarding select people and companies with profits, even if it undermines care for veterans.
With Shulkin out of the way, the next secretary of the VA would need to approach the job with strong moral bearing and willingness to resist political expedience for the sake of improving the system. Without this force, special interests could sway the system toward privatization at a cost to taxpayers and veterans.