At Veterans' Homes, Aid-in-Dying Isn't an Option
Facilities in four states claim they'll risk losing federal funding if they allow assisted suicide.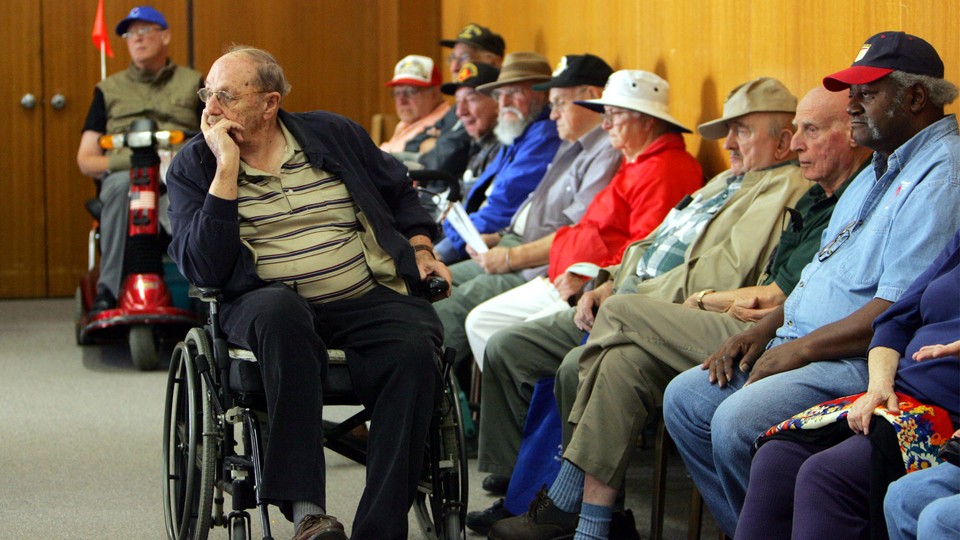 The state of California passed a law three years ago that allows terminally ill people to take lethal drugs to end their lives, but controversy is growing over a newer rule that effectively bans that option in the state's eight veterans' homes.
Proponents of medical aid-in-dying and residents of the Veterans Home of California at Yountville—the largest in the nation—are protesting a regulation passed in 2016 by the California Department of Veterans Affairs, or CalVet, that requires that anyone living in the facilities must be discharged if they intend to use the law.
That's a position shared by most—but not all—states where aid-in-dying is allowed. As more U.S. jurisdictions consider whether to legalize the practice, the status of terminally ill veterans living in state-run homes will loom large.
"It would be a terrible hardship, because I have no place to go," says Bob Sloan, 73, who suffers from congestive heart failure and other serious cardiac problems. He says he intends to seek medical aid-in-dying if doctors certify he has six months or less to live.
"I'm not going to be a vegetable," says Sloan, a Vietnam War–era veteran who moved into the Yountville center five years ago. "I'm not going to end up living in so much pain it's unbearable."
A CalVet official says the agency adopted the rule to avoid violating a federal statute that prohibits using U.S. government resources for physician-assisted death. Otherwise, the agency would jeopardize nearly $68 million in federal funds that helps run the facilities, said June Iljana, CalVet's deputy secretary of communications.
California is not alone. Three other states where aid-in-dying is legal—Oregon, Colorado, and Vermont—prohibit use of lethal medications in state-run veterans' homes.
In Montana, where aid-in-dying is allowed under a state Supreme Court ruling, officials didn't respond to multiple requests about whether veterans would be able to use the law in the residences. However, Eric Kress, a Missoula physician who prescribes the lethal medication, says he has transferred patients to hospice, to relatives' homes, even to extended-stay hotels to avoid conflict.
In Washington, D.C., where an aid-in-dying law took effect last summer, the Armed Forces Retirement Home won't assist patients in any way. Those who wish to use the law would be referred to an ethics committee for individual consideration, Christopher Kelly, a spokesman, said in an email.
Only Washington state has a policy that allows veterans to remain in government-run residences if they intend to ingest lethal medications. At least one veteran has died in a state-run home using that law, says Heidi Audette, a spokeswoman for the state's Department of Veterans Affairs.
Paul Sherbo, a spokesman for the U.S. Department of Veterans Affairs, said the choice is up to the states.
"VA does not mandate how states comply with federal law," Sherbo said in an email. "There are a number of ways individual states can choose to handle such situations and still be in compliance."
To date, none of the 2,400 residents of California's veterans' homes have formally requested medical aid-in-dying, said Iljana. That includes the more than 900 residents of the Yountville center, located about 60 miles north of San Francisco.
"We would respectfully and compassionately assist them in transferring to a hospice, family home, or other location," Iljana said in an email. "We will readmit them immediately if they change their minds."
But Kathryn Tucker, the executive director of the End of Life Liberty Project, an advocacy group that supports aid-in-dying, says that CalVet is interpreting the federal regulations too broadly and denying terminally ill veterans the right to choose a "peaceful death" through medical assistance.
"Nothing exists in the federal statute's language that would prohibit a resident from receiving aid-in-dying services at state homes, so long as they are not provided using federal funds or employees," she says.
Ed Warren, the head of the Allied Council, a group representing veterans at the Yountville site, cosigned a letter to CalVet officials protesting the ruling.
"My point of view is that it is inhumane to expect people in the last stages of dying to go through the hullabaloo of leaving their homes," he says.
In Washington state, a 60-year-old man diagnosed with terminal chronic obstructive pulmonary disease died in June 2015 after ingesting lethal drugs at the Washington Soldiers Home in Orting, where he lived.
"It was all done very much in the open," says Chris Fruitrich, a volunteer with the group End of Life Washington, which assisted the man.
There has been no indication that the policy jeopardizes the nearly $47 million the agency receives each year in federal funds, says Audette, the state VA spokeswoman.
In California, additional protests have centered on allegations that CalVet suppressed information about the aid-in-dying law.
Critics at the Yountville home contend that CalVet passed the discharge rule quietly, with little public input. Then the agency refused to broadcast a public meeting about medical aid-in-dying on KVET, the center's state-run, closed-circuit television station.
Iljana said the August 21, 2017, meeting, led by Tucker and Robert Brody, also a supporter of aid-in-dying, violated state rules that prohibit using public resources to promote political causes.
"Free speech is great and criticizing the government is great, but not using the government's own resources and paid staff to advocate for a change in the law," Iljana wrote in an email to prohibit the broadcast.
That decision, however, prompted Jac Warren, 81, who has been KVET's station manager for eight years, to resign last month in protest, citing censorship.
"What is at issue is whether a state may completely suppress the dissemination of concededly truthful information about entirely lawful activity," Warren wrote in an email to CalVet.
The hour-long meeting, attended by about 50 people, was not propaganda, Tucker says, but "an educational event with information provided by an attorney and a physician who both specialize in their respective fields in end-of-life care."
Bob Sloan, who works as an engineer at KVET for a $400 monthly stipend, disagreed with the decision not to broadcast the meeting on the system that serves residents of the Yountville home.
Sloan says he knows other residents who would like to be able to use California's aid-in-dying law if their illnesses progress.
"The only other option that people have in this state is committing suicide," he says. "If I can't find some way of doing it legally, I'll do it illegally."
---
This post appears courtesy of Kaiser Health News. This coverage was supported by the John A. Hartford Foundation.