Trump Is Surprisingly Healthy
The president's physical and mental health both appeared excellent in a recent exam, despite reportedly poor lifestyle habits.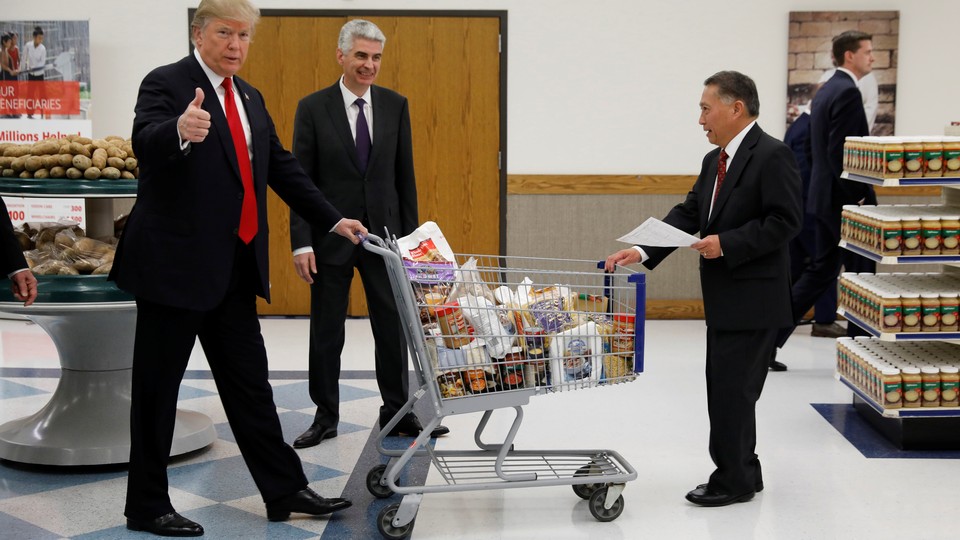 On Tuesday, the White House physician Ronny L. Jackson announced the results of President Donald Trump's annual physical at Walter Reed National Military Medical Center. After a four-hour exam on Friday, Jackson found that "all clinical data indicates that the president is currently very healthy and that he will remain so for the duration of his presidency."
"He would benefit from a diet that is lower in fat and carbohydrates, and from a routine exercise regimen," Jackson said. And Trump's cholesterol is a little high. But he's taking medication for that, and otherwise "his cardiac health is excellent."
"He's fit for duty," Jackson said. "I think he will remain fit for duty for the remainder of this term, and even for the remainder of another term if he's elected."
This glowing bill of health is remarkable, not only for a man of Trump's age—71, the oldest president ever to have served—but for a man of Trump's habits. Trump has been reported to regularly eat junk food—and a lot of it. He avoids exercise other than golf, and has espoused the strange and incorrect view that exercise depletes the body's energy. He also doesn't get much sleep (leading to lots of late-night tweets). Some have even speculated from afar that Trump's lack of sleep might be affecting his job performance.
Jackson acknowledged all of these bad habits. He said he was working with the president to improve his diet and exercise, with the goal being for Trump to lose 10 to 15 pounds in the next year. Jackson also said the president sleeps four to five hours a night and has "probably been that way his whole life."
But "he's very healthy despite those things," Jackson said. "Some people have just great genes. I told the president that if he had a healthier diet ... he might live to be 200 years old." Of Trump's sleep habits, the doctor added, "that's probably one of the reasons why he's been successful."
The atmosphere at press briefing, which was live-streamed from the White House, was almost incredulous, perhaps because so much ink and so many pixels have been spilled on the unhealthy things the president does. In a lengthy Q&A portion, reporters asked Jackson if he was withholding any results from the physical, or if the president was on any medications he didn't disclose, or even if there was anything the president asked Jackson not to mention. Jackson said no.
Trump also underwent a screening for cognitive impairment—the Montreal Cognitive Assessment—at his own request. He is apparently the first president ever to have taken such a test during a routine physical. Jackson said he didn't think it was necessary, and he would not have administered the screening had the president not asked for it. He indicated that media speculation about whether Trump is in some way neurologically impaired played some role in Trump's decision to ask for the test.
But Trump scored 30 out of 30 on the assessment, making him "mentally very, very sharp, very intact," Jackson said.
The audience seemed surprised to hear that as well, asking multiple follow-up questions about the cognitive exam, whether it definitively ruled out any kind of cognitive impairment, and whether it could have missed anything. "If he had some type of mental, cognitive issue ... this test is sensitive enough, it would pick up on it," Jackson said.
That such a straightforward result would yield such a media circus was bizarre—so many of the questions cast doubt on what was said. But Jackson—who also served as the personal physician to Barack Obama—was very forthcoming in his briefing, even including his opinion of personal interactions he's had with the president. He noted that Trump seems stable, and even not particularly stressed. Trump has always seemed "very sharp and ... very articulate when he speaks to me," Jackson said.