From Crack Addict to America's Most Celebrated Chef
Michael Solomonov was planting the seeds of a restaurant empire even as he was spiraling into addiction.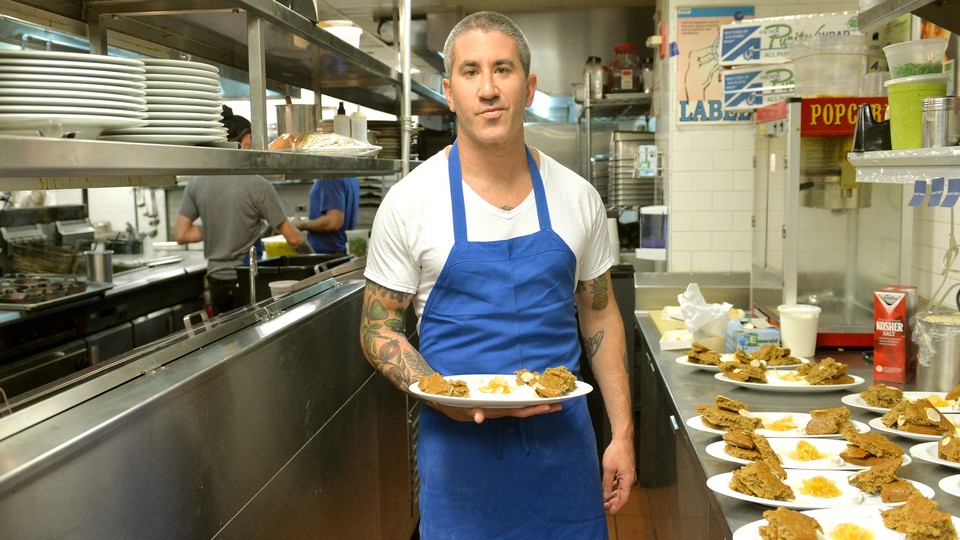 Michael Solomonov, the winner of the 2017 James Beard Award for outstanding American chef, should probably not, by his own reckoning, be alive. For many years, this celebrated cook and restauranteur was addicted to crack cocaine.
"I didn't think I was a drug addict," Solomonov told The Atlantic's Jeffrey Goldberg in a recent podcast episode of The Atlantic Interview. Even after he dropped out of college, a decision fueled by drugs, he said, "I thought I just did what every other kid did, and I took it a little bit too far."
Solomonov's breaking point came when his younger brother, David, was shot to death by Hezbollah snipers while he was patrolling Israel's border with Lebanon. It was Yom Kippur, and three days before David's release date from the Israeli army. He was 21.
For the next few years, Solomonov struggled with addiction. He was using crack cocaine and heroin. He was driving under the influence almost daily. But he was also a rising star in Philadelphia's restaurant scene, and he was blazing a trail across America for haute Israeli cooking.
"I was a talented actor," Solomonov said. "Most drug addicts that don't end up dying ... live this double life." For Solomonov, that double life meant opening a new Israeli restaurant, Zahav, in May 2008 while "using [David's] death as an excuse" to smoke crack in his car. After an intervention by his then-wife and his business partner, Steven Cook, Solomonov went to rehab. By October 2008, as the big banks were starting to go under and people weren't interested in spending money on "a restaurant being run by the chef who was 20 days clean," Solomonov and Cook were ready to shut off the lights at Zahav. But then Esquire magazine named Zahav one of its best new restaurants of the year, and business boomed.
Since then, Cook and Solomonov's cookbook, Zahav: A World of Israeli Cooking, has won two James Beard Awards. Solomonov and his partners have opened seven branches of Federal Donuts, their highly regarded doughnut-and-fried-chicken joint operation; four hummusiyas in Philadelphia, Miami, and New York; and two falafel shops. He's turning down requests to open Zahav restaurants across the country. "Making money sounds great," he said, "but ... I like when people come to Philadelphia to have dinner."
Still, Solomonov emphasized that his success doesn't mean that he doesn't have to think about his addiction anymore. "A lot of people think that when you are doing well it's somehow easier," he said. "Good things and bad things are all triggers for recovery ... and I still have to be really disciplined." Positive emotional states and celebrations have indeed been identified as "high-risk situations" that could trigger an addiction relapse. Regardless of emotional state, a 1999 study found that over 40 percent of heroin and crack users relapsed after treatment.
Solomonov was insistent throughout the interview with Goldberg that he does not consider himself the best chef in the nation, nor his restaurant the best in Philadelphia, in part because he is all too aware of the risks of hubris. "I could believe the things that people constantly write, or let my head get big and get arrogant, and I'd go right back out."
Despite a clean and successful ending, Solomonov's story remains a harrowing, cautionary tale of the dangers of drug addiction. In 2008, the year Solomonov got clean, the DEA made more than 12,000 arrests for cocaine-related charges, and an additional 3,000 for heroin. Certainly not every user is winning James Beard Awards.
"I probably should have [died] 100 times over," Solomonov said. "If I ever decide to relapse, more than likely those things will happen."
Click below to listen to the full Solomonov interview:
---
Every week, The Atlantic's editor in chief, Jeffrey Goldberg, talks to someone who is shaping society for the podcast The Atlantic Interview. Subscribe on Apple Podcasts, Stitcher, Google Play, Spotify, or wherever you get your podcasts.