Larry Nassar and the Impulse to Doubt Female Pain
Like ERs and doctors across the country, administrators at Michigan State assured Nassar's victims that nothing was wrong.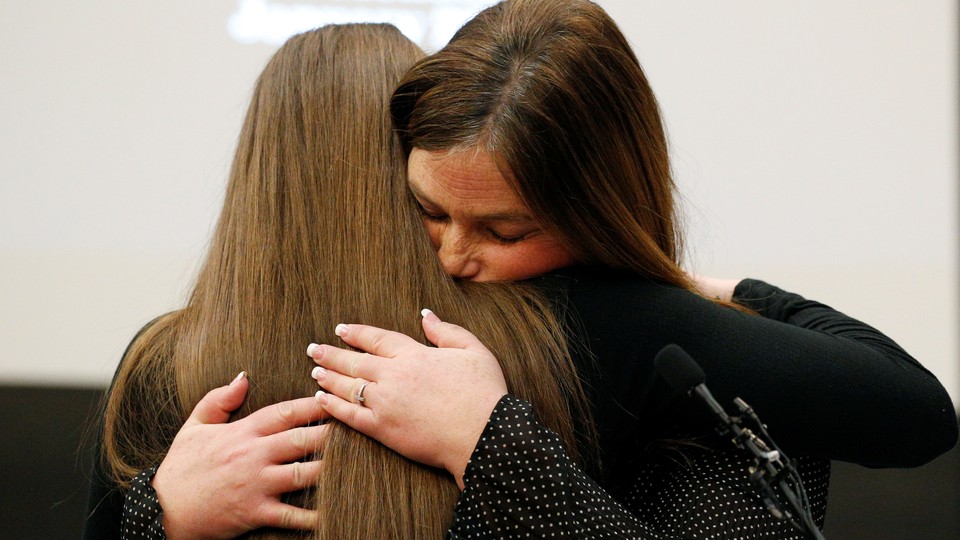 As a freshman on the Michigan State University softball team, Tiffany Thomas Lopez went to Larry Nassar, the school sports therapist, for back pain. Nassar's "special treatment"—a technique he's used on many of his patients, including U.S. Olympic gymnasts—involved him inserting his fingers into her vagina. Thomas Lopez thought something seemed off. But when she reported the behavior to Destiny Teachnor-Hauk, an MSU athletic trainer, she said Teachnor-Hauk told her not to worry: This was "actual medical treatment."
"She brushed me off, and made it seem like I was crazy," Thomas Lopez told ESPN.
Last week, almost 100 women shared similar stories about Larry Nassar in a county courtroom in Lansing, Michigan. Many of them were MSU students—and, according to a recent Detroit News investigation, at least six reported the abuse to university administrators. All said they received versions of the same response: "He's an Olympic doctor." "No way." You "must be misunderstanding what was going on." A 2014 Title IX investigation reached a similar conclusion: Nassar's conduct "was not of a sexual nature." Kristine Moore, the university's Title IX investigator, said the women likely did not understand the "nuanced difference" between proper medical procedure and sexual abuse.
We now know that investigation failed to uncover an extensive history of abuse. Last November, Nassar pleaded guilty to 10 counts of first-degree criminal sexual misconduct. He's been sentenced to 60 years in prison for child pornography—with a harsher sentence likely to follow in the wake of his sentencing hearings this month. The Nassar case is now being called "the largest sexual-abuse scandal in the history of sports," dwarfing even the Sandusky case at Pennsylvania State University and the Art Briles case at Baylor University. Students claim that at least 14 MSU officials, including University President Lou Anna K. Simon, knew about it and didn't take action.
"The testimony of Nassar's victims this week made many of us, including me, listen to the survivors and the community in a different way," Simon wrote in a memo to the MSU community Friday. She said the school has "taken a hard look at ourselves to learn from what happened." In that spirit, she announced that MSU is creating a $10 million fund to help survivors. The MSU Board of Trustees has also asked Michigan Attorney General Bill Schuette to conduct his own review of the Nassar case.
In a letter to Schuette, the attorney for MSU Patrick Fitzgerald said evidence would show that, at the time, no MSU official believed Nassar committed sexual abuse. Over two decades, students say they told MSU administrators, explicitly and more than once, that Nassar was sexually abusing them during medical appointments. They listened to women describe the rubbing back and forth, the digital penetration that sometimes lasted 15 minutes, the ungloved hands. But when those women said there was a problem—that this didn't feel right, that they were hurt—the administrators didn't believe them.
Pain is inherently subjective—it's impossible to see exactly how much someone is hurting. In the absence of clear physical indicators like a bleeding wound or a broken bone, the degree to which it's taken seriously correlates with the degree to which the patient is trusted. And women are trusted less than men. With the same symptoms, men are more likely than women to be prescribed painkillers, while women are more likely to go home with sedatives. One study found that women waited an average of 65 minutes in the emergency room to receive analgesics. For men, the average wait was 16 minutes shorter.
In a 2015 Atlantic essay, Joe Fassler describes how his wife waited in the ER in excruciating pain for almost two hours before someone gave her a medical exam. When asked to respond, female readers shared similar stories. "I've had (male) doctors suggest that my pain is just stress," wrote one reader who eventually learned she had chronic pancreatitis. "He said all I needed was a bubble bath and a good rubdown." "The Girl Who Cried Pain," a commonly cited 2001 study, concludes that women are "more likely to have their pain reports discounted as 'emotional' or 'psychogenic' and, therefore, 'not real.'"
"Because women are more likely to share more of their emotions when communicating their experience of pain, doctors may view their pain reports as more psychologically based. They view them a little suspiciously," said Diane Hoffmann, a professor of health-care law at the University of Maryland and a coauthor of the study.
Women have long been viewed as excessively emotional. Take, for example, the origins of "hysteria"—a word we now associate with emotional excess and coming unhinged. In the fifth century BC, Hippocrates, the Greek physician often called the Father of Medicine, coined the term to refer to a disease contracted exclusively by women in which, disoriented from a lack of sex, the uterus would detach and move freely around the body. This common malady would bring on anxiety, convulsions, and the illusion of being suffocated: intense physical distress that mostly manifested itself inside a woman's head. While the definition of hysteria evolved over time—hysterical neurosis was removed from the DSM-III in 1980—the word "hysterical" is still often associated with women. As is the word "hypochondriac." Nineteenth- and early 20th-century literature is rife with swooning women, suffering from dramatic fainting spells for no apparent reason.
Women, more so than men, have to prove there is something wrong with their bodies. Without tangible evidence, women fear proving the stereotypes right—of appearing weak, excessively dramatic. When she was abused by Nassar, Jennifer Rood-Bedford, a former MSU volleyball player, remembers thinking that she didn't want to seem childish. She said she'd lay there on his table, wondering, "Is this okay? This doesn't seem right." She told herself, "Don't be a baby."
It's not just that female patients aren't trusted enough—but also that doctors play a special, godlike role in society, and are trusted too much. "From the time we are little, we are taught to trust doctors," Aly Raisman, a gold medalist on the U.S. Olympic gymnastics team, wrote in a recent statement directed to Nassar. Professional and Division I athletes, in particular, depend on doctors for their livelihoods. Raisman said she felt guilty for thinking badly of someone in his position. "I wouldn't allow myself to believe the problem was you."
As MSU students reported the Nassar abuse, their pain was questioned at multiple levels: first, by the administrators they confided in, and second, by the Title IX investigators deployed to ensure the situation had been handled correctly. It wasn't until the first allegations against Nassar became public in the summer of 2016 that the university fired him. While a few administrators who knew about the abuse have been suspended or asked to resign, many, including Simon, have yet to face any official repercussions from Michigan State.
When the 98 victims gathered at the sentencing hearing last week, they created a powerful antidote to the gaslighting so many of them have experienced. Both in the courtroom and on social media, the women recognized the depth of each other's pain. After decades of being made to feel like they were crazy, together, they made it clear they'd known exactly what they were talking about all along.