The Impotence of Blaming 'Evil'
If guns aren't a problem, why does the U.S. have so many more shootings than any other country?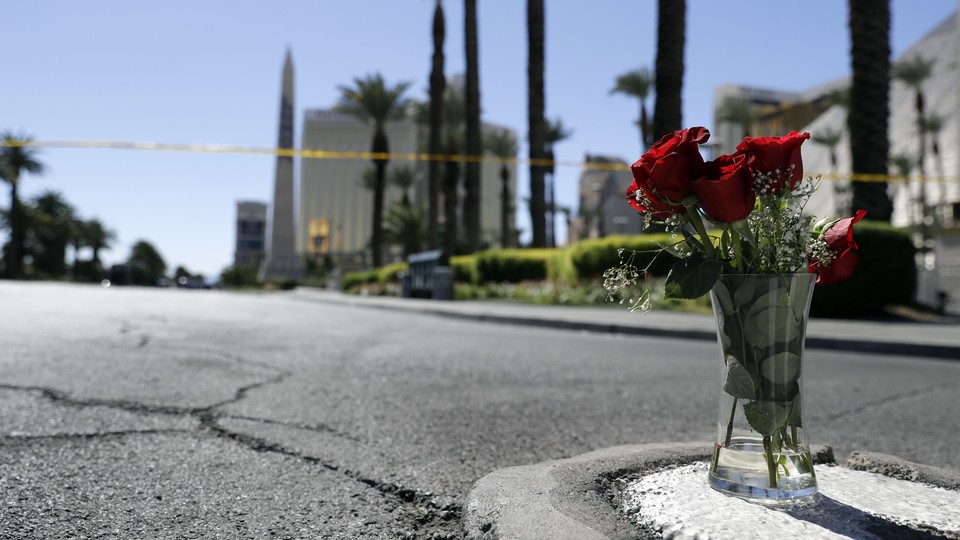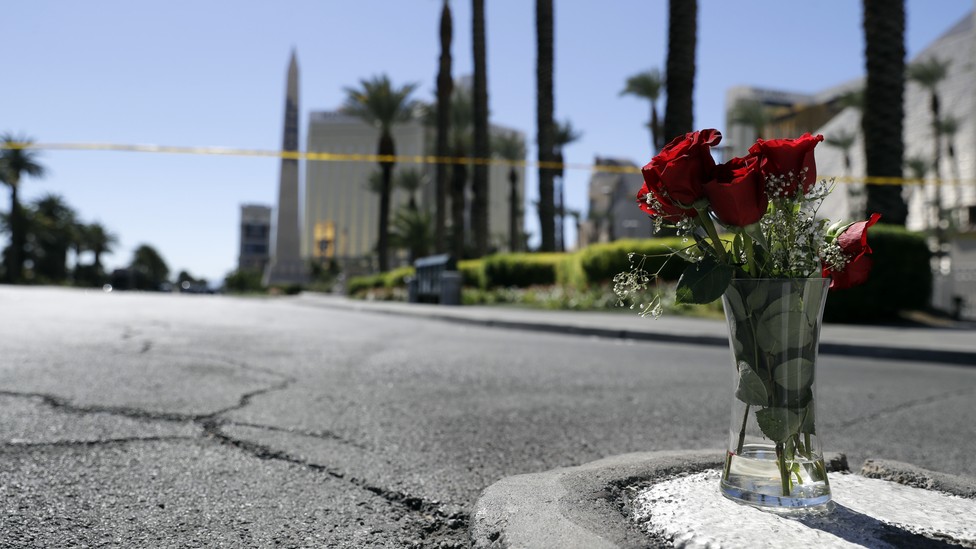 For all its use, "thoughts and prayers" doesn't appear to have produced a quantifiable reduction in the rates of gun violence. Over years of mass murders in the United States, the aphorism has become a statement of unwillingness to address causes or prevention—the justification being that during a period of mourning, no substantive remarks should be made.
On Monday, after the country's 273rd mass shooting of the year, President Trump tweeted the thesaurus version: "warmest condolences and sympathies."
Amid an unparalleled epidemic of gun violence—the murderer of some 58 people was reportedly armed with 19 rifles and hundreds of rounds of ammunition—words ripped from a greeting card in a hospital gift shop felt pointedly avoidant. Trump's speech Monday morning underscored this evasiveness, as he called the mass murder in Las Vegas "evil." He used the term four times in just 572 words. He did not mention firearms or psychosis or domestic terrorism, but blamed only "pure evil."
The president also made the expected call for a period of discourse-free mourning. He did this through a plea for "unity"—a rare move for Trump, who recently attacked Golden State Warrior point guard Steph Curry, the mayor of San Juan Carmen Yulín Cruz, and his own Congress. In a White House press briefing on Monday, Sarah Huckabee Sanders said, "There's a time and place for a political debate, but now is a time to unite as a country." The call for unity is a call for the country not to engage in discussion of causes, or how to prevent future tragedies.
Instead, waging a battle against evil has a narcotizing effect. Who among us is not against evil?
The discourse of evil makes the problem surreal. It conjures the aftermath of 9/11, when President George W. Bush employed the rhetoric of a battle between good and evil, setting the stage for an actual war. No concrete action can be taken against "evil," but the leader who deploys vague and rousing statements about confronting and destroying the evil gets immediate credit for having done or said something forceful, when really nothing has been said at all.
For example, gun regulations. How could we? Evil cannot be regulated. I know that doesn't make sense, but I took it directly from Kentucky Governor Matt Bevin, who wrote this morning on Twitter: "To all those political opportunists who are seizing on the tragedy in Las Vegas to call for more gun regs ... You can't regulate evil ..." (Ellipses his.)
This is the Matt Bevin who declared at the 2016 NRA-IRA Leadership Forum that gun ownership "is what preserves our way of life," and at last year's Values Voter Summit made clear that if a Democratic candidate were to win the presidency, armed insurrection might be necessary to protect the United States. Now, though, is apparently not the time to talk about guns.
"You can't regulate evil" sounds like it should be followed by some sinister abdominal laughter. Though insofar as "evil" is a real and quantifiable thing, the role of a justice system is to eradicate and minimize the effect of evil on the good population. As Connecticut Senator Chris Murphy replied to Matt Bevin, "I await your proposal to rescind Kentucky's laws banning assault, murder and arson. One of government's core functions is to regulate evil."
If the epidemic of gun violence in the United States is a problem of evil, then we have more evil than any country ever. This would warrant exploration.
Unless of course the problem is more concrete: Violent actions are carried out through mechanisms that involve access to implements of violence, and naming this among the causes of the problem—explicitly, repeatedly, forcibly—is critical.
The importance of speaking frankly has been central to Trump's message in other instances of violence. He has been a vocal critic of President Obama's reluctance to condemn "radical Islamic terrorism," suggesting this was evidence of some conspiracy. Obama and many others argued that using the term was counterproductive in that it risked fomenting religious war. In this case, reluctance to name "gun violence" and address the problem of access to firearms designed for mass murder has a plausible motive: the political influence of the gun industry.
To begin a debate about guns in the hours after a tragedy may have been callous in another era. But after decades of inaction as the country watches mass shooting after mass shooting, health advocates are seizing any opportunity for momentum. They see this not as disrespect. Instead, what is unconscionable is silence and inaction. The problem of gun violence is ongoing. The losses are daily. There is no pause after an especially massive tragedy. When a patient comes to the ER doctors don't wait a day for thoughts and prayers.
It is a political act to address the problem in frank terms, just as it is a political act to call for people not to talk about guns. To paint discussion of policy as disrespectful or divisive is itself a political act. Calling for silence in the name of unity is disingenuous, as is creating a false dichotomy between mourning and acting to prevent future tragedies.