The 'Unfortunate Family' of American Shooting Survivors
Many people affected by gun violence find solace in the friendship of others who've been in their shoes.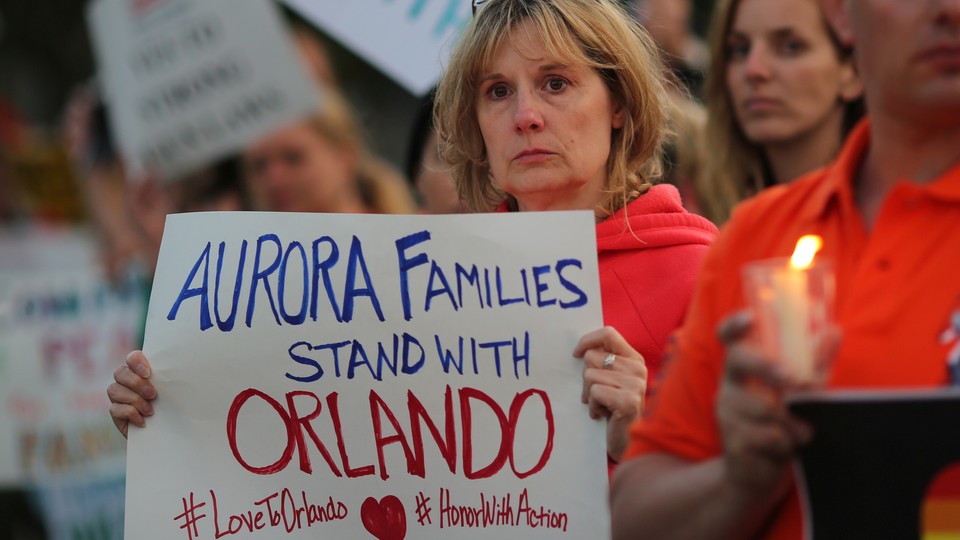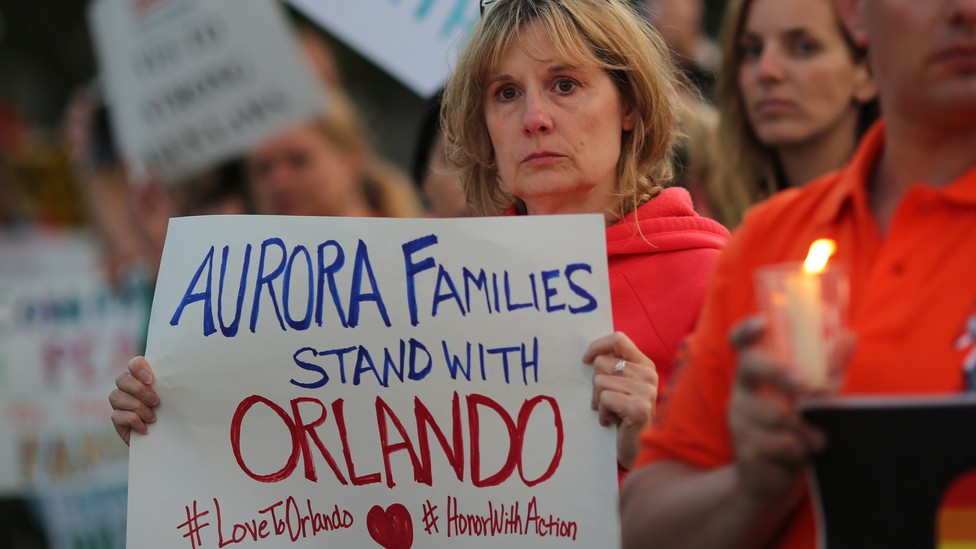 Sandy Phillips is getting ready to go to Las Vegas. As long as the funds come through, she and her husband, Lonnie, along with several other volunteers, will be on a plane to Nevada by the end of the week.
After her daughter, Jessica, was killed in 2012 during the shooting at a movie theater in Aurora, Colorado, that took 12 lives, Phillips said she and her husband sold their house and lived out of a camper for the duration of the shooter's trial. Since then she's been living on the road and has traveled to several cities in the wake of mass shootings: Newtown, also in 2012; Isla Vista in 2014; San Bernardino in 2015; Orlando in 2016. As soon as the news broke of the mass shooting in Las Vegas on Sunday night, Phillips began preparations to travel to the city. *
"We go in and try to meet with as many survivors as we're allowed to, to be there to assist," Phillips says. "That can be as simple as making phone calls for them, or running errands for them, or just sitting there and holding their hand."
These survivor-to-survivor connections can become a refuge for those affected by gun violence. Many people who have lost loved ones in a mass shooting forge friendships and rely on each other for a kind of support that can only come from someone who's been through the same thing.
"Today on my Facebook, I had so many direct messages: 'Are you okay?' 'Please take good care today,'" said Caren Teves on Monday, the day after the Las Vegas shooting. Teves, whose son, Alex, was also killed in the Aurora shooting, says she's regularly in touch with "hundreds" of other survivors—meaning both those who were present during a shooting and the loved ones of those killed or injured.
"There's an unspoken understanding that no one else really can give you," Teves said. "There's no words that even need to be spoken. It is a very unique situation that we're in, but all too common. I call us the unfortunate family of gun-violence survivors. And unfortunately, our family keeps growing every day."
Many of Phillips's closest friends are now other survivors. "Sometimes it's just good to have somebody wrap their arms around you and say 'I've been in your shoes, I get it,'" she said. "Because quite frankly, we lose friends in the process. Because they don't know ... we're new. We're new beings, we're totally different than we used to be. That confuses them, and they end up finding ways to leave you."
These connections between survivors happen informally and organically for the most part, it seems, but several people I spoke to said they met other gun-violence survivors through the Everytown Survivor Network, part of the nonprofit Everytown for Gun Safety. Everytown is a nonprofit that aims to reduce gun violence, and the survivor network is focused on advocacy—helping survivors share their stories and get involved in activism. But some have found a sense of community there as well. (A Facebook group for the Everytown Survivor Network helps them stay in touch.)
"I honestly don't think I would be where I am mentally or emotionally without the relationships that I've been able to build with other survivors through my advocacy work," said Erica Lafferty, an organizer for Everytown. Lafferty's mother, Dawn Hochsprung, was the principal at Sandy Hook Elementary School, and was killed in the shooting in 2012.
Minutes before our conversation, Lafferty had been on the phone with her friend Jenna Passalacqua Yuille. The two met at an Everytown training. Passalacqua Yuille also lost her mother, Cindy Yuille, in a shooting, at a mall outside Portland, Oregon, on December 11, 2012—three days before the shooting at Sandy Hook.
When the attendees at that training were introducing themselves, "Erica was one of the first people to go and I was one of the last," Passalacqua Yuille said. "I remember when we finished, she and I just got up and went to the middle of the room, and gave each other a hug. Neither of us had ever met anyone who had lost their mom to gun violence, and just in such a similar way, and it was three days apart—it was just uncanny."
The two have been close ever since, despite not living in the same city. In 2016, Passalacqua Yuille traveled to Connecticut to spend Mother's Day with Lafferty.
"She and I have formed an amazing bond," Lafferty said. "Particularly on days like today [after the Las Vegas shooting], we're constantly texting back and forth and checking in on each other. So it was actually really amazing to hear her voice, leading into this conversation. I was like, 'Jenna, I love you. You know when to call, always.'"
When Phillips travels to places where mass shootings have occurred, she tries to be a resource for victims and their families—"to let them know what's ahead of them," she said. To prepare them for things they might not think to expect. "You're going to have people who say it never happened, and this was a hoax," Phillips said. "You're going to have horrible, horrible things said to you, unfortunately, and here's who you need to talk to when that happens."
(The man to talk to, she says, is Lenny Pozner, who lost his son, Noah, in the Sandy Hook shooting, and who started the HONR Network, an organization dedicated to getting harassing posts and hoaxer videos taken down. Pozner told me that such posts were already popping up for the Las Vegas shooting "as soon as news reports started to come out.")
Another thing Phillips warns people about: "You get triggered by things you wouldn't believe would bother you," she said. "I got triggered by the smell of popcorn, and didn't understand why until I put together that the last thing my daughter ate was popcorn. I smelled it and started gagging, and I couldn't understand. I love popcorn."
Lafferty remembers going to a dinner in D.C. for an event, and the dining room was close to a lobby where staff were putting some chairs away. "Somebody dropped a chair and I jumped," she said. "And Steve Barton, who was shot in the Aurora movie-theater shooting, just kind of grabbed my knee and said 'That'll go away soon.'"
If Las Vegas survivors become part of this community, it will probably happen later. Melissa Brymer, the director of terrorism and disaster programs at the UCLA-Duke National Center for Child Traumatic Stress, says that families who lose someone in a mass shooting are typically in shock for the first couple months. "We tend to hear that families begin to start that grieving around that two–three month mark," she said. "That tends to be a time that they can kind of digest all of this."
"We never force it," Phillips says of her interactions with survivors. "We say 'We're here,' or 'This is what we do, we're thinking of you.' If they want anything more than that, then we're here for them. We give them our phone numbers, and tell them how to reach us. We let them take the lead after the initial contact."
Passalacqua Yuille points out that some survivors may prefer to grieve alone, or to keep to themselves in the long term, rather than get involved in advocacy work or befriending other survivors. "They kind of just want to live their lives, that's their way of dealing with it," she said.
"Everyone's different," Teves said. "We didn't even want to talk to anyone after Aurora. We hid from the media. We hid from everyone." In the aftermath of the shooting, they wanted privacy. She's since gotten involved in advocacy, and runs a movement called No Notoriety that encourages media outlets to limit the attention given to killers after mass shootings.
Of the victims and loved ones affected by the Las Vegas shooting, Teves said: "We're always there for them. And our hearts are also broken for them. Unfortunately, they're part of the family now."
---
* This story has been updated to better reflect Phillips's preparations to travel to Las Vegas.