How Trump's Executive Order Might Raise Costs for the Sick
The measure might make insurance cheaper for the healthy and pricier for those with serious health conditions, experts say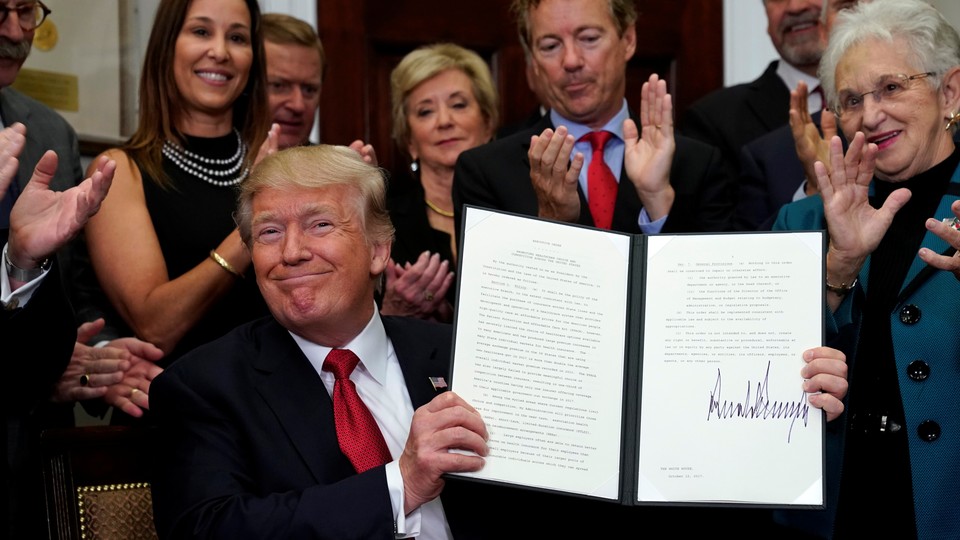 Updated on October 12 at 1:30 p.m. ET
President Trump signed an executive order Thursday that might make major changes to the Affordable Care Act by expanding the use of so-called association health plans and short-term health insurance, which have fewer benefit requirements than the plans sold through the Obamacare exchanges.
The move appears to be Trump's reaction to the failure of congressional Republicans to repeal and replace Obamacare earlier this year, as he noted earlier this week on Twitter:
Since Congress can't get its act together on HealthCare, I will be using the power of the pen to give great HealthCare to many people - FAST

— Donald J. Trump (@realDonaldTrump) October 10, 2017
It also delivers on an idea Trump put forward earlier this year in a speech to Congress, in which he said, "the way to make health insurance available to everyone is to lower the cost of health insurance."
The executive order exhorts government agencies to make new rules that would allow more Americans to sign up for cheaper, less-regulated health plans. Whatever the federal agencies do would be subject to existing law, but some changes could be made within months, experts say.
"The main obstacle is what can be done that's consistent with the current statutes," said Joel Ario, managing director at Manatt Health and a former director of the Office of Health-Insurance Exchanges at HHS. "The agencies only have as much authority as the statutes allow."
Trump billed the order as providing "Obamacare relief." "You'll get such low prices for such great care," he said at the signing. "It should have been done a long time ago." He also said he believes he will get the necessary votes in Congress to do "block grants"—presumably to replace current Medicaid funding—"at a little bit later time."
Association health plans have traditionally been available for purchase only by small businesses. Short-term health plans can be purchased by anyone, and provide temporary, limited insurance.
Both short-term and associated plans would likely be less costly than the more robust plans sold on Obamacare's state-based insurance exchanges. But the concern, among critics, is that the plans would cherry-pick the healthiest customers out of the individual market, leaving those with serious health conditions stuck on the Obamacare exchanges. There, prices would rise, because the pool of people on the exchanges would be sicker. Small businesses who keep the more robust plans—perhaps because they have employees with serious health conditions—would also likely face higher costs.
Association plans are exempt from many insurance regulations, like the requirement to cover a slate of medical conditions, known as "essential health benefits." Short-term health plans, meanwhile, have the ability to charge sick people more than healthy people, to deny people with preexisting conditions, and kick people off the plans if they get sick.
Currently, association health plans must comply with the Affordable Care Act's provisions protecting people with preexisting conditions and mandating that insurers cover things like mental health and maternity care. This executive order might change that, allowing association health plans to follow much looser rules. It's not yet clear from the order whether self-employed people are considered "small businesses" and would be allowed to buy association health plans.
There are challenges to expanding the use of association health plans, says Gary Claxton, vice president of the Kaiser Family Foundation. The federal government might have to rethink what qualifies as an "association" or whether states should be allowed to regulate the plans within their borders. This rule change would also be more open to legal challenges.
The far bigger shakeup could come from lifting limits on short-term health insurance. Currently, people on the individual market can only buy a short-term health plan for up to three months, without the option to renew. This order could allow the plans to last up to 12 months and be renewable.
If federal agencies decided to lift the limits on the short-term plans, and to exempt people on them from the penalty for not buying health insurance, Obamacare's individual market could become destabilized, Claxton says. Healthy people would join the short-term plans when they were healthy, stay on them for a year, and pay little for skimpier coverage. If they got sick, they would be kicked off those plans and onto the Obamacare exchanges, where coverage is expansive but prices would be higher than they are now. Short-term plans "draw in healthy people and spit them back into the marketplace when they're sick," Claxton said.
This rule could be changed relatively easily, he said, and might affect Obamacare's market as early as next year. This option would be especially attractive to people on Obamacare who don't get a tax credit—or much of one—to help with the cost of insurance.
"Over time, we would have two pools—the short-term plans for the times you are healthy and the Obamacare-compliant plans for the times you are sick," said Robert Laszewski, a health-insurance industry analyst, in an email. "I can't think of a better prescription for blowing up the already struggling Obamacare-compliant individual-health-insurance market."
Still, as University of Michigan law professor Nicholas Bagley pointed out, under the new rules, states could still regulate short-term plans and even make them comply with the Affordable Care Act regulations. So not only does it remain to be seen what the agencies—Health and Human Services, Labor, and the Treasury—do, the end result might vary from state to state.
The executive order reflects the strategy the Trump administration has pursued to make small tweaks that could, in aggregate, have a big impact on the Affordable Care Act. Already this year, Trump weakened the enforcement of the individual mandate and has slashed promotional efforts for the Affordable Care Act's open enrollment period. In the risk-averse world of health insurance, such small signals can mean big differences in prices.
This year's open-enrollment period is just weeks away—it begins November 1 and ends December 15. But individual-market customers might not know exactly how this executive order would affect them before then.
As the Kaiser Family Foundation's Larry Levitt put it on  Twitter, "How much damage the executive order can do to insurance markets under the ACA will depend on arcane details in regulations yet to come."