The Crisis at Puerto Rico's Hospitals
A lack of fuel, power, and supplies might make death tolls rise further on the island.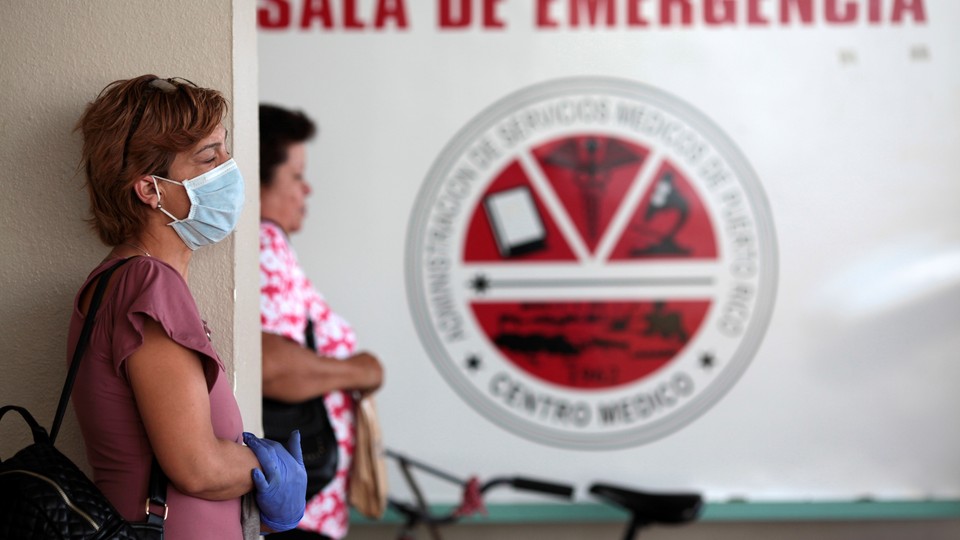 Puerto Rico is on the brink of a humanitarian crisis in the wake of Hurricane Maria, and as often occurs with natural disasters, people in need of immediate medical care are among the most vulnerable.
Maria knocked out much of the island's power, affecting hospitals that rely on electricity to keep patients alive. According to a FEMA update from Tuesday morning, 58 of the island's 69 hospitals lack power and fuel. In some areas, electricity is not expected to be restored for months.
The generators and diesel fuel that hospitals are using in the meantime are stretched thin and in short supply. Reuters reported that, at one hospital, fuel is being delivered by armed guards to prevent looting. Without power and running water, both ordinary people and medical facilities can't do tasks as simple as keeping medications refrigerated or sanitizing equipment.
The mayor of San Juan said two people on life support died Monday because their hospital ran out of fuel, according to CBS's David Begnaud.
Jose Sanchez Gonzalez, the mayor of a town called Manati, said Sunday that "the hospital is about to collapse. It's at capacity. We need someone to help us immediately."
A doctor at Canovanas Medical Center told CNN that it only had two to three days left of medical supplies. There are few gas stations operating, so nurses and doctors are having trouble reaching work.
"We have very limited power, with the air-conditioning is off, and the temperature is unbearable, and the operating room is all wet with approximately half an inch of water, it's very slippery, it's very unsafe," Iván González Cancel, a cardiovascular surgeon at the Centro Cardiovascular in San Juan, told Reuters TV. "If you are sick in Puerto Rico ... the best thing is to get on a plane and abandon the island."
Unfortunately, that's not an option for most. Some patients have been medically evacuated, but those who don't already have tickets off the island might not be able to get them until October 4, according to Reuters.
There are currently 500 FEMA personnel on the ground in Puerto Rico and U.S. Virgin Islands, and the U.S. government has evacuated 150 patients from the islands. The island's 3.5 million residents are U.S. citizens.
On Twitter Sunday, Hillary Clinton urged President Donald Trump to "send the Navy, including the USNS Comfort, to Puerto Rico now," referring to a U.S. Navy ship that has served as a floating hospital in Haiti and elsewhere. (The ship is docked in Norfolk, Virginia, "because the Navy does not believe the compromised ports in the islands can handle the big ship right now," the Washington Post reported Monday night.)
President Trump, meanwhile, tweeted Monday that "Puerto Rico, which was already suffering from broken infrastructure and massive debt, is in deep trouble," adding that, "Much of the island was destroyed, with billions of dollars ... owed to Wall Street and the banks which, sadly, must be dealt with. Food, water and medical are top priorities—and doing well. #FEMA"