Melinda Gates on Why Foreign Aid Still Matters
A new report from the Gates Foundation shows the devastating effects of a lapse in funding for global health.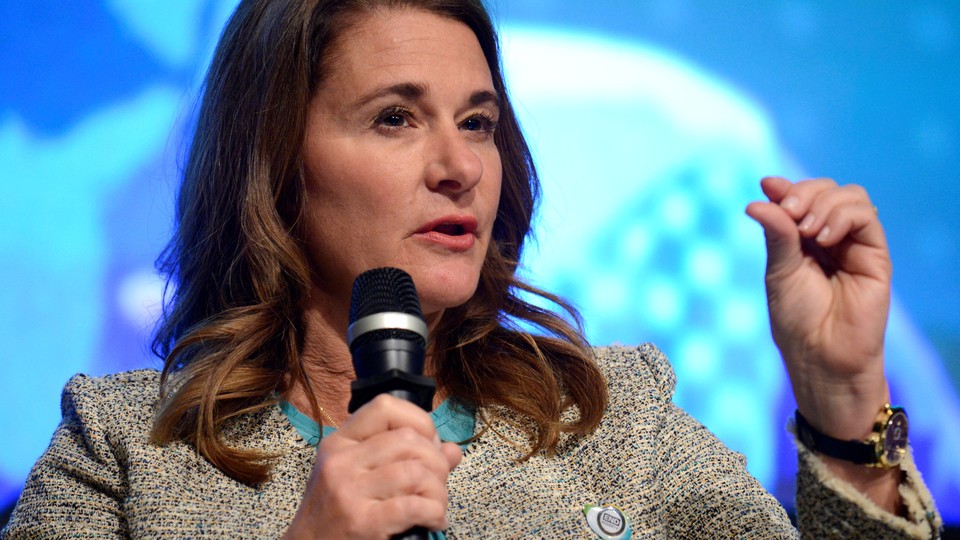 The cover of the May 2000 issue of The Economist featured an Africa-shaped photo cutout with a young, armed man popping out of it. "The Hopeless Continent," the magazine deemed it, asking, "Does Africa have some inherent character flaw that keeps it backward and incapable of development?"
Today, few would write off Africa—or developing nations on any continent—as hopeless. Instead, the health of the developing world has been very much a story of hope. Since 2000, new malaria infections have halved in sub-Saharan Africa. Child mortality and AIDS deaths have fallen precipitously. Between the 1870s and the 1970s, famines killed about a million people per year around the world. Since 1980, that number has gone down to an average of about 75,000 annually. (Indeed, in 2011 even The Economist took note, publishing a new cover story titled "Africa Rising.")
In a new report from their foundation, Bill and Melinda Gates write that it's this type of progress that could be reversed if funding for global health is cut—including by the U.S. government.
President Trump's budget proposal, released in May, recommended slashing global health funding by 26 percent and humanitarian funding by 44 percent, or $4.2 billion. It eliminated global family planning. The proposal will likely be watered down by Congress this fall, but global-health advocates are nonetheless worried that even minor cuts could have massive, and tragic, effects.
If Congress agrees to the proposed cuts, they would mean "almost 800,000 people would face preventable death due to lost support for vaccination programs, 3 million people would be left without access to lifesaving HIV/AIDS treatment, and 3 million children would be at higher risk of malnutrition due to an inability to access nutrition services," said Gawain Kripke, Oxfam America's policy director. He said the effects of the proposed cuts are already being felt, with projects canceled or delayed because of the uncertainty.
Amanda Glassman, a senior fellow with the Center for Global Development, is also concerned about proposed cuts to international financial institutions, such as the African Development Bank, whose proposed funding also shrank this year.
The Gateses began writing their report before the White House released its budget proposal, but it includes the U.S. budget as a potential threat to progress on global-health metrics.
"Seeing a zero in a line item on a spreadsheet for global health, I have never seen that before," Melinda Gates told me recently in her Seattle office. "If a government starts defunding stuff, it means something doesn't matter to them. And that is the signal I think you're seeing from this administration."
For the report, Christopher Murray, the director of the Institute for Health Metrics and Evaluation and a global-health professor at the University of Washington, projected what would happen if progress on various global-health issues stalled. He looked at trends in issues such as infant mortality or infectious disease between 1990 and 2016, and then examined what would happen if all countries performed as badly as poorly performing countries—those in the 85th percentile—on those metrics by 2030.
For example, he found that child deaths have fallen from 11.2 million to 5 million between 1990 and 2016, and they are on track to halve again by 2030. But under the "regress" scenario, there would be 3.3 million deaths, compared to 2.5 million if we stay the course. There are now 29 new cases of malaria per 1,000 people each year, but that could rise to 39, he found. Aid funding is part of what could send a country on a downward trajectory, but there's also economic growth, the education of young girls, and vaccination rates.
---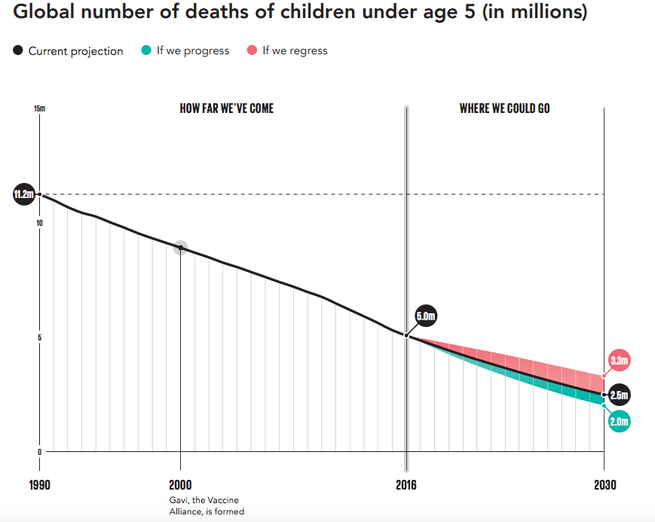 ---
Gates said the foundation would not be able to fill the gap created by a reduction in aid spending by the U.S. government, the world's largest donor. Oxfam's Kripke concurred, saying, "the simple fact is that wealthy philanthropists don't have enough money to fill the gap, even if they wanted to."
To those who say the United States should focus its funds on domestic problems, rather than supporting health abroad, Gates brings up the 2014 outbreak of Ebola, which made its way to the United States. "If we don't make these investments in global health, my argument to people is, you're going to see a lot more things like Ebola in our own country, and we'll be dealing with them in our own health clinics because borders are porous," she said.
Beyond his budget proposal, President Trump has also reinstated the Mexico City policy, which bans U.S.-government global family-planning funds from going to any organization that performs or promotes abortion. He also broadened the policy's scope so that it applies to all global-health assistance, or $8 billion, rather than just the $600 million in family-planning funding. We won't see the effects of the policy for about six months, according to Gates, but she says it's already causing turmoil among nongovernmental organizations. "The NGOs don't know where their funding is coming from," she said. "They don't know whether they should pause on ordering supplies."
The Mexico City policy has been in effect under past Republican administrations, but it was reversed by President Obama in 2009. Any Republican president would have been likely to reinstate it, but Gates said it was the extent of Trump's version that prompted her to speak out against it, even though she has not been vocally pro-choice in the past. In 2014, Gates wrote that she struggles with abortion, "but I've decided not to engage on it publicly—and the Gates Foundation has decided not to fund abortion."
Still, in January of this year, she wrote on Facebook that "I'm concerned about the impact that the expansion of the Mexico City policy could have on millions of women and girls around the world. I've spent the past 16 years talking to women in developing countries who've told me—again and again—that their futures depend on the ability to use contraceptives."
In our interview, she added that "when you start applying [the Mexico City policy] broadly to other global-health areas, like HIV/AIDS, like malaria services—that to me is where we all have to speak out and say that is just not okay. And that's why I chose to use my voice more strongly on it this time."
Not everyone believes the future of foreign aid is quite so bleak. Last week, the Senate Appropriations Committee rejected many of Trump's proposed cuts to humanitarian and family-planning assistance—including the Mexico City policy.
The policy and some foreign-aid cuts could still survive the Congressional budgetary process, but the strong rebuke in the Senate bodes well for the foreign-aid budget, according to Andrew Natsios, a professor at Texas A&M University who served as USAID administrator under George W. Bush.
"We should be cautious, we should be vigilant, and we should watch what happens," he said. A more significant threat to global development, according to Natsios, is a proposal to merge USAID into the State Department, as well as an uptick he's noticed in retirements of experienced foreign-service officers.
In some ways, though, Congress's reluctance to make the foreign-aid cuts is a testament to the power of the Gateses' and others' advocacy efforts. In March, Bill Gates reportedly met with several Congressional leaders to discuss foreign aid.
The United States is not the only crucial source of global-health dollars. Also important is making sure middle-income countries maintain their funding levels, Gates told me. "We are constantly going out to governments, whether it's in Africa, whether it's in India, whether it's in the United States, or the United Kingdom, and saying, you have to keep up this funding," Gates said. The "youth boom" in the global South—the number of Africans between the ages of 15 and 24 is set to double by 2045—heightens the risk that HIV infections could rise if funds run dry. According to the foundation's report, a 10-percent cut in funding for HIV treatment could cause 5 million additional deaths by 2030.
---
---
For Africa, it's been a decade of hope, but the priorities laid out by the Trump administration make it less clear whether the continent can continue to put its hope in international donors.
Before I left, I asked Gates whether anything that the Trump administration has said or done since releasing its proposed budget has given her hope.
"No," she replied.