The Price Is Wrong
The secretary of health and human services has left amid a scandal of opulent travel while championing spending cuts.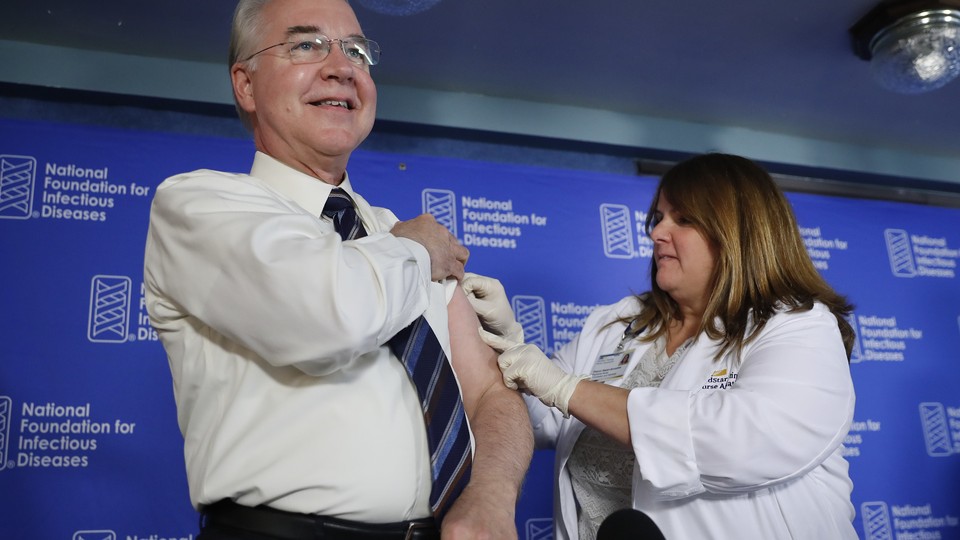 The surgeon Tom Price rose to power with a message that the federal government was incompetent, corrupt, and hypocritical.
In his case, he may have been on to something. Price—who gained prominence in politics as a vocal opponent of government spending—resigned on Friday from his position as secretary of Health and Human Services after spending hundreds of thousands of taxpayer dollars on private jets while touring the country to champion cuts to medical-research funding, preventive-medicine programs, and insurance programs for children and elderly Americans.
The instances of jet flight were not few, but numbered at least 26 since May, Politico reported last week. The estimated cost of his travel was reportedly more than $400,000. This was in addition to $500,000 in expenses from taking military jets to Europe and Asia, another unprecedented expenditure. Previous secretaries, while championing health equity, flew almost exclusively on commercial airlines.
Price was an orthopedic surgeon in the Atlanta area until hanging up his bone saw in 1996. He later took the helm of the Tea Party movement as a leading critic of President Obama. He supported Donald Trump's candidacy even as it diverged from the objectives of public health and was among the Trump appointees who had called for the elimination or radical downsizing of the agencies they would come to lead.
His ethos was typified in a 2011 tweet: "Reckless spending habits employed by Democrats in Washington are driving the debt. We need #spendingcutsnow." The hashtag never took off, and neither did the YouTube series he would later produce as secretary of Health and Human Services detailing the ruinous threat to capitalism represented by the country's health-care law—itself designed to create competitive marketplaces where consumers could choose a plan.
Price did cut spending on health-related measures once he came to lead the department in charge of ensuring the health of the population.
Ultimately though he did not likely resign for the aforementioned abuses of taxpayer money, as they are meager compared to the President's own unprecedented spending on recreational travel to resorts from which he has not clearly divested financial interest. Nor did Price resign for undermining the law governing the health-care system he is charged to execute—a tactic that has been openly endorsed by President Trump.
Price was more feasibly a scapegoat for the failure of health-reform legislation in Congress, eight months after Trump announced, "as soon as our secretary is approved and gets into the office, we'll be filing a plan [to repeal and replace Obamacare]."
Price took office February 10. Since then all four Republican health-reform bills have failed.