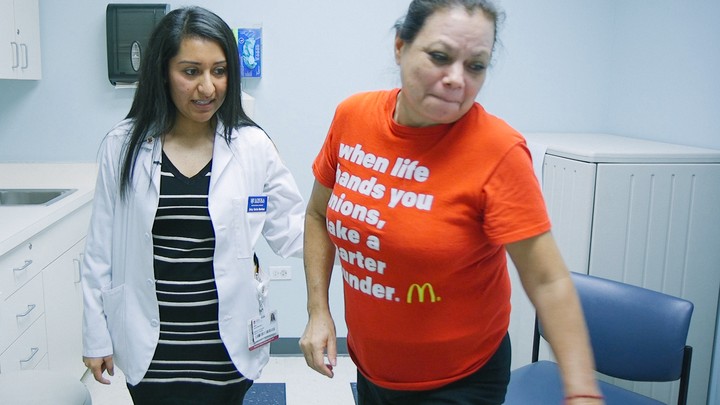 Jirayut New Latthivongskorn's first day at Harvard University's public-health school didn't go as planned. After class on Monday, instead of networking with the Cambridge elite, he spent hours on the phone frantically strategizing with other undocumented health professionals, who had become worried after days of speculation that President Trump is considering revoking DACA. "Looking like a crazy person in Harvard square," he wrote on Facebook, "trying to brace for impact."
Born in Bangkok, Latthivongskorn came to the United States at age nine, and like more than 750,000 other immigrants in the Obama-era program, he will lose his work permit and protection from deportation if President Trump dismantles DACA. Latthivongskorn is one of about 65 undocumented medical students and residents able to study and work using the permit.
The looming cancellation comes in response to the threat of a lawsuit from several conservative state attorneys general unless the Trump administration begins to unravel the program by September 5. "Immigration advocates suspect that Trump was trying to keep DACA in place without affirmatively supporting it—but the attorneys general called his bluff," writes my colleague Molly Ball.
Previously, Trump had called DACA recipients "incredible kids" and said they should "rest easy."
Without DACA, there is no clear path for these students to complete their training, repay their loans, or practice medicine. For medical students committed to a decades-long career path with mortgage-sized student loans, the uncertainty makes it almost impossible for even type-A overachievers to plan for the future. "I don't think I've thought about what I would do instead," said Latthivongskorn.
I reached Marina Di Bartolo, an internal-medicine doctor at the University of Pennsylvania, on her walk home from the clinic on Thursday. That day, she treated a patient with high blood pressure, another who needed cataract surgery, and someone with a herniated disc from bungee jumping gone wrong. "Not the most glamorous stuff," she said.
Di Bartolo's parents brought her from Venezuela at age 7, then overstayed their tourist visas. Her mother works as a babysitter and housekeeper, and her father does odd jobs and construction. "Right now there is no path to legalization," Di Bartolo explained this winter. She said the only alternative she sees is "doing what my parents do."
"The day it is revoked, I have to take off my white coat," she said.
Meanwhile, the United States faces a shortage of up to 104,900 physicians, according to the Association of American Medical Colleges.
Di Bartolo won a full scholarship to the Yale School of Medicine, and to Princeton before that. But for students who rely on financial aid, the end of DACA would mean they can no longer afford school for a simple reason: Few banks are eager to lend to students legally prohibited from working after graduation.
"I won't be able to pay my living expenses, much less my tuition" without loans, said Cesar Montolongo, a professorial MD-Ph.D. student at Loyola-Stritch School of Medicine in Chicago. Montolongo spends his days in a brightly lit lab researching the root causes of urinary tract infections. "It's bittersweet to have found something you're happy doing, knowing it might be taken away," he said.
Sunny Nakae, the dean of admissions at Loyola-Stritch, said students face "a huge chasm of uncertainty." Loyola was the first school to actively recruit undocumented students, and has admitted about 30. But even though DACA has been under threat since President Trump's election, Nakae said she has received more applications from undocumented students this year than ever before. "Undeterred might be too bold a word," said Nakae, "but their choices are to put their lives on hold, or to keep moving forward."
Though a legislative solution is unlikely, there are several bills like the bipartisan Bridge Act, which would extend DACA-like protections for three years. The bill's co-sponsor, Illinois Senator Richard Durbin, said, "To have these doctors diverted from this ambition because of political negligence is unacceptable."
For Montolongo, even this would be bittersweet because it still excludes his extended family. "We're going to deport all of them, or we're going to give special treatment to these high achievers," he said of Trump-era immigration politics.
The Trump administration has already eliminated the Obama administration's prioritization system for removal, effectively making every unauthorized immigrant a target for deportation. DACA recipients worry the voluminous personal information they provided to the Department of Homeland Security can be used to round up their family members. "Are my parents now at risk?" said Di Bartolo.
At a free clinic where Loyola students treat some of their first patients, Belsy Manrique saw a woman with back pain. "Did you feel anything pop?" she asked in Spanish. The patient wore a tired expression and a red McDonald's shirt that read, "When life gives you onions, make a Quarter Pounder." Manrique said many of the patients, like her parents, lack legal immigration status. "They've suffered too. It's not just us 'Dreamers' or DACA students."
"DACA students are immigrants that are likable or marketable to the general public," said Di Bartolo, the internist in Philadelphia. But, she said, "I don't think we're different, because all immigrants are 'Dreamers,' we all came here because of the promise of the American dream."
Though Rojas grew up in the San Francisco Bay Area and is now focusing her training on medically underserved patients in New York, she said she's considering taking her skills to Canada if she can't find a way to practice. That prospect is "devastating," but both Rojas and Latthivongskorn, straining for optimism, pointed out that without DACA, undocumented medical students would once again be in the "same boat" as their parents, siblings, and patients who never qualified in the first place. As Latthivongskorn rushed to his next class at Harvard, he said he hopes that "this is when people can unify."
We want to hear what you think about this article. Submit a letter to the editor or write to letters@theatlantic.com.
Jeremy Raff
is a former video producer at
The Atlantic
.