A Pharmaceutical CEO Breaks With Trump
Merck CEO Kenneth Frazier resigned this morning, citing "a responsibility to take a stand against intolerance and extremism." The president quickly attacked him.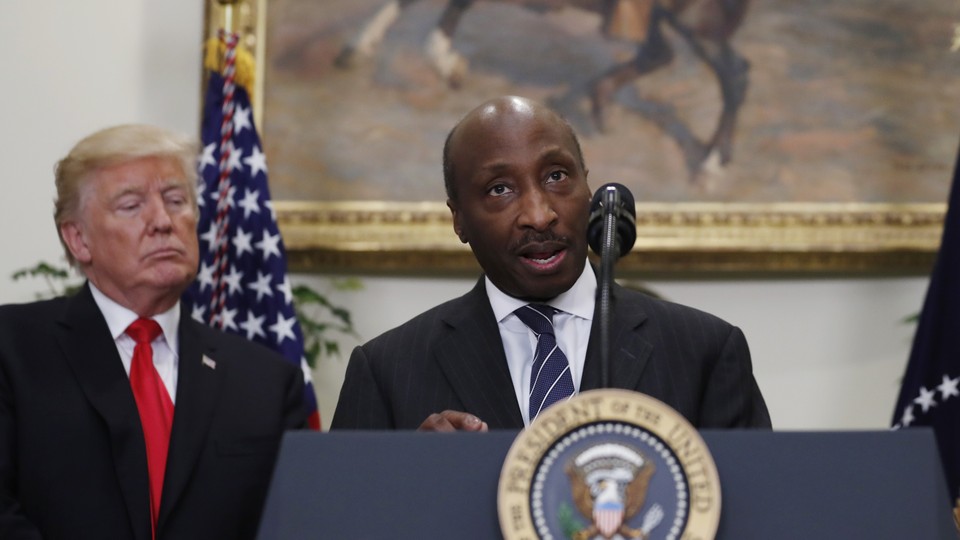 At 8:00 a.m. on Monday, CEO of Merck pharmaceuticals Kenneth Frazier announced his resignation of his position on the president's Manufacturing Jobs Initiative, a group of business leaders initially assembled by the White House in January.
Frazier explained his decision as a direct response to the weekend's events in Charlottesville, writing that he felt "a responsibility to take a stand against intolerance and extremism."
"Our country's strength stems from its diversity and the contributions made by men and women of different faiths, races, sexual orientations, and political beliefs," the statement from Frazier reads. "America's leaders must honor our fundamental values by clearly rejecting expressions of hatred, bigotry, and group supremacy, which run counter to the American ideal that all people are created equal."
Fifty-four minutes later, the president attacked the CEO: "Now that Ken Frazier of Merck Pharma has resigned from President's Manufacturing Council, he will have more time to LOWER RIPOFF DRUG PRICES!"
Frazier's statement comes after Trump equivocated in his condemnation of white supremacists on Saturday, blaming ambiguous factors "on many sides."
The president's condemnation today stands in stark contrast to his unwillingness to speak with similar boldness in denouncing white supremacists over the weekend. Conversely the president delivered a swift and unequivocal attack on a critic of his own moral ambiguity.
With job growth and industry deregulation as the few remaining consistent messages coming from the president, directing the conversation to attack a major American industry would seem an unlikely political strategy. The president has not proposed policies to lower drug prices, but has rather suggested further deregulation of industry generally, as well as weakening purchasing pools like Medicare that could potentially negotiate better prices with the pharmaceutical industry.
Meanwhile Frazier's words represent a stand by a leader in the health-care industry whose moral mission is being tested, and which could inspire or pressure others to do the same.