A City's Solution to Too Many 911 Calls
To cut down on the burdensome costs of non-emergency medical calls, Memphis is taking an experimental approach to health care.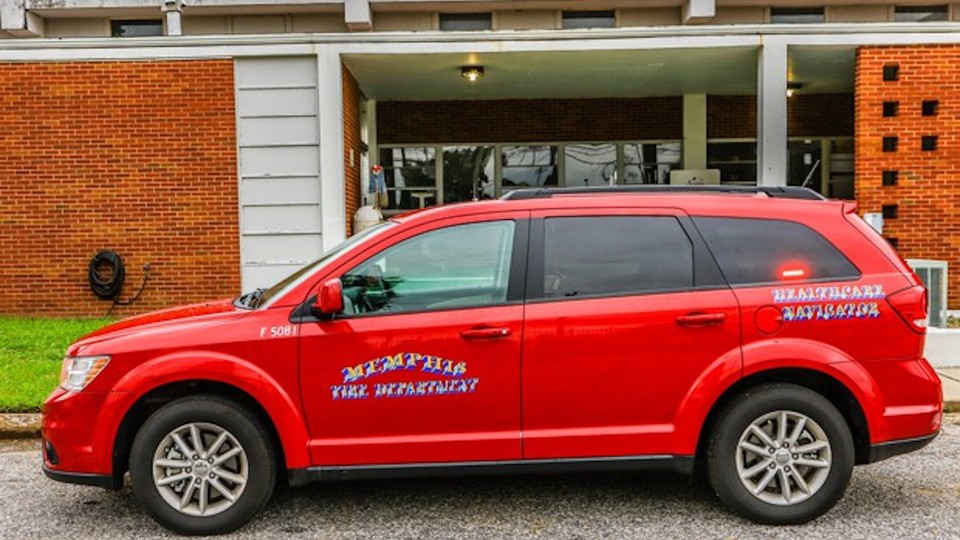 One out of every five phone calls to 911 in Memphis is a mistake. Of the 130,000 emergency calls in 2016, some 25,000 of them are really non-emergency calls, for everything from misdiagnosed stroke symptoms to simple sore throats. The city dispatches thousands of ambulances to residents who really just need to see a doctor.
This adds up: Medical bills start at $1,000 per ambulance ride, and another $1,000 for an emergency-room visit. The costs only go up from there. Plus, 911 call volume in Memphis has been growing 5 percent annually. Each ambulance the city adds to its fleet comes with a price tag of $1 million per year for personnel and equipment.
In a way, 911 is a victim of its own success. Most everyone knows to call in the case of an emergency, but plenty of people, and especially "frequent flyers," use 911 as basic health care. The rate of non-life-threatening calls in Memphis is right at the national average, according to estimates from the National Association of Emergency Medical Technicians. "In the past, our model has always been, it doesn't matter what the call is—we're going to send an ambulance and we're going to give you a ride to a hospital," says Andrew Hart, division chief for Emergency Medical Services at the Memphis Fire Department.
Since April, however, the city has been engaged in an experiment to take some pressure off the emergency dispatch system. A committee of civic, health-care, and faith leaders launched a program called Rapid Assessment Decision And Redirection (RADAR). For weekday daytime calls that are very likely to be non-emergent in nature, Memphis partners with a faith-based organization, Resurrection Health, to steer residents away from the ER and send health-care providers directly to them.
For calls redirected to RADAR, Memphis dispatches a city paramedic with a Resurrection Health doctor—in a car, not an ambulance—to evaluate the caller on site. "Instead of taking them to the hospital for the medical screening exam, we're bringing the medical screening exam to them," Hart says.
So far, the results are encouraging. Of about 400 runs since April, 58 percent of the emergency callers were diverted by RADAR away from the ER. And 66 percent of callers did not require an ambulance. (A small number didn't require an ambulance but did go to the ER anyway). No one who declined emergency care ended up needing it.
The city's Community Health Steering Committee—which comprises stakeholders from the public-health department, city council, hospital systems, and various nonprofit organizations—launched RADAR on the heels of a collaboration with IBM through the company's Smarter Cities Challenge program. Last year, IBM analysts conducted a review of 911 calls in Memphis to suss out patterns among the city's most frequent callers. (On Thursday, IBM announced the five cities that will receive pro-bono consultant delegations through the next year: Busan, Korea; Palermo, Italy; San Isidro, Argentina; Yamagata, Japan; and San Jose in California.)
"What we're doing now, based on IBM's recommendations, is a systemwide approach," Hart says. "Let's all work together as a group, so everybody is doing it the same way. I think that's why we're having such good success."
Gina Sweat, director of Fire Services for Memphis, said in an interview last year that the city hoped to retool its "you call, we haul" approach to emergency dispatch. One of the recommendations that came out of the IBM consultation was on-site telemedicine. Another was transportation vouchers for the mostly older residents who tend to overuse 911 because they have no other reliable access to health care or transportation to treatment when they need it.
Now, Memphis is looking to expand RADAR. Currently the program supports two dispatch cars operating between 8 a.m. and 4 p.m., Monday through Friday. Based on the success of the pilot, officials plan to expand the program to four cars, operating 24 hours a day, 365 days a year. The cars will be staffed by a paramedic and an emergency medical technician who will conference in doctors via telemedicine. (Sending doctors on every call is too expensive, Hart says.)
The cost savings for the city are substantial. Medicaid payments do not fully cover the costs incurred by the city when an ambulance takes a patient to the ER; Hart says that on average Medicaid pays $224 per ambulance transport, $140 per ER visit, and $50 per medical screening exam. Emergency costs for Memphis start at $2,000, so rerouting routine health-care visits is essential. (For the six-month pilot, doctors at Resurrection Health are donating their time, while Memphis Fire is covering the paramedic positions. An anonymous grant paid for two SUVs and equipment.)
Early on, the dispatch teams carried basic medical instruments for initial-assessment purposes, such as stethoscopes. Now the cars come with a full line of emergency supplies. The teams carry medication for pain (non-narcotic), nausea, and blood pressure, for example, and when necessary, they can serve as first responders until an ambulance arrives. "We seem to have this nasty habit of being out and about and pulling up on a heroin overdose," Hart says. "We've had that happen. We've pulled up on seizure calls."
On September 6, the city is expanding the program with a specialized nursing unit. When a RADAR team isn't available to field a 911 call that dispatch grades as low priority, a nurse can take the call instead. These nurses will also follow up with prior non-emergency callers to check on their status and make sure they've kept their appointments.
Memphis is awaiting approval on a rule to certify paramedics in community medicine—a specialized practice, and a first for the state of Tennessee.*
While the program is bearing fruit in Memphis, there's no reason why it couldn't be scaled nationwide. The city uses a 911 system provided by Priority Dispatch that grades the severity of emergency calls from low (Alpha) to high (Echo)—the same system used by 70 percent of all 911 systems worldwide. For the telemedicine piece, the city uses a software program that is Health Insurance Portability and Accountability Act compliant and costs just $5,000 per year.
Memphis takes an "ultra-conservative" approach to the Alpha calls that get bounced to RADAR, Hart says: no car wrecks, for example, and no calls that involve any violence. Most of the RADAR calls that do result in ambulance rides to the ER stem from an abundance of caution when dealing with the elderly.
The next big push is to get insurance providers to reimburse the city for these alt-emergency rides. As it stands, the city has a perverse incentive to respond to emergency callers with the most expensive care: a trip to the ER. Memphis is in talks with providers to change that. The results from the pilot already represent a savings for the city in terms of the decreased strain on its emergency apparatus.
"Part of what we're going to have to do is learn by trying," Hart says. "The preliminary data shows that [RADAR] works, and it works very well."
---
* This article originally stated that Memphis is already certifying paramedics in community medicine. We regret the error.
This post appears courtesy of CityLab.