To Be Sick Without Obamacare
As the Senate debates the health law's repeal, a look back at how insurers treated preexisting conditions before the Affordable Care Act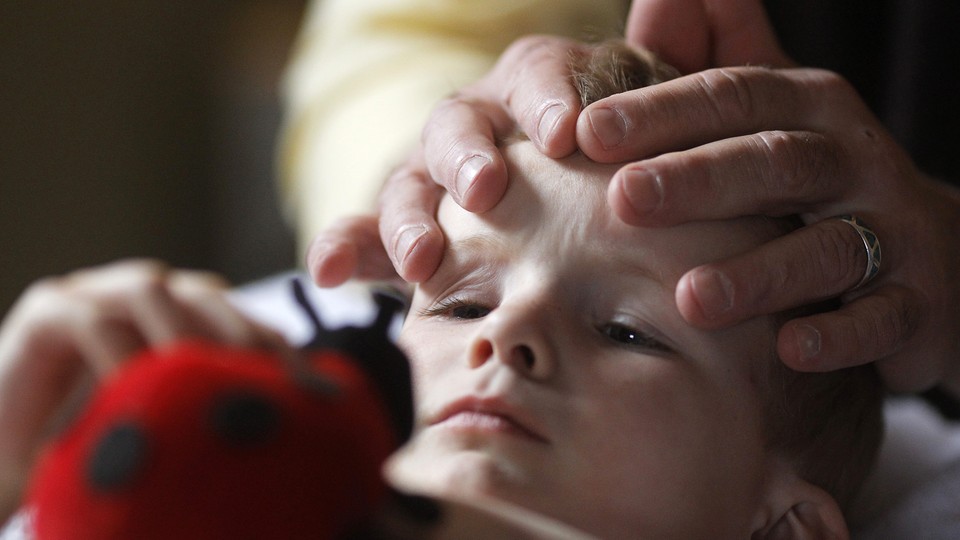 People who have any kind of medical condition are at the heart of the debate over repealing and replacing the Affordable Care Act. About a quarter of adults under 65 have these so-called preexisting conditions, and they are most vulnerable to any change in the current law, which prohibits charging sick people more for insurance. The replacement bill that passed the House of Representatives, the American Health Care Act, would allow states to do just that for people with a gap of 63 days in their insurance coverage. It would also allow insurers to stop covering certain services, even for people with continuous coverage. An estimated 23 percent of people who had a gap in their insurance coverage in 2015 also had a preexisting condition.
Under the House bill, insurers couldn't deny customers policies altogether—something that happened to 18 percent of people who applied for coverage before the ACA. Here's the rather infamous example from 2009 of "Baby Alex"—a 4-month-old who was, at 17 pounds, deemed uninsurably fat, according to ABC News:
Baby Alex, who is 25 inches long and weighs about 17 pounds, falls into the 99th percentile for height and weight for his age, according to Centers for Disease Control and Prevention guidelines. Rocky Mountain Health Plans insurance underwriters used those guidelines to deny coverage for Alex since he was above the 95th percentile, saying he had a "preexisting condition" of obesity.
(In that case, media scorn saved the day, and Alex got his coverage in the end.)
But under the new bill, there's no limit on how much more insurers could charge people based on health conditions they have. In states that applied for waivers to charge more, insurers "would charge very high prices, and people wouldn't be able to afford it," says Gary Claxton, the director of the Health Care Marketplace Project at the Kaiser Family Foundation. "It would be pretty much the same as declining them."
This would happen thanks to a cruel actuarial reality: Insurers can't afford to cover only people who have severe health needs. There have to be some people paying in who aren't going to use their insurance plans very much. If a state waived the essential health benefits—the list of 10 services, like mental-health and maternity care, that Obamacare required insurers to cover—insurers would likely sell bare-bones policies, along with comprehensive policies that covered a range of medical conditions. But the only people who would sign up for the comprehensive plans would be those who needed them. So insurers, in turn, would either jack up their rates or stop offering the plans entirely.
Among the customers that insurers would surcharge before Obamacare were women who had Caesarian sections—that is, if they didn't deny them outright, as
The New York Times showed in 2008:
Blue Cross Blue Shield of Florida, which has about 300,000 members with individual coverage, used to exclude repeat Caesareans, but recently began to cover them—for a 25 percent increase in premiums for five years.
Claxton (and the Congressional Budget Office) also suggested that, if healthy people end up getting a discount on their insurance, some might play the system. They could avoid telling insurers that they were continuously covered—thus qualifying for the cheaper, healthy rate. If they switched insurers every open enrollment period, there would be no way to keep track of whether they were continuously covered or not.
"This means healthy people just keep bouncing around and getting low rates, and the rates for people who don't do this keep going up," he says. "The people who are sick would always get creamed."
In 2001, his organization, the Kaiser Family Foundation, created fake applicants and sent them to insurance companies to see how they would be treated. One hypothetical 56-year-old woman named Emily received a variety of tough responses from insurance companies after disclosing she was on Prozac, according to the San Francisco Chronicle:
Twenty-three percent of the insurers surveyed rejected her, another 23 percent quoted her a higher rate, 12 percent offered her benefits that excluded treatment for mental disorders and 27 percent offered her both higher rates and limited benefits.
What's more, there's nothing in this bill saying states must set up a high-risk pool to cover every sick person who can't afford insurance otherwise, Claxton says. There could, in effect, be nowhere for people with preexisting conditions to go.
Another thing that could come back, he says, is a process called rescission—where insurers would retroactively cancel the policies of customers who failed to mention a health condition on their initial applications.
Here's an example of how rescission used to work, via a 2009 Washington Post story:
"They said I never mentioned I had a back problem," said Marrari, 52, whose coverage with Blue Cross was abruptly canceled in 2006 after a thyroid disorder, fluid in the heart and lupus were diagnosed. That left the Los Angeles woman with $25,000 in medical bills and the stigma of the company's claim that she had committed fraud by not listing on a health questionnaire "preexisting conditions" Marrari said she did not know she had.
And here's another example, via CNN, of a woman whose coverage was rescinded because she listed her weight incorrectly and had since started taking a new medication:
"I didn't know what to do. The hospital wanted a $30,000 deposit. I was by myself. I didn't have that kind of money," Beaton said through tears. "Can you imagine, having to walk around with cancer growing in your body? With no insurance. It's the most terrifying thing in the world to not have anybody to turn to or anywhere to go."
Applications for insurance, Claxton says, might start to look a lot more like this, with applicants expected to list every time they've seen a doctor in the past two years.
The Senate is debating its own version of an Obamacare repeal bill this week, and it's worth noting that it's not yet clear where they will land on these two waivers. Axios reports, citing several GOP aides, that the Senate version of the bill will not allow states to charge sick people more, but will allow them to waive the essential health benefits. In that case, some, but not all, of these pre-Obamacare problems would return. Vox, meanwhile, is reporting that the Senate will purposefully take a failed vote so that Congress can be done with health-care reform entirely. Meanwhile, Republicans in the Senate are saying they are "very cognizant" of preexisting conditions, as Republican Senator Bill Cassidy put it to Politico.
Then again, that's what House leaders said, too.
"They kept saying the bill covers people with preexisting conditions," Claxton said, referring to the House bill's sponsors. "Facing unlimited premiums just isn't that."