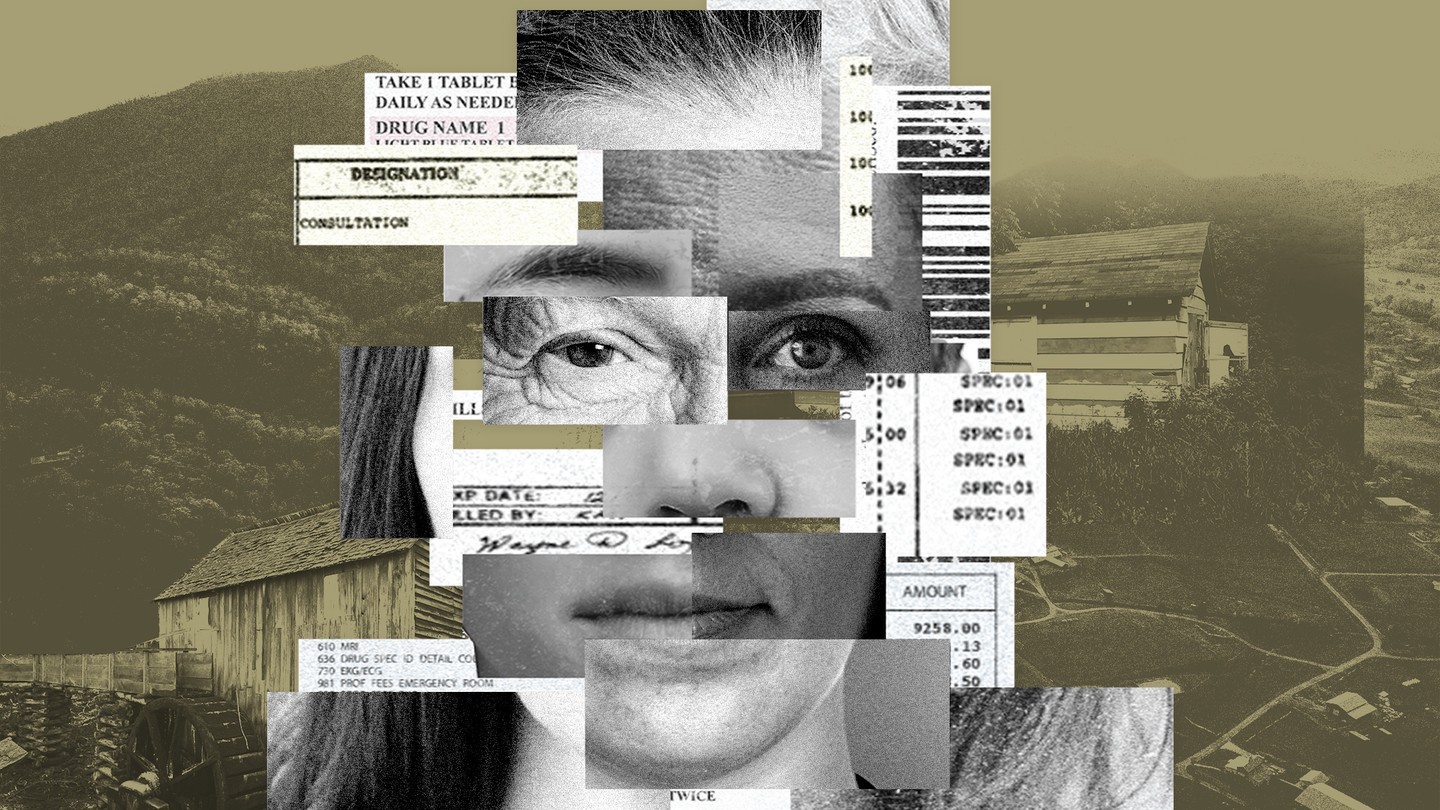 Therapy for Everybody
In Appalachia, a primary-care clinic offers quick bursts of psychotherapy on the spot.
JOHNSON CITY, Tennessee—The first patient of the morning had been working 119 hours a week. Greta (not her real name) had been coming home late at night, skipping dinner, and crashing into bed. One recent night, her college-aged daughter melted down, telling an exhausted Greta that her parents' marital tensions were putting a strain on her.
"She's like, 'Why don't you just divorce him?'" Greta recounted to her psychotherapist, Thomas Bishop, who was perched on a rolling stool in the bright examination room. "'Why don't you just do it and get it over with?'" Greta planned to stay with her husband, but her daughter's outburst worried her. "Is this going to affect the way she feels about relationships?" she asked Bishop.
Though it was just 14 minutes into the therapy session, and Greta had only seen him a few times, Bishop tried his best to interpret the daughter's feelings. "There's a period developmentally where we kind of look and go, 'Gosh, I wish mom and dad were this way,'" he explained. Later, in their 30s, people realize their parents "are what they are," he added.
"So this is her struggle, not your struggle," Bishop told Greta, reassuringly. He wrapped up with some practical tips, urging Greta to compartmentalize her work and life issues, perhaps by journaling or taking a different route home from work.
Greta seemed genuinely pleased as Bishop swept out of the exam room. Her therapy session had lasted just 20 minutes.
Two weeks prior, Greta had walked into the clinic, a family-medicine practice situated on the campus of East Tennessee State University, hoping to see a primary-care doctor because she was so stressed she could barely function. When the receptionist initially told her, because of a miscommunication, that it would take a month to be seen, Greta cried, "I'll be dead by then!" She was seen that day. After a medical resident finished evaluating her physically, he called in Bishop, the psychotherapist.
Bishop is part of a unique new breed of psychologists who plant themselves directly in medical offices. In clinics like ETSU's, the therapists eschew the familiar couch-and-office setup. Instead, they pop right into in-progress medical appointments and deliver a few minutes of blitz psychotherapy. (ETSU allowed me to visit the clinic and sit in on patient visits as long as I did not disclose their real names or identifying details.)
Exploring one's demons by the 50-minute hour might be a relatively common practice in large cities, but ETSU's clinic is situated in the thick of Appalachia, where mental-health care is both less familiar and less accessible. Johnson City has recently witnessed an economic revival, with its brewery scene a modest tourism draw, but the surrounding region is still dotted with discount stores and unpainted shacks. Bishop's patients bring him stories not only of family and marital strife, but also of financial pressures. If the trope is that psychologists help the "worried well," this clinic helps the worn-out but hanging-in.
Also stationed in the clinic's busy atrium that day was Jodi Polaha, a fellow psychologist, ETSU professor, and evangelist for this kind of therapy, which is called "integrated behavioral health care." Along with providing therapy to patients, the clinic's psychologists help train the clinic's medical residents to employ their therapy techniques, which emphasize finding solutions. Some of the most common issues that send people to their primary-care doctors—like bellyaches and backaches—often don't have clear physical causes. "It's usually some lifestyle change that's needed," Polaha said. "That's where we come in."
Integrated psychologists can help patients manage their pain at home so they, for example, don't run to the emergency room at the slightest twinge. One chronic-pain patient, who saw painkillers as the only way to ease her suffering, recently told Bishop that one of the residents gave her some of his "Buddha stuff"—relaxation exercises to do at home. Savings like these are especially important to the perennial American quest to cut health-care costs. An estimated 5 percent of the U.S. population accounts for 50 percent of all medical costs, and mood disorders are one of the most common conditions these high spenders suffer from. Some types of psychotherapy can make patients more likely to adhere to a doctor's medical advice or to follow-through on weight-loss plans, saving a medical practice time and money in the long run.
The clinic charges uninsured people on an income-based sliding scale, and patients aren't charged an extra co-pay if a therapist drops in on their medical visits.
Bishop, a 52-year-old who squints when he smiles, is the earnest one. (He frequently mentions that he has been married 31 years and has moved 20 times.) Polaha, who is 47 and looks like a nerdier Robin Wright, is more irreverent. One day during my visit, a clinic resident, Becca Sacora, approached Polaha to see if she wanted to check in on one of Sacora's patients. "She's a pretty sick lady," Sacora said. "I've been putting out fires with her medical state. She's 39 and has a severe history of anxiety and depression."
"If you're not busy," Polaha responded, "it would be great if you could work with me on an introduction" to the patient. Then she added with a wink, "It'll take two minutes of your time, and then you can go back to looking at Facebook or whatever you do all day."
The next morning, I went on a pre-dawn hike in the Appalachian Mountains with Polaha and Bishop—grueling feats of athleticism being the preferred activity of these two middle-aged colleagues. Other days, Polaha does open-water swimming or weightlifting, and Bishop trains for one of his frequent marathons.
In the freezing dark, Polaha pulled on her headlamp and leapt into the air a few times: "Let's get warmed up!"
"Exercise is stress management," she assured me, as we trekked straight upward and snot ran down my face.
Polaha, who grew up near Philadelphia, got into rural medicine as a grad student at Auburn University in Alabama, where she treated poor, troubled kids. Some of the kids didn't have running water, and they gave her head lice, but she loved feeling needed. She went on to practice pediatric psychology in Nebraska, traveling around the state to help kids whose developmental or emotional problems were too severe for their small-town doctors to fix. Once a week, she would work with primary-care doctors in a town called Hastings, staying at a Comfort Inn. When she left that job, the Comfort Inn threw her a going-away party.
Polaha and her husband moved to Johnson City in 2006. At the time, Bishop was already practicing integrated care in a nearby town. He's a northerner like Polaha, but his blue-collar past helps him relate to his patients, a quarter of whom are on Medicaid. Bishop spent his childhood in Flint, Michigan, helping raise his own younger brothers and sisters after his parents divorced. The experience made him embrace chaotic environments, like that of the juvenile offenders he worked with in Michigan.
Integrated care helps solve a lot of the problems with more traditional forms of psychotherapy—like getting to a therapist, which can be impossible for many Americans. About half of U.S. counties don't have any mental-health providers, and about a third of psychotherapists don't accept insurance at all. An hour is a long time to take out of one's workday, so many patients don't show up to psychologist appointments, even when they're referred by their regular doctor. "Physicians used to call us black holes," Polaha explained.
By offloading mental concerns to an on-site psychologist, the primary-care doctors' time is freed up. Doctors can see more patients, so the clinic makes more money, which can be used to pay the psychologist.
There aren't clear numbers on how many primary-care practices in the U.S. are integrated to ETSU's extent, but one study found 23 percent of rural primary-care practices, and 40 percent of urban ones, have a mental-health provider onsite. In many cases, though, "integrated" just means the two providers have offices in the same building.
When Polaha arrived in Tennessee, she heard about Bishop's work and persuaded him to join the university's medical school. Eventually, they opened up the integrated practice together. Today, Polaha splits her time between clinical work, research, and teaching. "Since he's been here, we've been able to do even more," Polaha explained as we hiked, not even straining to keep up her rapid-fire speech. "Plus [we] have time to go hiking."
At the clinic, a resident pulled Bishop into another room, this time to speak to a patient who had cycled through several antidepressants, ADHD drugs, and sedatives. Now, she was asking her primary-care doctor about getting on a new stimulant drug to help her focus at her new job.
This is fairly common: Primary-care doctors, for instance, are the ones who prescribe the bulk of the antidepressants that Americans gobble down. In most cases, they do so without diagnosing the patient with any clear psychiatric problem.
Meanwhile, typical primary care often fails to catch mental-health issues in people who don't know they have them. The U.S. Preventative Services Task Force recommends that all American adults be screened for depression at primary-care doctors' visits, but only 4 percent of primary-care appointments include this type of screening. Normal primary-care doctors may feel too busy or ill-equipped to provide mental-health care without a psychologist present, or they may not be able to bill insurance for it. "I went to the minute clinic this weekend because I was afraid I had an ear infection," Charles Ingoglia, a senior vice president at the National Council for Behavioral Health, told me. "In the course of talking to the [nurse practitioner], she indicated that she would not feel comfortable screening for depression, as she has no resources to do anything about it if a screen was positive." In other words, she needs a Tom or Jodi.
"If I don't keep it together at work, I'm going to lose my job," said Bishop's patient, a 30-something mom and bill collector. "It's the highest-paying job that I've ever had." Bishop asked her about her childhood, figuring that any signs of ADHD would have emerged when she was young. Growing up was just "eh," she said. "My mom was very strict, very ... judgmental."
"Did you do any counseling or anything when you were young?" Bishop asked.
"No. My mom doesn't believe in it," she responded, her voice breaking.
In her new job, "there's no room for error," Jane said. But she doubts herself constantly. Her manager scolds her, then wonders why she second-guesses herself. "She reminds me of my mom a little bit," Jane said.
Jane dropped out of college twice. She knew she could do the work, but every time she stepped foot on campus, she had an anxiety attack. By the time she got to class, "my heart would be palpitating so fast that I wouldn't even be able to hear the teacher."
"I'm not completely convinced that this is ADHD," Bishop told her. And given her anxiety levels, he said, he didn't want her to take more stimulants. Before leaving the room, Bishop suggested she also meet, for no extra charge, with the health coach—one the clinic also employs—to help her lose weight and drink less.
"You're awesome!" Bishop said. The woman chuckled a bit as she wiped her tears.
The week before I visited, there was a hate crime in Polaha's neighborhood. Someone threw a dismembered cow carcass in the yard of a woman who had decked out her house in gay-pride flags. They also scattered about 70 nails near her car.
The following Sunday, Polaha and her neighbors rallied around the woman, standing in the park and selling rainbow flags to raise money for LGBT causes. On top of the gay-rights activism, Polaha also sits on a committee of mothers concerned about gun violence and is part of a supper club devoted to discussing topics like philosophy and ethics. Her county, like the rest of Tennessee, overwhelmingly supported Donald Trump last November, but Polaha showed up to the polls in an all-white pantsuit and later helped organize the local Women's March.
At the park fundraiser, Polaha explained to me an analogy she often uses to get patients to make small, incremental changes in their lives. Think of a target, she said, and think of the bull's eye as representing your values. "If each thing you do all day long is throwing a dart at this target, where would you say your darts are landing?" Polaha asked. If your darts aren't landing near your values, "What are some things you could do today? Tomorrow morning? This week?" Patients, she told me, will say things like, "I could take my dog for a walk," or, "I could offer to drive my husband to work." Before long, patients start to resemble the good mom or loving wife they envisioned at their target's center.
I had seen Polaha use this technique at the clinic with an overwhelmed mom of twins. The woman had arrived weeping because her neighbor criticized her parenting skills, which she was already feeling insecure about. "It's like a never-ending sleepover at my house," the woman complained.
Polaha told the mom to imagine herself as a captain navigating a ship through a terrible squall. The mom had to choose between forging ahead to the other shore—that is, parenting her rambunctious kids the best she could—or retreating below deck to cognitively hide under some blankets. It might be more comfortable to seek cover from the gales of parenting, Polaha explained, but it would come at the expense of the twins' health and development.
Watching her sell rainbow flags in a park in rural Tennessee, I asked Polaha whether it ever bothers her that her patients are, statistically, likelier to be Trump voters than not. I wondered how she, a woman who devotes much of her spare time to progressive causes, mentally digests the fact that her patients' values, which she tries to get them to endorse more fervently, might be radically different from her own.
Polaha minimized the importance of political identity to a person's overall value system. "Everybody, in their core," she said, "wants kind of the same sorts of five or 10 things, right?"
Anyone who happened to spot a friend or neighbor walking into the ETSU clinic waiting room would never know whether they're there to get their minds or bodies checked. That's important, because stigma surrounds people with mental illnesses—as anyone who has ever had to explain a mid-workday jaunt to their therapist knows.
That stigma might be especially pronounced in areas where therapists are a foreign concept. For some Appalachians who suffer from depression or anxiety, "they'll attribute it to 'nerves,'" Miranda Waters, a psychometrist at West Virginia University Hospitals, told me. Waters grew up in Stearns, Kentucky, about three hours from Johnson City. The advice from locals, she told me, would often be: "Go to your doctor and get something for your nerves."
Religion is a source of comfort and strength to many here. But a deep devotion to Christianity is viewed, by some, as a replacement for professional psychological help. "There's a lot of ... thinking that, if you go to church, if you pray, if you're faithful, you can get over a mental illness," Waters said.
Several locals I met around town echoed this sentiment. One 63-year-old woman named Nancy, who was shopping at a nearby Walmart, swiftly told me, "No, no," when I asked if people in the area get therapy. "We go to church," she added. "We pray for the best."
Compounding the cultural obstacles, there are only enough resources to treat four in 10 Tennesseans who need mental-health care, according to Marie Williams, the commissioner for the Tennessee Department of Mental Health and Substance Abuse Services. Appalachian cities have some social workers and master's-level practitioners, but unlike in larger cities, there aren't as many doctorate-level professionals who open up private practices here, Waters said.
To Polaha and Bishop, that's precisely why their model can help in areas where people can't or won't get therapy otherwise. In one large study, elderly people were more likely to accept mental-health care at their primary-care doctors' offices than at specialty mental-health clinics. In other words, if more primary-care providers embedded therapists into their practices, therapy could shed both its luxury status and its shame factor. It could become as ordinary and widespread as taking high-blood-pressure medications.
Bishop described a patient who came into the ETSU clinic recently and said, "I'm only here for my physicians' assistant. There's nothing you can do to help me."
Bishop said, "You're right, there's nothing I can do to help you."
That patient ended up coming to him for two years.
"Does everybody need psychotherapy? No," Bishop said. "Could everyone benefit from psychotherapy? Probably." Even Polaha once got therapy to overcome her public-speaking jitters—long after she'd already received her psychology doctorate.
With therapy so readily available, it might be hard for Bishop and Polaha's patients to determine just how much therapy is enough—another struggle well-known to therapy-goers everywhere. Not unlike packing, therapy seems to take as much time as you have. Some studies show even one session of some types of therapy can help beat back depression, but the benefits of therapy tend to fizzle out as the number of sessions enters the double-digits. Bishop says a good therapist is a "mirror," helping patients see their life goals more clearly, and reach them. Once you've achieved your goals, there's little point in continuing.
I thought about my own therapy, which largely consists of me explaining the economic realities of journalism, over and over again, to a petite, middle-aged woman, after which she tells me to do more mindfulness exercises and charges me $170. "I wonder if I've been doing my therapy wrong," I mused to Bishop during one quiet moment in the clinic.
"You've said that about four or five times in the last few days," he said. "I think you should approach your therapist about that. I mean that sincerely."
With his own patients, Bishop is sometimes the one who suggests it's time to say goodbye. "I see myself working myself out of a job from day one," he said.
At one point, it seemed like Bishop was trying to feel out whether one patient should still be coming to see him. She was a woman in her 50s, but she looked about 70, with a raspy voice and a tired expression, though she said she was feeling good. She had been seeing Bishop for years, talking about her struggle to quit smoking and a tessellating array of family issues. The woman spoke slowly and cautiously, in short sentences. At times, she sounded like she was answering a boring questionnaire rather than unburdening herself.
"Is it still helpful to meet?" Bishop asked finally.
"Yes," she responded, to my surprise. She had been feeling more isolated from her friends than normal recently. "With me not being able to get to church, it's nice to have a friend I can visit and talk with."
Over the coming months, the woman did return to see Bishop several more times. But in the end, it was Bishop who announced he was moving on: He had accepted a new role at another university's family-medicine center, where this coming year he will set up another integrated behavioral health practice. When Bishop offered to transfer her to a new therapist at ETSU, the woman declined. Even briskly efficient therapists, it seems, are too much like friends to be interchangeable.