The Church of CrossFit
Gyms and other secular communities are starting to fill spiritual and social needs for many nonreligious people.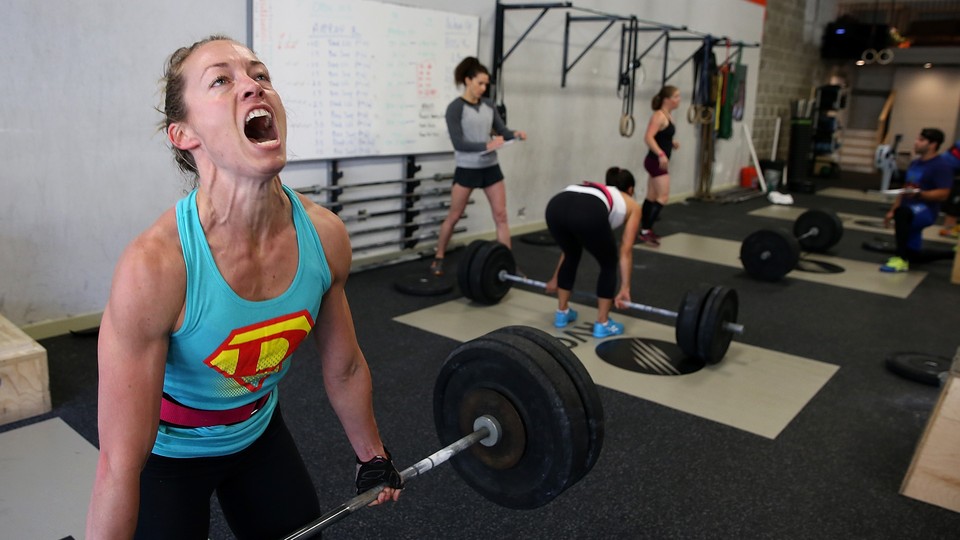 "You always know if someone goes to Harvard or if they go to CrossFit—they'll tell you," said Casper ter Kuile, a ministry innovation fellow at Harvard Divinity School. "It's really interesting that evangelical zeal they have. They want to recruit you."
CrossFit is his favorite example of a trend he has noticed: how, in the midst of the decline of religious affiliation in America, and the rise of isolation and loneliness, many ostensibly non-religious communities are "functioning in ways that look a little bit religious," he explained on Friday at the Aspen Ideas Festival, which is co-hosted by the Aspen Institute and The Atlantic.
"People's behavior and practice is really being unbundled from the institutions and identities that would have been homes for it," ter Kuile says. "[For example], 'I was raised Catholic but yoga is really the practice where I find my experience of contemplation.' As institutional affiliation decreases, people have the same age-old desires for connection, relationships, connection to something bigger than themselves."
And ter Kuile has found that meditation groups, adult summer camps, fandoms, and even fitness communities at specialized gyms like CrossFit or SoulCycle are stepping in to fill some of those needs.
"Strikingly, spaces traditionally meant for exercise have become the locations of shared, transformative experience," ter Kuile writes in "How We Gather," a paper about this phenomenon. These are not places where you go run on a treadmill with your headphones blasting Carly Rae Jepsen and make as little eye contact as possible with the people around you. They are inherently communal. With CrossFit, that community includes accountability for your actions, something religion also offers. Ter Kuile writes:
The two most striking things about CrossFitters are their evangelical enthusiasm and the way they hold one another to account. … CrossFit expects members to call each other out if they don't appear at their usual time and let each other know if they're out of town.
Of SoulCycle, ter Kuile writes:
As with CrossFit, many participants joke about the cult-like loyalty they have for SoulCycle, which illustrates both the depth of participant commitment and the hope for these organizations to fulfill brand promises like "find your soul."
Gyms are places of physical transformation, so in some ways it makes sense that these companies are trying to foster mental and spiritual transformations, too. And for some people at least, it seems like they're becoming loci of social support, much in the way a church might be. Ter Kuile says people will sometimes bring their kids to their CrossFit "box," which is CrossFit for "gym." (A quick Google tells me that this is apparently because the gym is shaped like a box? I'm sorry to have to be the one to reveal this, but this is not something that is unique to CrossFit.)
And the evangelical element is baked into CrossFit as well; it's not just a result of members' enthusiasm. If someone wants to become a CrossFit affiliate gym owner, part of their application is an essay saying "what CrossFit affiliation means to you, why you want it, and what you want to achieve."
"They're looking at: Has CrossFit changed your life and how do you want to change people's lives with CrossFit?" ter Kuile says.
Many gym owners post their essays online. Here is a sampling of very evangelical lines from a few of them:
I want people to know that CrossFit truly is for everyone… I want to put it all on the line and open an affiliate because I believe in every part of CrossFit and I want to share that with people.
CrossFit to me simply means family, a very hard working family persistent on the creation of a larger, stronger family.
[CrossFit] means understanding that fitness is a journey, recognizing where you are on that path, and understanding how to move forward on that path as long as life allows you to.  As a coach and gym owner, it means teaching people these things, empowering them to have the same control over their physical destiny that I do. It means sharing everything I'VE gotten out of CrossFit with as many people as I can.
And, perhaps because the crossover just seemed natural, there is an organization called Faith RX'd, which combines CrossFit with Christianity. They believe "God can be glorified when we honor him with our best efforts in the gym, and even more when we discuss ways to grow in a relationship with him, share His gospel and serve the needs of others."