New Mexico's Contentious 'Pot Powwow'
A cannabis company believes the pot industry could save tribal nations from poverty. But many argue it would only make a drug problem worse.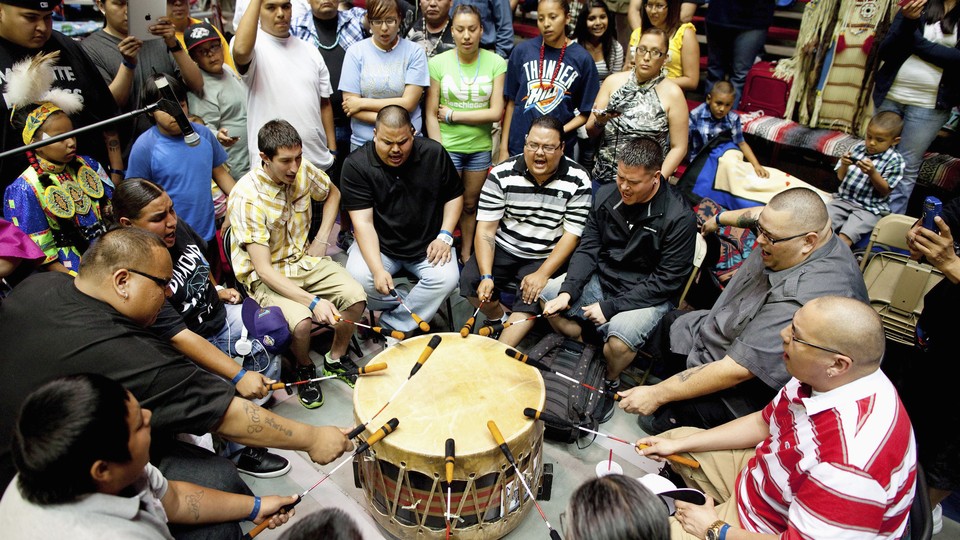 "You going to Gathering this year?"
Most Native people have heard this question. Short for the Gathering of Nations, the "Gathering" is the largest powwow in North America—one of few pan-Indian cultural fixtures shared by nearly every indigenous group on the continent. Thousands of people from hundreds of tribal nations show up in Albuquerque each year to experience it.
Unlike a traditional powwow, where no commercialization is involved, the Gathering is a contest powwow.  More than a display of culture, it is a massive, showy, fiercely competitive athletic event. Dancers are divided into age groups and categories like jingle, fancy, grass, and traditional, and are judged based on style, rhythm, intricacy of regalia, and creativity. Competitors are eligible to win thousands in prize money. For many, powwow dancing is their livelihood, a source of joy and community that also puts food on the table.
It is precisely because of the Gathering's community-focused nature that the event stirred up controversy this year when its organizers announced a partnership with a new title sponsor: a cannabis company. A chain of dispensaries called UltraHealth is now in a five-year contract with the Gathering as their primary funding source. The deal earned the event a new nickname: the pot powwow.
UltraHealth's monetary support might be exactly what the Gathering needs to keep the beloved event up and running. Still, many are skeptical of the company's intentions. Does marijuana—medical or otherwise—belong at a family event like a powwow?
Duke Rodriguez, the CEO of UltraHealth, believes that the cannabis industry is a way out of economic deprivation for tribal nations, many of which have struggled for generations with high rates of unemployment and poverty. In 2014, the Justice Department made it so that all tribal nations have a right to legalize growing and selling of marijuana if they want to, so Rodriguez now dreams of building marijuana growing and distribution enterprises across Indian country. On wide-open reservation lands where some outsiders see a whole lot of nothing, Rodriguez sees an opportunity to strike a competitive advantage.
"If I wanted to build a non-tribal venture, I'd have to go out and buy a large piece of land," he said, "Tribes already own these holdings."
The UltraHealth headquarters in Scottsdale, Arizona, doesn't exactly scream "controversy." It looks like a suburban realty company, or maybe a place where you could get your accounting done. Rodriguez is business casual, too, in his polo, khakis, and full head of salt and pepper. He is full of sound bytes and fun facts about all things cannabis, and his success in pitching marijuana is probably due in part to his enthusiasm and appearance of good health. A former CFO for a medical center and one-time secretary of New Mexico's Human Services Department, he is committed to maintaining that same air of government-health care professionalism with his pot company.
Rodriguez is interested not only in tribally owned enterprises, but also in tapping into the individual Native American market. Understanding that Native culture is rooted in and familiar with natural medicines, he'd like to see more people choose pot as an alternative to pharmaceuticals. Some tribal nations are on board with UltraHealth. So far, they have partnered with the Las Vegas Paiute tribe, and Rodriguez claims they are in talks with dozens more. "There's no stopping it," he says.  "This is the Superbowl of Indian country. Tribes are leading the way in the cannabis business, and I think people are tickled by it."
Well, not everyone. Some worry that the presence of pot at a powwow will encourage drug experimentation. Vaughan Rees, the director of the Center for Global Tobacco Control at Harvard T.H. Chan School of Public Health, says that UltraHealth is pulling marketing tactics from the big tobacco playbook. "They're integrating their branding into the Native American community, and they're promoting the idea that these products are safe, and something that everybody does, and that changes social norms," Rees says. "That makes the job of the people whose mission to reduce the introduction of drugs or other potentially risky behavior more difficult."
Rees says that this is the most explicit example he's seen to date of the marijuana industry advertising to a specific racial or ethnic population. It is something, he anticipates, that will continue. "These are the battles we're going to have to fight as the cannabis industry spreads its tentacles," he says. "It just makes me sick."
Theda Newbreast, a board member for the Native Wellness Institute from the Blackfeet reservation, also sees parallels to the tactics of tobacco and other industries. "The beer companies used to bring candies wrapped in their logos to our reservations and pass them out to kids, and the tobacco companies tossed out candy cigarettes at our parades," she says "I worry that a 10-year-old who is on the fence might get curious and now feel okay to try it."
Whether marijuana is a gateway drug remains a question, but we do know that Native American populations suffer from the highest rates of substance abuse in the country. Native people start young, and they do often start with pot: A 2014 National Institute on Drug Abuse study found a much higher prevalence of marijuana use among Native than non-Native students. From 2009 to 2012, 56.2 percent of Native American eighth graders had used marijuana in the past month, whereas only 16.4 of non-Native eighth graders had done so.
High rates of unemployment and poverty in Native communities might be why many have turned to drugs. Opioid use has been linked to financial strain, and Native communities are among the hardest hit by the opioid epidemic.
"We have so much trauma," Newbreast says. "The taking of our land, loss of our languages, poverty, violence, sexual abuse from the boarding-school days—because of it, we are super vulnerable. We have a much higher propensity to addiction."
Rodriguez is well aware of the prevalence of substance abuse in Native communities, but sees no moral conflict of interest. UltraHealth's website shows a photo of a Native American man saying, "I manage my PTSD with UltraHealth." Ande Rodriguez argues that the option to use marijuana would actually curb the use of pain pills, a far more addictive and potentially dangerous threat. "Medical cannabis could be a way out of opioid addiction for tribes," he says.
There's precedent for this idea. Some studies have suggested that in states where medical cannabis has become legal, opioid deaths and usage have gone down. In New Mexico, where UltraHealth owns several dispensaries, opioid use in the past year has decreased. And Department of Health statistics show that in Rio Arriba County, a place with an 18 percent Native American population and the highest drug-overdose death rate in the state, opioid deaths went down by 30 percent from 2014 to 2015. Whether medical marijuana has anything to do with it is yet to be studied.
In a promotional video, the company uses several images of Native children in traditional dance regalia. One shot is of a Native American toddler playing on the ground, surrounded by cannabis plants. Still, the company insists that they are only marketing weed's benefits to adults. "Cannabis is not good for a developing brain" Rodriguez says. "The science is clear on that, and for anybody to be marketing cannabis to young people is irresponsible."
In its first year, UltraHealth's presence at the Gathering was minimal. All they had was a burlap tent, tucked behind food vendors, with the UltraHealth and High Times logos on it. But the booth remained empty all weekend, with no staff present and nothing to see inside.
Rodriguez later confirmed that the company had intended to display a cannabis plant and offer promotional materials, but the idea got botched by an ongoing dispute between UltraHealth and the New Mexico Department of Health. Last September, UltraHealth brought a non-flowering cannabis plant to the New Mexico State Fair. By the end of the day, the DOH ordered that they remove the plant because, they said, it constituted drug paraphernalia. They also ordered that all New Mexico UltraHealth locations be closed for five consecutive business days as punishment.
UltraHealth appealed the case, and filed a federal suit against EXPO New Mexico officials, claiming that they unconstitutionally limited the company's rights to free speech and expression. They anticipate trial later this summer.
"We decided to leave the plant behind this time because we didn't want to cause any trouble," Rodriguez says.
The New Mexico Tourism Department decreased their usual funding contribution for the Gathering this year. Rodriguez said that it "seemed implied" that this was due their disdain for the UltraHealth partnership. The Gathering of Nations founders, Derek and Lita Matthews, declined to comment on the funding mishap, or on anything else regarding UltraHealth. The New Mexico Tourism Department didn't address questions about any grievances about UltraHealth's involvement with the powwow. "The Gathering of Nations is one of our New Mexico True treasures," the Department says, adding that they sustained budget cuts this year, and had less ability to formally sponsor events.
UltraHealth intends to resolve their dispute with the State, and Rodriguez is confident that by next year, they will have the freedom to display much more cannabis marketing materials at the Gathering, including actual plants for people to "get comfortable with."
Rodriguez says he once heard that one Pueblo community found ancient marijuana seeds in their land, and suggested the possibility of a far-reaching historical tie between Native communities and cannabis that somehow became severed over the years. Newbreast disagrees. "In my lifetime and my 35 years working in public health across Native country, I've never seen anybody use cannabis for ceremony," she says. "I've seen peyote, and in a ceremonial context, that can do a lot of good. But I've also seen it abused."
Newbreast also has seen friends of hers benefit from medical marijuana, and agrees that if distributed properly, in the right context, it could be appropriate. "When it comes to any sort of medicine, whether pain pills or cannabis or tobacco, it has to be administered with compassion," she believes. "In order for it to help, it has to be done with love."