The Plan for 7,000 Bodies Discovered Under a Mississippi Campus
The unmarked graves belong to patients who died in a state asylum.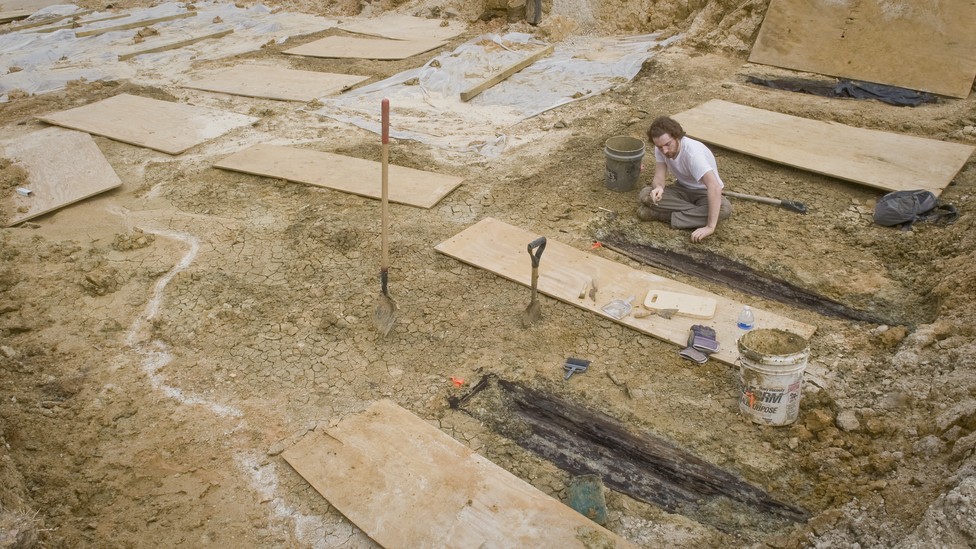 As best as anyone can remember, the first bodies were discovered because the University of Mississippi Medical Center needed a new place to do laundry.
This was back in the early 1990s, when the construction of new laundry facilities necessitated new pipes, which necessitated digging, which unearthed the unmarked graves. Forty-four of them, coffins of pine wood, laid out neatly in rows. No names.  "At that point people were reminded, 'Oh yeah, there's a cemetery here," says Ralph Didlake, the director of UMMC's Center for Bioethics and Medical Humanities.
The cemetery belonged to the Mississippi State Asylum, which operated from 1855 to 1935. There's a reason no one thought about it much anymore: The bodies underground are the only thing left. The building was torn down long ago, and there's no memorial or marker. When the graves were uncovered during construction in the 90s, the UMMC figured out a way to proceed: It relocated the 44 bodies to another cemetery where the current medical school buries anatomical donors. And that was that.
Then in 2012, during the construction of a new road through campus, teams discovered 66 more unmarked graves. Also in pine coffins, also laid neatly in rows. The medical center in downtown Jackson, Mississippi, had ambitious plans to expand its campus, but it was hemmed in on all sides, so it only built on existing land. A small wooded area on campus was slated to become a parking garage. Given that the bodies kept turning up near there, the school decided it was time to figure out exactly how many people were buried under its campus.
The answer? As many as 7,000. Based on hospital records, 35,000 patients stayed at the asylum over its 80-year existence, and thousands of them died. Deceased patients whose families were unwilling or unable to pick up the bodies were buried. Ground-penetrating radar and small digs have located at least 2,000 bodies already. "Nobody has expected a cemetery to that extent," says Didlake. The parking garage was relocated.
Didlake has since joined anthropologists, historians, and archeologists in forming a group called the Asylum Hill Research Consortium. They're proposing to exhume the remains and build a joint memorial, visitor's center, and research lab to honor the memory of these patients. The Mississippi State Asylum was just one of dozens of public psychiatric hospitals in the pre-war asylum era. Yet no asylum cemetery has been exhaustively studied, and no remains have been even tentatively identified.
* * *
By its closure in 1935, the Mississippi State Asylum, which operated for most of its existence under the name Mississippi State Lunatic Asylum, had acquired the reputation of, well, an asylum: crowded, squalid, not the kind of place you want to end up. Michelle Davenport, a former graduate student at Mississippi State University who researched the asylum records, says a friend's grandmother recalled hearing screams from the asylum when they drove by as children. Whether or not this is true, it reflects what asylums became in the American imagination.
But when the Mississippi State Asylum was first built, it was part of a reform-minded movement to provide better care for the mentally ill. The asylum followed the then novel Kirkbride Plan, an architectural layout devised by the eminent psychiatrist Thomas Kirkbride that was supposed to placate the minds of his patients. Kirkbride believed in sunlight and fresh air, so the wings of the hospital were offset to maximize patients' views from windows and minimize their ability to see each other. At the same time, rooms were laid out so the staff could keep careful watch of the patients.
"The optimistic view is that being exposed to this ordered environment would bring you back to sanity," says Nancy Tomes, a historian at Stony Brook University and the author of A Generous Confidence: Thomas Story Kirkbride and the Art of Asylum Keeping. Even if patients were not cured, it was certainly better than staying in jail or being homeless, as the mentally ill often were.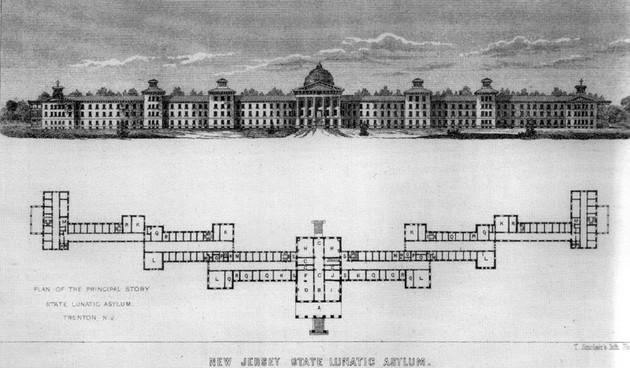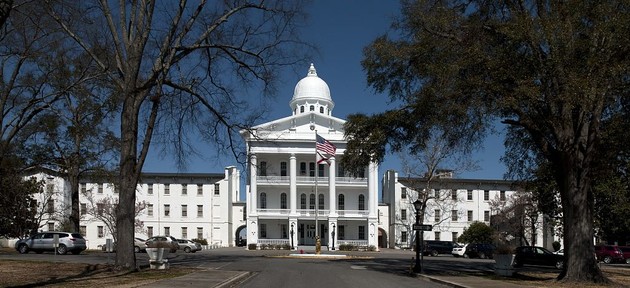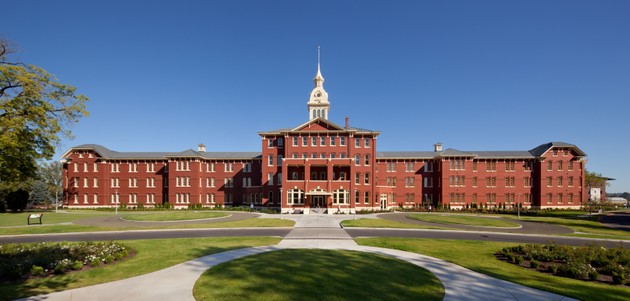 Kirkbride's plan worked in the beginning when asylums were well funded and the number of patients was small. But many patients who came into the institutions never got better, so they stayed and the number of patients grew. "The public hospitals really fall into this custodial spiral," says Tomes.
The fate of the Mississippi State Asylum tracks the rise and fall of the asylum movement in America. After the Civil War, it began to admit African American patients in segregated wards, and their situation was likely even worse. "There was more overcrowding in black and colored wards. The diets were much worse," says Molly Zuckerman, an anthropologist at Mississippi State University who has excavated the site. She draws these conclusions from the asylum's discharge records, which noted how patients died. More African American patients died of respiratory illness like tuberculosis, which suggest overcrowding, and nutritional disease like pellagra, a vitamin B deficiency. Zuckerman says the diet was likely mostly cheap corn, with some fatback and molasses.
Since the initial excavation, Zuckerman says she's gotten regular emails and calls from people who believe their ancestors were patients at the Mississippi State Asylum.  "I'm contacted by people who don't have an endpoint to this particular story," says Zuckerman. It's usually two or three a week, though the number has picked up after a recent round of news articles about the asylum.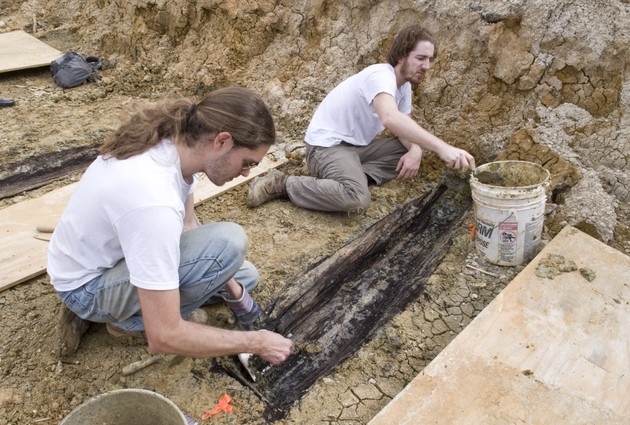 Penny Stiles is one of those people. She believes her great-grandmother, Buelah Pritchard Jackson, was admitted to the asylum after her husband was sentenced to prison for murder around 1901. The husband later remarried and listed her as dead in the census, though she didn't actually die until decades later. Stiles notes that her great-grandmother was committed not long after giving birth to her son, and wonders if it was because of a bout of postpartum depression, which Stiles herself has struggled with.
Rhonda Richmond is looking for her great-great-great grandmother, Martha Williams, who may have been a patient at the Mississippi State Asylum. It's part of her attempt to find out about her grandmother, who used many aliases during her life and never said much about her family. "It's been in the dark all of my life," says Richmond. "It would be nice to have some light shed some light on it."
A team led by Zuckerman's collaborator, Nicholas Herrmann, an anthropologist now at Texas State University, has digitized and transcribed most of the admissions and discharge records. They hope to put a searchable database up online, so people like Stiles and Richmond can look up their ancestors.
Zuckerman also hopes to exhume more of the remains to learn about the lives of the patients. The bones, for example, can provide more detailed information about the health of the asylum's patients. Zuckerman studies syphilis, which was a common cause of madness in the 19th century and can give bones a moth-eaten appearance. A group at the University of Southern Mississippi uses tree rings in the pine coffins to date the wood. Eventually, perhaps, DNA testing might be possibly to identify the unmarked graves, though Zuckerman acknowledges that will be very expensive and far down the road.
After the Mississippi State Asylum shut down in 1935, its patients moved to a new state hospital in Whitfield, Mississippi. In the 1950s, after a number of exposés about conditions in state asylums, a new national reform movement pushed for deinstitutionalization. Asylums across the country started to close.
While the original Mississippi State Asylum buildings were demolished, a number of Kirkbride Plan institutions have been saved because of architectural interest. A website keeps track of them: Some have been renovated to become modern mental hospitals. Others are being repurposed as art museums or apartment buildings. They all have cemeteries, says Tomes, the historian, but that aspect has been largely been lost even as the buildings themselves have been preserved.
A few small-scale memorials exist. At Kings Park Psychiatric Center in New York, a stone buried in the grass reads, "This plaque is placed in memory of the thousands who are buried here / They lived with severe illness / May they rest in peace." In Georgia, the Georgia Consumer Council helped erect a bronze angel at the cemetery of the state hospital in Milledgeville.
The Asylum Hill Research Consortium's plan for a memorial in Mississippi—along with the full research lab and visitor's center—is far more audacious. It's also expensive and currently unfunded. (Didlake says he's heard from some interested funders since the latest round of press attention.) If they succeed, these patients, forgotten in life, might no longer be silent in death. "They were marginalized in life. They were marginalized in death in a forgotten cemetery," Didlake says. "We have an opportunity to highlight and destigmatize these stories."