Why Kimmel's Obamacare Pitch Was So Powerful
His emotional monologue underscored the importance of personal stories in protecting health care.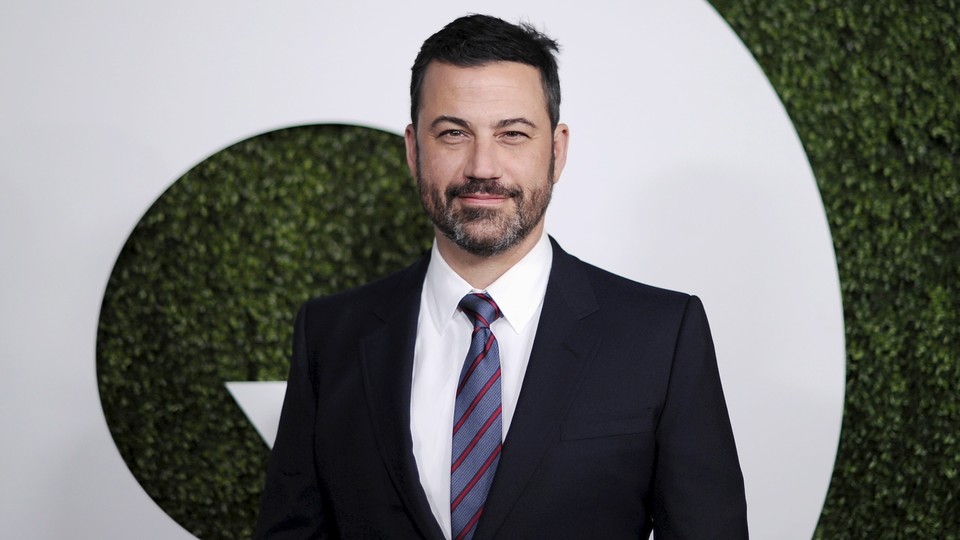 "No parent should ever have to decide if they can afford to save their child's life."
That was the emotional crescendo to Jimmy Kimmel's tearful monologue Monday night, in which he detailed his son's recent birth and heart surgery before pivoting to a pitch for health-care access.
Kimmel opened his show, ABC's "Jimmy Kimmel Live," by telling the audience that his wife, Molly, gave birth to a boy, Billy, on April 21. A nurse noticed a murmur in his heart, and tests soon showed there wasn't enough oxygen in the baby's blood. An x-ray revealed that his lungs were fine, but his heart wasn't.
Kimmel described a "terrifying" scene as worried-looking doctors diagnosed Billy with tetralogy of Fallot with pulmonary atresia, a condition in which there's a hole between the heart's chambers, cutting off normal blood flow.
An emergency, three-hour operation was a success: Kimmel showed off a smiling photo of his newborn after the fact.
After thanking a litany of friends, family, and senders of pray-hands emoji, Kimmel's monologue took a turn for the political. He denounced President Trump's proposed cuts to the National Institutes of Health, adding "thank God our congressmen ... made a deal to not go along with that."
He also described a pre-Obamacare landscape, in which people like his son—those with pre-existing conditions—would have been denied health insurance. And for sick children, "if your parents didn't have medical insurance," Kimmel said, "you might not live long enough to even get denied because of a pre-existing condition."
Kimmel's speech was timely, given that the latest iteration of the Republican health-care bill would allow states to charge people with pre-existing conditions more for health insurance as long as they create high-risk pools. On Monday, President Trump told Bloomberg he wants the GOP's bill to be "every bit as good on pre-existing conditions as Obamacare," and said the bill is not yet in its final form. About a quarter of Americans under 65 have pre-existing conditions that would have made them uninsurable before Obamacare's protections were implemented.
The monologue also underscores the importance of personal stories in keeping Obamacare—or at least its core principles—alive. The law's particulars are difficult to understand, even for experts, but personal tales of either woe or relief travel far and wide. Before the law was passed in 2010, individual horror stories of coverage denials for acne and the like helped stir up support for national health reform.
More recently, some Trump voters I meet tell me they oppose Obamacare, even if they themselves have not been affected by it. It's enough for a family member or neighbor to see their rates jacked for them to sour on it. Indeed, polls show most people don't feel the Affordable Care Act directly affected them, but they do feel it either directly hurt or harmed the "people of your state."
That's just how health care is: You don't need it until you really need it. Now, viral stories, like Kimmel's, of people in dire need of health care might be the thing that saves the law from repeal. (Who can forget the town hall in which a lifelong Republican told House Speaker Paul Ryan, "I want to thank President Obama from the bottom of my heart because I would be dead if it weren't for him.") To be sure, there is no shortage of stories of middle-class people who are financially strained by the law. But nothing quite captures attention like a needed operation just out of reach.
The debate over cost-sharing reduction subsidies might not resonate, in other words, but this quote of Kimmel's, uttered between sobs, just might: "If your baby is going to die, and it doesn't have to, it shouldn't matter how much money you make."