Tiger Woods and America's Drugged-Driving Problem
For the first time ever, drivers in fatal crashes are more likely to be on drugs than alcohol.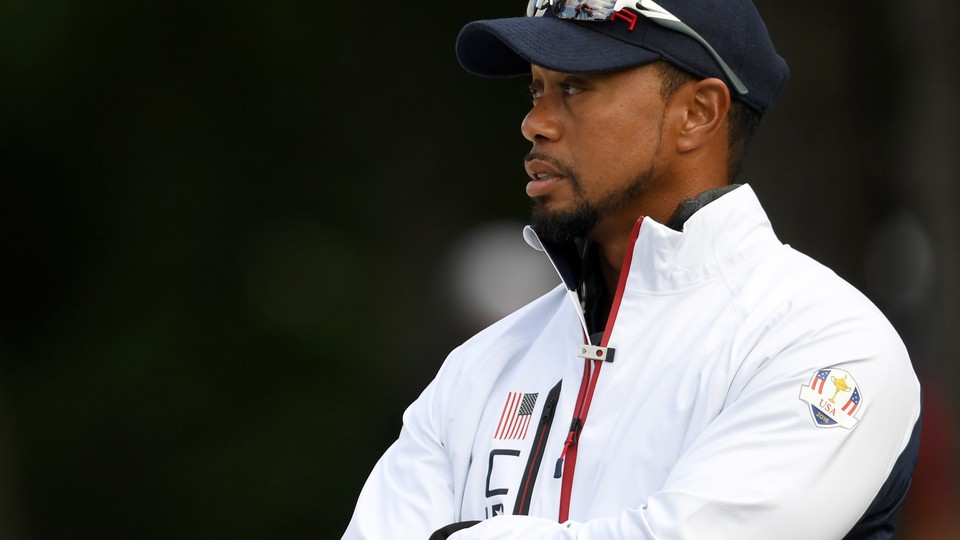 Shortly after being arrested for driving under the influence near his home in Florida Monday, golf legend Tiger Woods issued a statement saying the incident was the result of "an unexpected reaction to prescribed medications"—not alcohol. According to police documents, he blew a .000 breathalyzer and had fallen asleep in his car.
With that, Tiger Woods has become the most high-profile example of a worrisome nationwide trend: Drugged driving is on the rise, and for the first time ever, people involved in fatal crashes are more likely to have drugs than alcohol in their systems.
A report published this April by the Governors Highway Safety Association and the Foundation for Advancing Alcohol Responsibility found that both illegal and prescription drugs are found in the bodies of fatally-injured drivers—a good source of data, since they are tested more often than drivers in non-fatal crashes—about 43 percent of the time. Alcohol above the legal limit, meanwhile, was found in just 37 percent of the drivers.
That's a stark turnaround from 2005, when alcohol was the bigger culprit, detected in 41 percent of traffic deaths, compared to just 28 percent for drugs, as Reuters reported.
The number of people driving under the influence of prescription drugs has increased in recent years. A just-released study found that 20 percent of drivers had used a prescription drug in the past two days—mostly sedatives, antidepressants, and painkillers.
But according to several surveys, the most common drug used by drivers is marijuana. In the Governors Highway Safety Association report, over one-third of the drugs found were some form of marijuana. The second-largest category was some sort of amphetamines, at 9.3 percent.
The most recent survey by the National Highway Traffic Safety Administration found that the percentage of weekend, night-time drivers using illegal drugs rose from 12.4 percent in 2007 to 15.1 percent in 2013, and those using prescription medications rose from 3.9 percent to 4.9 percent. The largest increase was in drivers' use of THC: In the 2007 survey, "8.6 percent of weekend nighttime drivers tested positive for THC (based on the combined oral fluid and/or blood tests), whereas in the 2013–2014 [survey], 12.6 percent of weekend nighttime drivers tested positive for THC, a 48 percent increase." In that survey, too, marijuana was a more prevalent drug than alcohol.
Jim Hedlund, the author of the GHSA report, told Reuters that the rise in drugged driving can't be directly linked with the opioid epidemic, whose death toll has quadrupled since the late '90s. However, marijuana-legalization advocates also cautioned news outlets covering the report last month that the high prevalence of cannabis in the drivers' systems should be taken with a grain of salt: After all, marijuana can linger in the blood stream for weeks, long after the driver is no longer intoxicated.
The report lists marijuana as being associated with a "slightly increased" risk of crashing, followed by cocaine and opioids at a "medium increased risk," amphetamines at a "highly increased risk," and alcohol in combination with other drugs at the highest risk of all.
As more Americans rely on prescription painkillers, heavy-duty sedatives, and other pills to get through the day, cases like Woods' have become increasingly common and frustrating for police. Prescription drugs act on the body differently than alcohol does. There's little agreement among traffic authorities on how much is too much to have in one's system, and the substances are harder to test for than booze.
Plus, the idea that it isn't safe to drive on, say, Ambien or OxyContin hasn't quite hit home with motorists, some officials say.
"We see that all the time with prescription drugs, and they think, 'Oh, my doctor gave it to me, it's okay to drive,'" as Pennsylvania State Police Cpl. Scott M. Davis told the Pittsburgh Post-Gazette. "When in reality they're actually more of a danger than somebody under influence of alcohol."