Will Trump's Expanded Policy Against Abortion Harm HIV/AIDS Relief?
The administration's contentious new order risks dealing a blow to one of America's most successful global-health campaigns.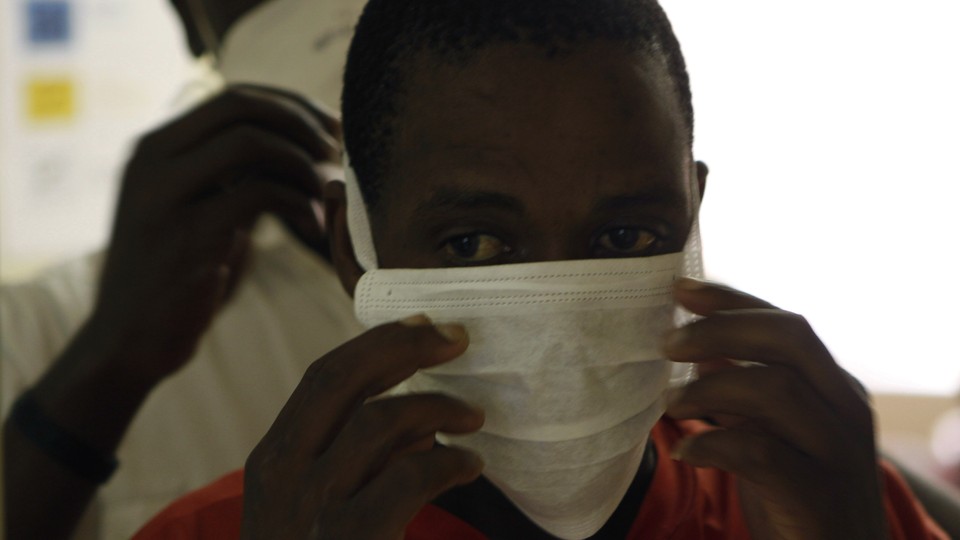 Earlier this week, the Trump administration moved forward with plans to withhold global-health funding for organizations that "perform or actively promote abortion" abroad. This move revives an older policy that restricted funds for family-planning organizations—groups that focus on things like contraception and maternal health—and goes further to apply to all global-health funding. As a result, some fear it could wreak havoc on global HIV/AIDS-relief efforts.
Global-health advocates and experts are concerned that the expanded rule could hinder one of the largest disease-relief projects any country has undertaken: the President's Emergency Plan for AIDS Relief, or PEPFAR, an initiative that has invested billions of dollars in providing HIV/AIDS counseling and testing, distributing life-saving antiretroviral medication, and training hundreds of thousands of health-care workers around the world, to great success. PEPFAR relies on a web of clinics, supply chains, and foreign governments working together, and the expanded policy could, some fear, force clinics and community-health organizations to choose between restricting their services or doing without U.S. government funding.
PEPFAR has historically been exempted from previous versions of the revived policy, known as the Mexico City Policy—or, to critics, the global gag rule. The U.S. government first illegalized direct funding of abortions abroad in the 1970s. Ronald Reagan then enacted Mexico City Policy in 1984 to block family-planning funding to any foreign nongovernmental organization that provides abortion-related services, even if those services were paid for by sources other than the U.S. government. Every Republican president since Reagan has enacted some form of the rule, and every Democratic president has undone it.
But the State Department's new initiative, now dubbed "Protecting Life in Global Health Assistance," expands the amount of funding affected from $600 million to $8.8 billion, $6 billion of which comes from PEPFAR.
In its previous incarnation, the Mexico City Policy seems to have done little to reduce the number of abortions abroad. As I've previously written, the policy was actually associated with a reverse effect: an increase in the rate of abortions, including unsafe abortions in the countries it affected. The policy also denied funding to NGOs that provided contraception, which is believed to decrease the abortion rate by lowering the number of pregnancies in the first place.
Now, critics say the revised version of the rule could do significant harm to PEPFAR, which has been called George W. Bush's greatest legacy.
When the executive order was announced earlier this year, J. Stephen Morrison, the director of the Global Health Policy Center at the Center for Strategic and International Studies, was concerned about the lack of clear information on how the decision to expand the policy to include PEPFAR was made, and how the potential consequences would be dealt with. Since then, he says, his feelings haven't changed much.
"There is not a very transparent process by which we got to this point," Morrison says, adding that some terms of the statement are likely only to cause further confusion. Morrison sees the executive order as a move meant to appeal to more conservative evangelicals within Donald Trump's base, who are in support of curbing abortion both in the U.S. and abroad. "This is political theater," Morrison contends—a move that he believes dovetails with Trump's recent executive order promoting "religious freedom" and his commencement address at Liberty University, a conservative-leaning evangelical college.
Elizabeth Radin, an epidemiologist at Columbia University, echoed a common concern among experts that the policy would create a chilling effect: Amidst the confusion about the policy's particulars, and a fear among local organizations that they may get the facts wrong, NGOs might self-censor and limit the services they provide for fear of losing funding. As the author Jill Fillipovic has written, "what it means to 'actively promote' abortion is vexing."
A senior State Department official, who spoke on the condition of anonymity to offer more transparency about potentially sensitive matters within the department, says that the State Department is aware of the worries of global-health experts like Radin. "I understand that concern," the official says. "What I can't tell you is who will sign and who will not sign [and agree to these new terms]. And until that happens, I won't know if that concern is borne out."
The official adds that the while the policy will restrict funding to NGOs in the countries the U.S. has partnered with through PEPFAR, it won't affect funding to these countries' governments themselves—which means, for instance, a government-run hospital in South Africa, a partner country in which abortion is completely legal, would be unaffected. The policy will also exempt some aid organizations formed between multiple countries, like Gavi (the Global Vaccine Alliance) and the Global Fund, Morrison says. (These exceptions total one-third of PEPFAR funds.)
In its announcement this week, the State Department noted that "given the expansive nature of the new policy," there will be a six-month review period "which could include identifying implementation issues," with "special attention" given to PEPFAR.
Even for an NGO that might still be able to counsel abortion under a State Department exemption, though, Radin contends, a community-health worker on the ground may hesitate: Though the new policy would allow for exceptions in pregnancies resulting from rape or a threat to the woman's life, it may be hard for organizations to judge where the line is. This could create the burden of proving a woman's life was endangered, or that a pregnancy was a result of rape or incest, Radin says. "I'm concerned about introducing greater disruption to a system that has already accomplished incredible, life-saving work."
The State Department official I spoke to emphasized that the department will be monitoring how the policy will affect PEPFAR going forward, adding that, in cases in which these funds affect, say, a lone clinic that is the only source of health-care in a given community, Secretary of State Rex Tillerson would have the ability to waive the need for that clinic to cut family-planning services.
"But we have to remember that this Executive Order came down to make clear that this administration does not want to support or promote the conduct of abortion with our global-health assistance funding," the State Department official said. "The executive order was very clear in its intent."
The consequences of that intent remain to be seen.